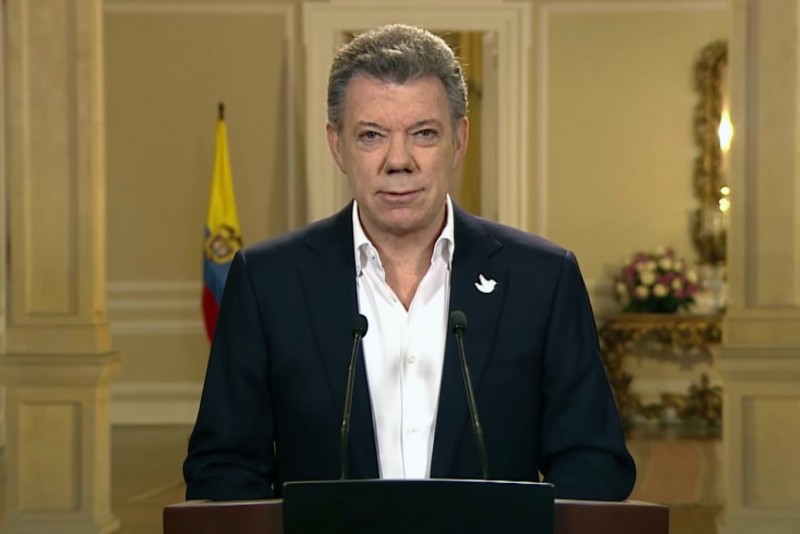 Colombian President Juan Manuel Santos during a July televised address on the peace talks with the FARC. (Image:
Colombian Government
)
In Historic Step, Colombia to Curtail Military Action Against FARC
July 13, 2015
By Staff
Top Story —The Colombian government will decrease military activity against FARC rebels, provided that the leftist guerrilla group upholds a recently announced unilateral ceasefire, according to a statement made Sunday by negotiation facilitators in Havana, Cuba. While government officials did not specify what military activity would be curtailed, they stressed that the step did not constitute a fully fledged bilateral ceasefire.
"From the point of view of a negotiation with a complex actor like the FARC, I understand the government's approach of preserving a potential bilateral ceasefire until it is abundantly clear that the talks have made irreversible progress," Angelika Rettberg, a university professor and expert on the Colombian civil conflict, told The Latin America News Dispatch.
President Juan Manuel Santos, in a televised address, called the joint agreement announced on Sunday a "new light of hope," but noted that the de-escalation of military action is contingent on the FARC following through with its unilateral ceasefire, set to commence on July 20. Santos also announced that he will evaluate the FARC's commitment in four months' time, before deciding whether the peace talks should continue.
Sunday's announcement constitutes part of a strategy by the government to boost public confidence in the peace talks, according to The Associated Press. Negotiations in Havana between the government and FARC leaders began in November 2012, but owing to a recent escalation of violence by both sides — June was the deadliest month since talks began, according to the Conflict Analysis Resource Center — the peace talks have experienced record-low approval ratings.
Just Published in Latin America News Dispatch
Headlines from the Western Hemisphere
North America
Caribbean
Central America
Andes
Southern Cone