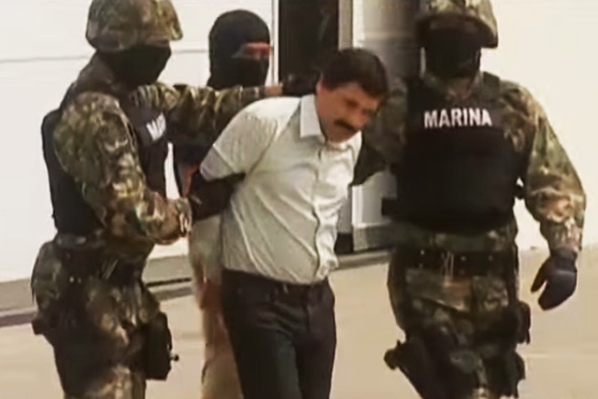 Joaquín "El Chapo" Guzmán, during 2014 arrest (Image: CNN,
screenshot
)
Senior Prison Officials Fired as Hunt for "El Chapo" Intensifies
July 14, 2015
By Staff
Top Story — The head of Mexico's prison system as well as two other prison officials, including the director of the Altiplano maximum-security prison from which powerful drug lord Joaquín "El Chapo" Guzmán escaped on Saturday, have been fired, and a $ 3.8 million has been issued for information leading to Guzmán's capture, according to a press conference held by Minister of the Interior Miguel Ángel Osorio Chong on Monday. Osorio also announced that 34 prison personnel are currently under investigation for their potential involvement in the escape.
Guzmán escaped on Saturday night by entering a 2-by-2-foot hole in the shower stall of the bathroom in his cell, in what was until then considered the most secure prison in the country, from which no other inmate had ever escaped. A security camera was aimed at the cell that, until Saturday, held Altiplano's most high-profile prisoner. The shower-stall opening gave way to a tunnel nearly a mile long and over five feet high throughout. It included ventilation, lighting and a rail-motorbike that authorities believe was used to transport dirt and excavation material.
Osorio said that officials had to have been involved in the escape plot, and referred to such an act as "treason." Saturday's prison break marks the second time that the Sinaloa cartel boss has managed to escape from a Mexican jail — the first having occurred in 2001, when Guzmán was reportedly extricated from Puente Grande prison by hiding in a laundry basket after bribing personnel.
Mexican President Enrique Peña Nieto is currently in France for a state visit when news broke of Guzmán's escape. On Sunday, he issued a statement calling the escape "an affront to the Mexican state."
Guzmán's most recent escape dealt a humiliating blow to Peña Nieto's administration. The capture of Guzmán in February 2014, as well as the apprehension and killing of several high-profile drug lords, have long been considered achievements for a president who has otherwise been embroiled in scandals ranging from improper contract bidding to the disappearance in September of 43 teacher-trainee students in the state of Guerrero.
Headlines from the Western Hemisphere
North America
Caribbean
Central America
Andes
Southern Cone