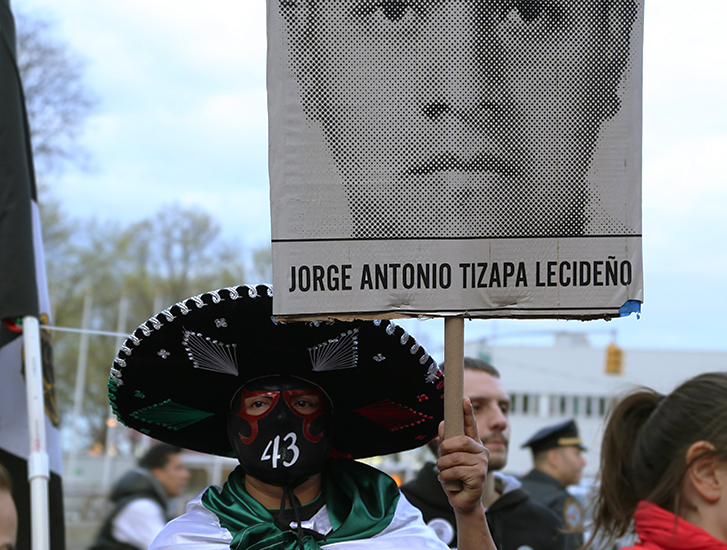 Mexico Human Rights Group Finds Errors in Investigation of 43 Missing Students
July 24, 2015
By Staff
Hello to all our Today in Latin America subscribers. The LAND staff will be taking vacation until the beginning of September, meaning our daily newsletter will be on hold until then. Nos vemos en Septiembre.
Top Story — Mexico's National Human rights Commission has heavily criticized the government's investigation into the likely massacre of 43 college students last September, publishing a list of 32 omissions from the investigation that it says should have been fundamental to solving the crime.
"What we're pointing out, as we've said before, is that the attorney general's investigation should not be closed and is not closed," said commission President Luis Raúl González Pérez, according to The Associated Press.
The report focuses on errors committed during the aftermath of the Sept. 26 attacks in Guerrero state, during which police allegedly handed protesting students from a teachers college over to suspected drug gang members, who disappeared the students. Some of the errors mentioned in the report are glaring omissions, including the failure to interview key witnesses or consider pertinent evidence, such as a cellphone message from a kidnapped student after the attacks occurred.
The families of the missing students continue to protest their disappearance, pushing for more meaningful progress in the government's investigation of the crime. Meanwhile, kidnappings have been on the rise in Mexico since the attacks, according to Mexico's National Citizen Observatory.
Headlines from the Western Hemisphere
North America
Caribbean
Central America
Andes
Southern Cone