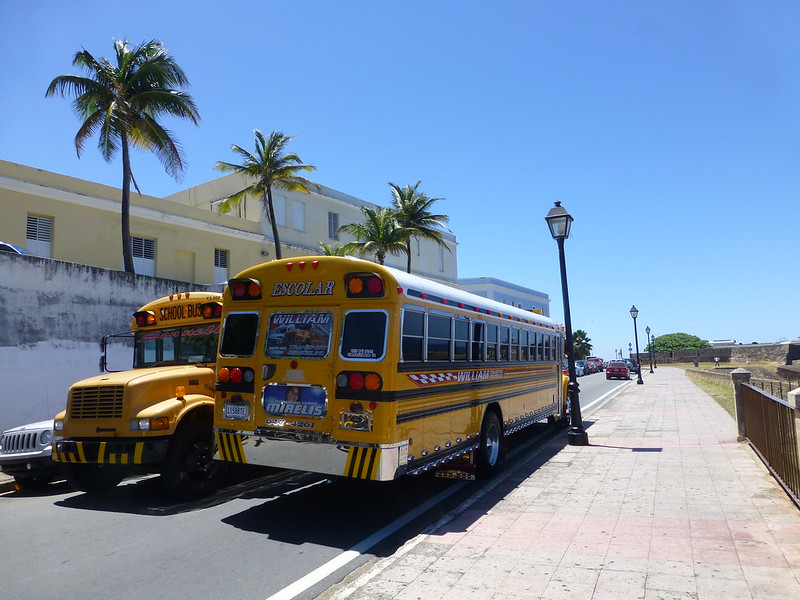 Health officials will reconvene on whether or not to conduct in-person classes next month. Photo courtesy of Flickr user David Thomas.
Puerto Rico's Public Schools Will Reopen Online
July 23, 2020
By Staff
TODAY IN LATIN AMERICA
PUERTO RICO: Government officials announced that all public schools will begin virtual learning starting August 17. The opening of schools for in-person classes has been pushed back to September 17, though that date may change in accordance with the spread of coronavirus on the island. There are currently more than 288,000 students enrolled in Puerto Rico's public school system. 
Some teachers and parents have raised concerns about access to the internet and other resources during online classes. Education and health officials have not yet confirmed how they will assure that every student will be able to access their virtual education. Some parents are urging that schools remain open so that students who do not have the resources to learn online can still be taught. If schools do reopen in September, classrooms are expected to decrease in size so that smaller groups of students are taught in socially distant settings. 
Puerto Rico has seen a staggering rise in COVID-19 cases since it began reopening to tourists earlier this month. Although only around 13,000 cases of coronavirus have currently been confirmed, health officials fear that the total number is closer to 40,000. Many unconfirmed cases of COVID-19 are suspected to be of those who are asymptomatic and have not had to be hospitalized. 
Headlines from the western hemisphere
SOUTHERN CONE
ARGENTINA: Health officials warn that the daily number of coronavirus cases is expected to rise. Major cities continue to see record breaking increases to official COVID-19 cases. Some experts believe that another strict national lockdown should be put in place to prevent further spread of the virus. The Ministry of Health has not yet confirmed when they believe Argentina will reach its peak of COVID-19 cases. Officials are expected to convene this weekend after analyzing more data and trends in numbers to determine whether or not another quarantine should be enforced. 
CHILE: Police dogs are being trained to sniff out COVID-19 to help reopen shopping malls, businesses and airports soon. The dogs, known as "bio-detectors," will complete their training in September, and be sent to public places with high numbers of people. Chile's National Police is currently training four dogs, and are collaborating with universities to detect the "smell" of COVID-19 patients. However, there is currently no evidence that dogs can detect a coronavirus infection based on smell. Chile currently has more than 334,000 confirmed coronavirus cases and more than 8,600 deaths.

ANDES
PERU: Of the 12 doctors working in the Tocache hospital in San Martín, 10 have tested positive for the virus. One of those who tested positive is also the director of the Tocache Health Network. The infections leave only two doctors to aid in the recovery of patients, in the province that has an estimated population of 80,000. Over 500 people have already died of COVID-19 in San Martín. The mayor has called for resources and more medical personnel from the Ministry of Health. There are currently more than 360,000 cases of coronavirus in the country.
CARIBBEAN
DOMINICAN REPUBLIC: Hospital beds in intensive care units are at 92% capacity after a surge in coronavirus cases. The Dominican Republic saw 1,246 new cases yesterday, increasing the total nationwide to more than 56,000. More than 3,500 of these cases are currently in isolation, and many hospitals around the country are reaching capacity. Some hospitals have even recently overflowed due to a lack of available beds. Health and government officials are hoping to expand some hospitals to add more beds and make health resources more readily available. 
CENTRAL AMERICA
EL SALVADOR: Mass graves continue to fill up with those who have died of COVID-19 as 17 people were buried in a single day in San Salvador. The graves have been made using strict COVID-19 protocol as required by President Nayib Bukele. As of Thursday, 788 plots in the mass graves have been dug in San Salvador, the nation's capital which is currently hardest-hit by the pandemic. The country currently has more than 13,000 confirmed cases, and both the Ministers of Education and Housing recently tested positive for the coronavirus.
NORTH AMERICA
MEXICO: A group of marines allegedly abducted 27 people near the border city of Nuevo Laredo in 2018. Human rights officials confirmed that 12 of those abducted have since been found dead. Mexico's Navy has been asked to compensate the families of the victims as government officials continue their search for the remaining missing people. The marines allegedly abducted people from their homes without warrants, and took them away in unmarked police vehicles. It is unclear whether or not anyone has been charged with the disappearances and deaths.