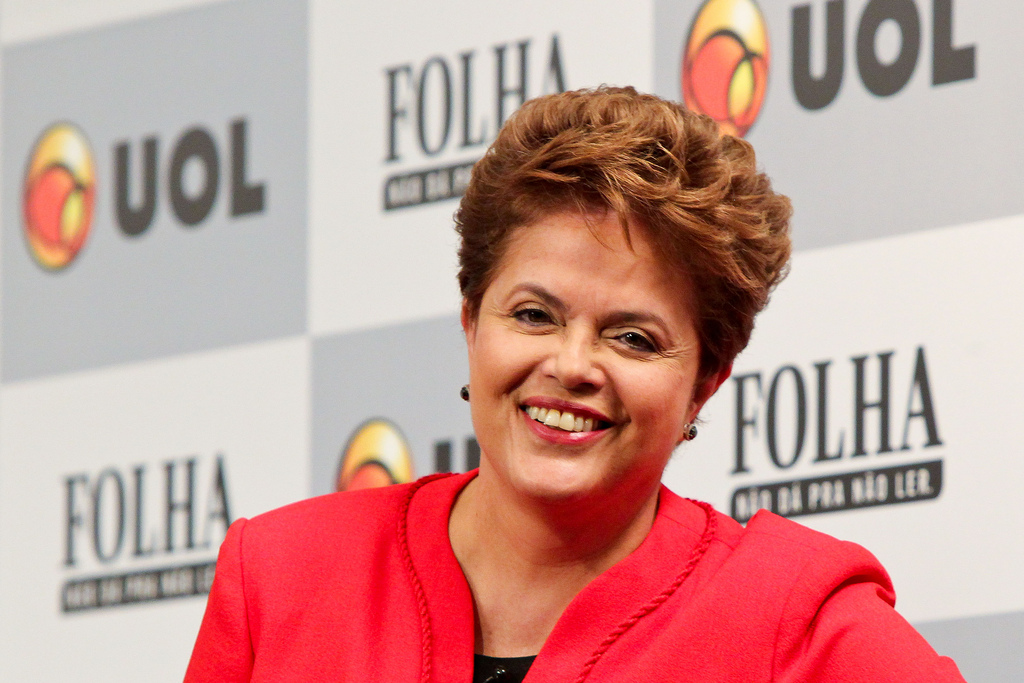 Brazilian President Dilma Rousseff at a 2010 debate organized by newspaper Folha de São Paulo. (Image:
Roberto Stuckert Filho
, CC BY-SA 2.0)
Painful Budget Cuts, Tax Hikes Are Rousseff's "Last Chance," Newspaper Says
September 14, 2015
By Staff
Top Story — Brazil's President Dilma Rousseff is "hanging by a thread," daily newspaper Folha de São Paulo said in a front-page editorial Sunday, which argues that Rousseff's government will collapse if it cannot push through tax hikes and spending cuts.
The editorial's placement on the paper's front page was "unusual," Reuters notes, and follows a difficult week for Rousseff and for Brazil. Ratings agency Standard & Poor's on Wednesday downgraded its rating of Brazil's debt to "junk," prompting a massive bond selloff. On Saturday, Rousseff held a meeting with her top ministers, asking them to find some $3.9 billion to cut from the federal budget.
Brazil's government in August sent legislators a budget proposal predicting a deficit in 2016 after tax revenue collapsed due to an ongoing economic recession, the first time in Brazil's history a federal budget has called for a public deficit.
In its editorial, Folha — a center-right paper, according to Reuters — called specifically for cuts targeting Brazil's social security benefit system, which it said were out of touch with Brazil's demographic reality, alongside other broad-based cuts and a tax increase.
Whether Brazil's legislature will approve Rousseff's cuts, once they are proposed, is an open question. The lower house speaker, Eduardo Cunha, defected from her coalition in July. Many legislators openly call for Rousseff's resignation or impeachment, the latter in connection with an ongoing investigation into corruption at the state oil firm Petrobras.
Headlines from the Western Hemisphere
North America
Caribbean
Central America
Andes
Southern Cone