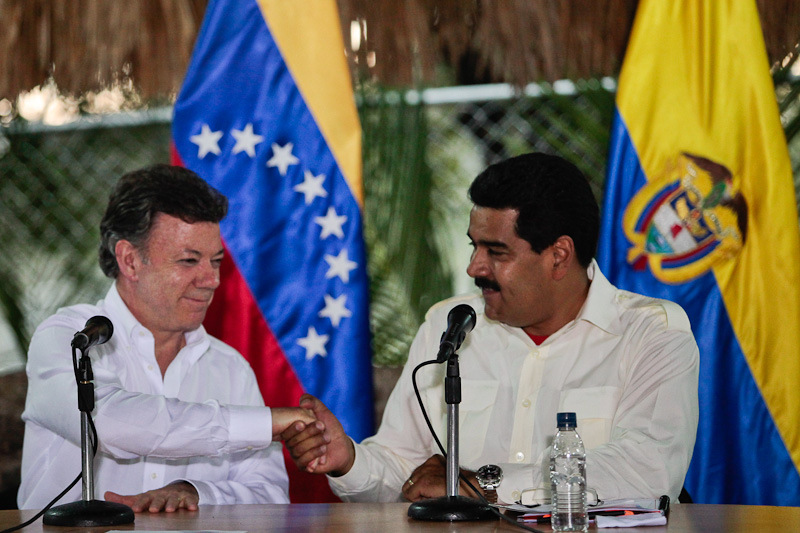 Maduro, Santos Reach Agreement to End Border Crisis
September 22, 2015
By Staff
Top Story — The leaders of Colombia and Venezuela met on Monday for the first time since a crisis broke out along their shared border last month, leaving the meeting with a series of agreements aimed at resolving the dispute.
Presidents Juan Manuel Santos, of Colombia, and Nicolás Maduro, of Venezuela, agreed to send back their respective ambassadors to one another after the diplomats were recalled in connection with the crisis, Colombia's El Tiempo reported. The leaders also agreed to work towards re-opening border crossings closed since Colombian paramilitary gunmen allegedly shot three Venezuelan police officers on Aug. 19.
The resulting Venezuelan security crackdown prompted at least 20,000 Colombians living in Venezuela to leave the country, at least 1,500 of whom were deported for alleged ties to criminal groups. Maduro said he launched the security operation, involving the deployment of some 3,000 troops, in an effort to root out drug traffickers and contraband smugglers.
Santos on Monday said that he acknowledged Maduro's concern with criminal groups on the border, El Tiempo reported. For his part, Maduro also said the meeting, held in Quito, was successful, and thanked the governments of Ecuador and Uruguay for arranging it.
Headlines from the Western Hemisphere
North America
Caribbean
Central America
Andes
Southern Cone