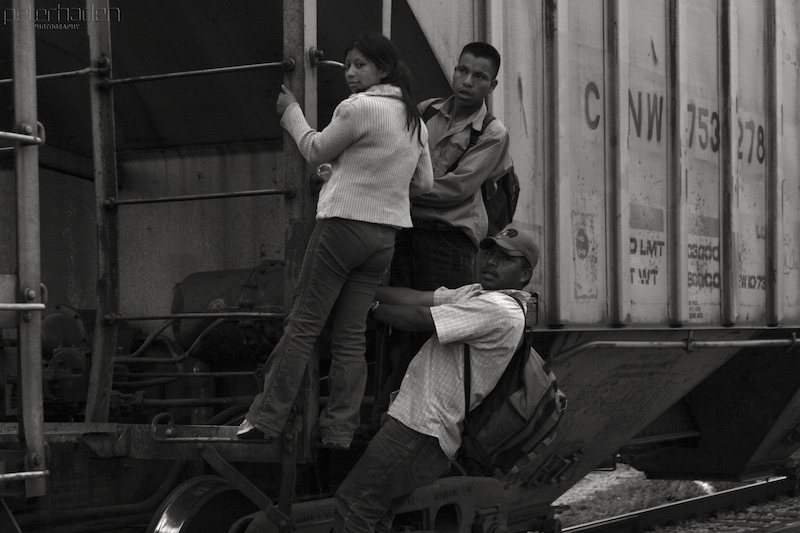 Central American migrants en route to the United States. (Image:
Peter Haden
, CC BY 2.0)
Some Migrants Deported to Central America Killed on Arrival, Investigation Finds
October 13, 2015
By Staff
Top Story — Undocumented immigrants recently deported by the United States face threats of violence upon their return to El Salvador, Guatemala and Honduras, according to a new investigation by The Guardian, which highlighted three specific instances of deportees who were shot and killed shortly after returning home.
An upcoming academic study, based on an analysis of media reports, reportedly counted at least 83 cases of deportees killed upon returning, a number the New York Times noted is likely much higher.
These findings come in the wake of last year's so-called "unaccompanied minors crisis," during which an unprecedented number of migrants crossed Mexico's border into the United States, fleeing high rates of violence, gang activity and delinquency in Central America.
Scrambling for options, the United States has implemented an expedited hearing process in order to fast-track deportations, which human rights experts say has placed many migrants in harms' way.
Many of the deported migrants share a story similar to Angel Díaz, whose case was examined by The Guardian. Díaz fled Honduras with his brothers after one of them was attacked by gang members. Díaz was later deported from the United States, and a month later shot and killed by suspected gang members, confirming the fear that motivated his father to send him away in the first place.
U.S. President Barack Obama has sent tens of millions of dollars to Mexico so the country can crack down on immigration from Central America, according to the New York Times, essentially outsourcing a U.S. refugee problem to a country with security challenges of its own. Mexico's crackdown has effectively made it a buffer nation, forcing many migrants back to Central American cities with some of the highest homicide rates in the world.
In her upcoming report on the killings of returned migrants, social scientist Elizabeth Kennedy writes that such figures indicate the United States "is returning people to their deaths in violation of national and international law."
Headlines from the Western Hemisphere
North America
Caribbean
Central America
Andes
Southern Cone