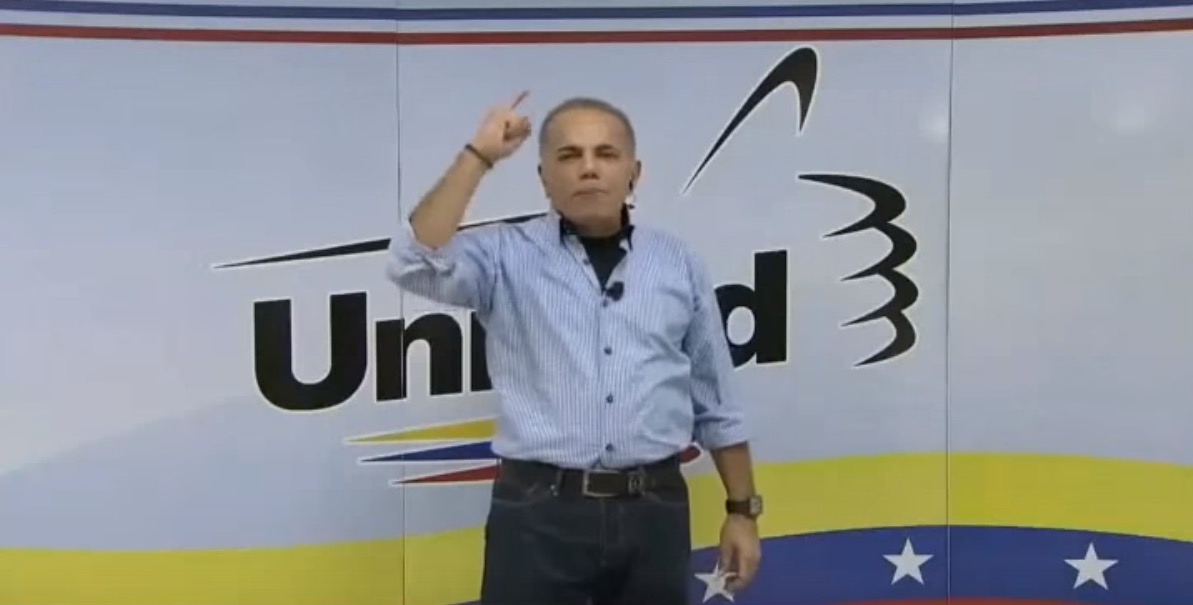 Manuel Rosales. (Image:
YouTube
, screenshot)
Exiled Venezuelan Opposition Leader Arrested Upon Returning Home
October 16, 2015
By Staff
Top Story — Former Venezuelan opposition Governor Manuel Rosales, who represented the oppositional Un Nuevo Tiempo party, was arrested on Thursday by intelligence police at the Caracas airport upon returning from a six-year-long self-imposed exile.
Rosales, who ran against former President Hugo Chávez in the 2006 presidential elections and lost, fled the country in 2009 after prosecutors had accused him of stealing public money, a charge he denies and claims to be politically motivated. He fled to Peru and then to Panama.
Now, the former governor of the western state of Zulia has decided to return to his country in order to be present for the Dec. 6 parliamentary elections. He was greeted at the airport by hundreds of supporters.
The opposition to President Nicolás Maduro's ruling socialist party blames the government for Venezuela's severe economic crisis, among other troubles. Rosales' detention was preceded by the imprisonment of several opposition figures, including leader Leopoldo López last month, who was sentenced to more than 10 years in prison for leading anti-government protests in 2014.
Headlines from the Western Hemisphere
North America
Mexico and the United States announced Thursday that they will launch a pre-inspection cargo program, as well as open two jointly staffed pre-inspection border stations. Both programs aim to facilitate communication and trade between the countries, as well as reduce costs.
At a Thursday reception at the White House in honor of Hispanic Heritage Month, President Barack Obama announced his support for the immigrant community as well as several financial commitments to expand educational opportunities for Latinos.
Mexican police stopped a tractor-trailer transporting 113 migrants, including 28 children, on a highway in the northern border of the country.
Caribbean
The White House's Hispanic Heritage Month celebration also marked the first time a Cuba-based musical group played at the White House in over 50 years, with a performance from the Buena Vista Social Club.
Hundreds of protesters gathered in front of a United Nation's mission base in Port-au-Prince, Haiti, on Thursday, demanding an apology and compensation from the United Nations for allegedly introducing the country's devastating cholera epidemic.
Central America
In a Wednesday interview with the Huffington Post, Guatemala's former attorney general said that violence against women is the most commonly reported crime in her country, one that continues to challenge the justice system and drive emigration to the United States.
To tackle a recent crime wave in Costa Rica, more than 200 heavily armed police officers were deployed Thursday in particularly high-crime neighborhoods in the capital of San José.
Andes
The British government has denied Ecuador's foreign ministry's request to allow WikiLeaks founder Julian Assange, who is currently exiled in the country's London embassy, to be safely escorted out of the building to receive an MRI scan.
Bolivian Vice President Álvaro García Linera confirmed that a referendum, pending approval of the Constitutional Court, will take place Feb. 21 in order to determine if President Evo Morales can run for a fourth presidential election.
A Florida judge ruled that Ecuador is not entitled to the $600 million two former Ecuadorian bankers now living in Florida had allegedly embezzled from bank deposits in 1998.
Southern Cone
Brazil's former President Luiz Inácio Lula da Silva testified before federal prosecutors on Thursday in order to answer allegations of influencing the number and type of contracts given to construction company Odebrecht.
A Belgian woman on holiday in Chile's northern Antofagasta region died after falling into a geyser while attempting to take a photo.