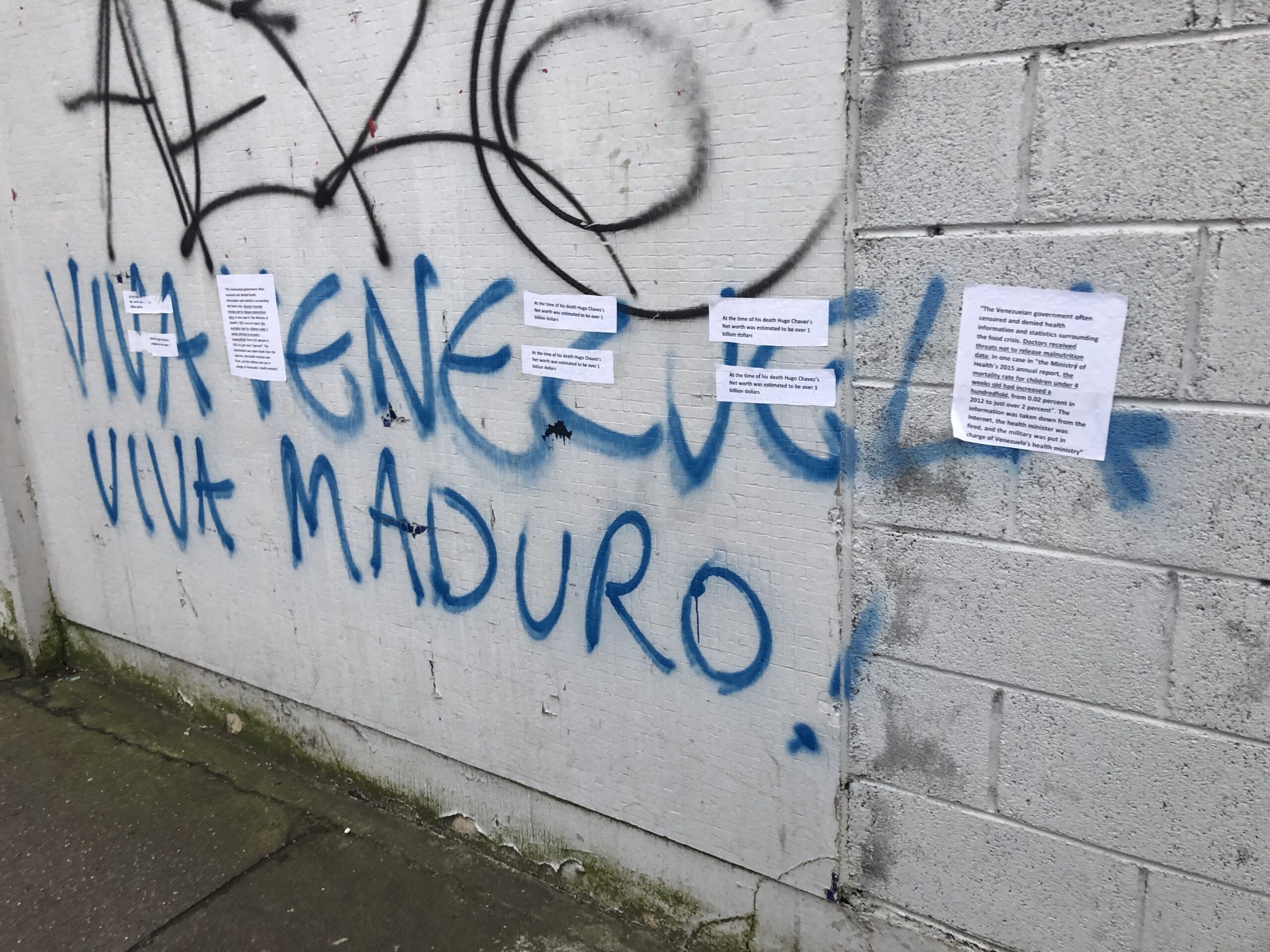 Graffiti expressing support for Venezuelan President Nicolás Maduro on wall in Cork, Ireland partly covered by pamphlets criticizing former President Hugo Chávez and the current Venezuelan government. (Photo by Cameron Oakes)
Venezuelan migrants in Ireland grapple with the home they left behind
As a teen, Fabio Alexei Roselló Salazar dreamed of traveling the world. So when Roselló — the son of a school teacher and a cable company manager — went off to college, he decided to study the maritime trade hoping it would help him make that dream come true. But when a history of participating in anti-government protests met growing economic and social problems in Venezuela, Roselló decided to leave his home to ensure a better future for his family. In 2017, he took his maritime skills across the Atlantic to Ireland. 
Now, during his on-call shifts at Ireland's only oil refinery, Roselló checks the location of ships scheduled to arrive, waiting for an indication on the marine tracking software he uses that a ship has rounded the southern coast of Ireland where the elevation dips to sea level. 
When a boat's bow begins to cut through the blue-green waters of the Atlantic coastline propelling its crew toward the port, Roselló makes his way to Cork Harbor — no matter the time of day or night. He then drives down the nearly half-mile-long jetty to meet the incoming boat at the dock and runs an inspection of the vessel, a skill he learned and perfected in his native Venezuela. 
On Nov. 21, while Roselló was working, Venezuelans were voting in the country's first election to have European Union election observers in 15 years. But to Roselló, the presence of observers wouldn't change the expected outcome.
"It's not a real election, so what's the point?" he asked. 
Venezuela's ruling Socialist party won a landslide victory in regional elections held last November, securing 18 of the nation's 23 governorships. Nearly 4,500 miles away, Venezuelans living in Ireland say the results were a continuation of the nation's status quo — a reality that left them concerned for those they left behind and the future of the nation they once called home. 
Ireland is home to approximately 2-3,000 Venezuelans, according to the Venezuelan Community in Ireland, a Dublin-based NGO that supports Venezuelans as they adjust to life in their new country. The social and economic impacts of the election, some expats say, will be felt across the Atlantic. 
Economic conditions in Venezuela have led to food and drug shortages. In 2020, a study by the World Food Program found that one in three Venezuelans faces food insecurity. And shortages of medical supplies have left healthcare workers ill-equipped to provide lifesaving care, especially during the Covid-19 pandemic. Many Venezuelans in Ireland send monthly remittances back to their families to help them survive, said Venezuelan Community in Ireland Chairperson Liliana Fernandez.
 "There is so much need in Venezuela and we have to send remittances to our families because otherwise, they will starve to death," she said in a phone interview, "there is no way they will be able to survive with $2 a month, which is what they're earning."
Fernandez said the organization also fundraises to support those who don't have help from people abroad. The NGO raised more than 2,000 euros in 2020 to send medical supplies back to Venezuela and supports school meal programs in the country. 
Questions about the fairness and reliability of the elections were common among the people consulted for this story. They said that the EU's 130 observers deployed to 1,000 polling places on election day would do little to ensure the election was free and fair. 
"No dictator calls for an election if they think they'll lose it," Bruno Paredes Sormani said about Venezuelan President Nicolás Maduro. Paredes lived in Venezuela for 25 years and raised his children there, before immigrating to Ireland in 2016. 
Juan Carlos Arismendi Zambrano, a Venezuelan national who lives in Dublin but is spending a semester as a visiting scholar at Northwestern University in the U.S., said that he perceived the election as more of a low-stakes political exercise for a government hobbled by international sanctions.
"These elections have been organized under better electoral conditions compared to previous processes, including through a renewed National Electoral Council widely seen as the most balanced of the last 20 years," read a statement put out by the EU election observation mission two days after the election. "However, the Mission observed structural deficiencies, such as arbitrary political disqualification of candidates, unequal access to the media, and the extensive use of state resources during the electoral campaign."
But absent from this election, in which only about 42% of eligible voters participated, were an estimated 5 million Venezuelans living outside of the country are not allowed to vote in regional and local elections. Though they are allowed to vote in presidential elections,  expats have struggled to do so in elections past, according to the Center for Strategic and International Studies. 
"Even if the election is fair within the actual condition, it's not completely fair because Venezuelans outside of Venezuela — that is a lot of people — we cannot vote," said Arismendi. 
Conditions in Venezuela don't just affect loved ones back home, they also have direct impacts on the migrant community in Ireland.  Many in the community rely on their home government for documentation necessary to maintain their legal status in Ireland. 
A 2017 shortage of passport materials in Venezuela resulted in the use of extension stamps that were nearly impossible to get for Venezuelans living in Ireland, according to the Irish Times. In 2020, the community called on the Irish government to extend visas on their expired passports. 
A "significant proportion of people applying for citizenship are either people from Britain, who post-Brexit really want to make clear that they're here or people from outside of Europe," said James Wickham, a migration scholar who serves as a fellow emeritus at Trinity College Dublin. 
People with EU passports enjoy more freedom to move to and from Ireland as they please, Wickham said. Those without them, he said, often find it necessary to attempt to integrate into Irish society. 
Fernandez said the Venezuelan Community in Ireland is working on helping community members do just that by providing language exchange programs and sharing professional resources. Those resources, it seems, will be needed. 
Many of the Venezuelan nationals consulted for this story said that while their native country will always be a part of their lives, they don't see a long-term future there. Arismendi said that although there are people who hold out hope for a better Venezuela to return to, many in the community are just looking to move on with their lives in Ireland. The people and circumstances that made Venezuela feel like home, he said, are long gone.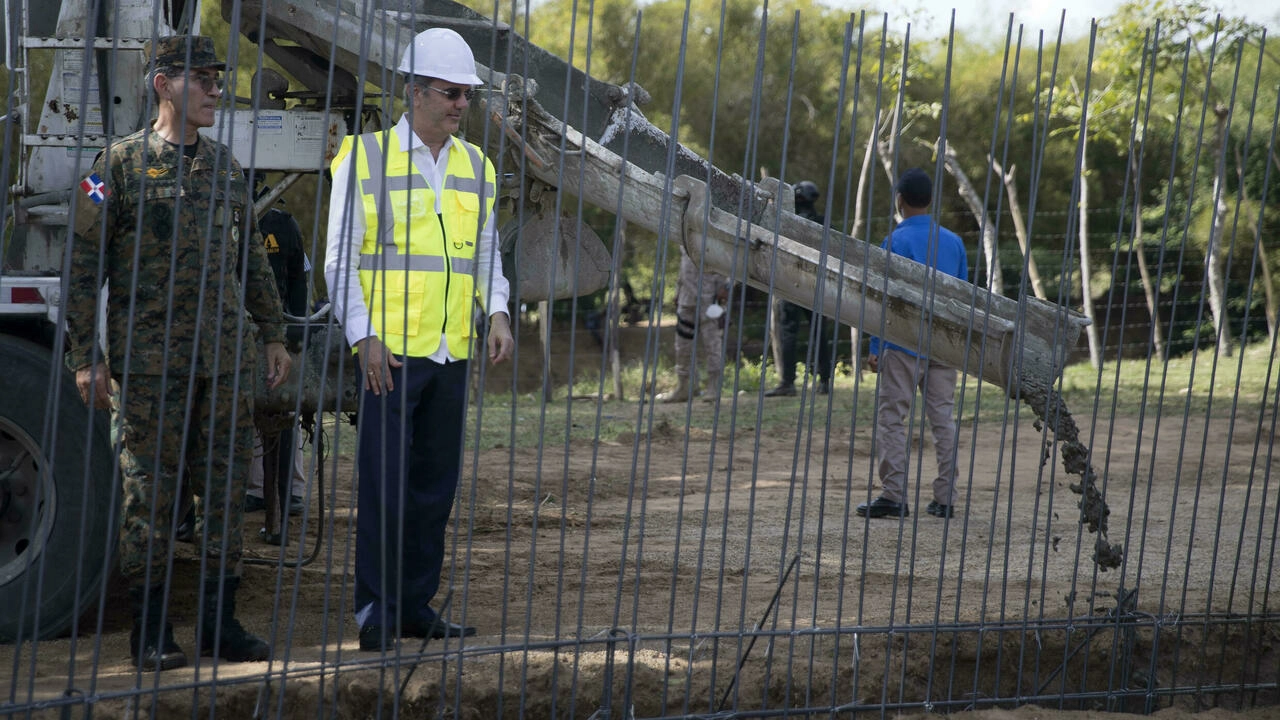 February 21, 2022
> Staff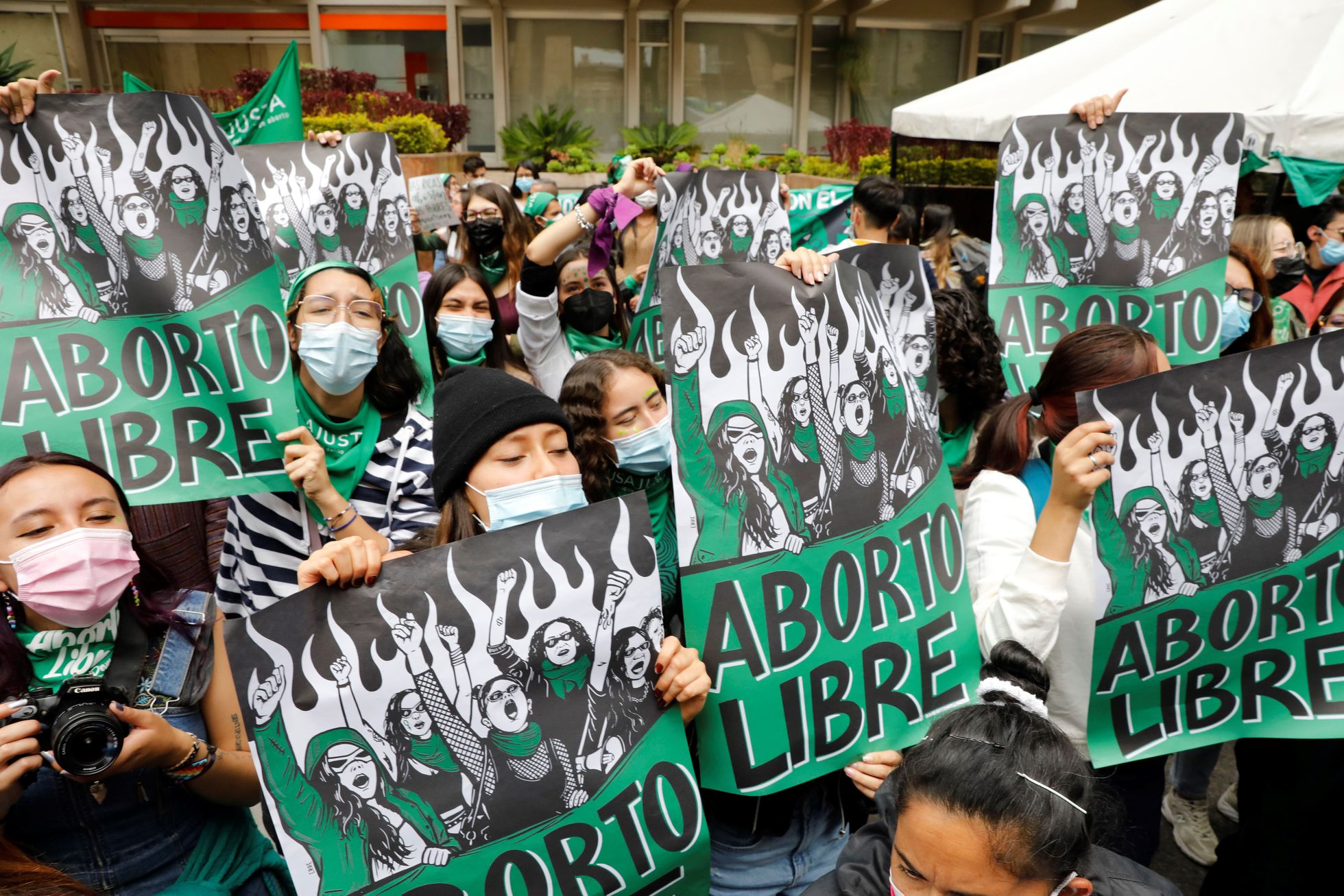 February 27, 2022
> Staff