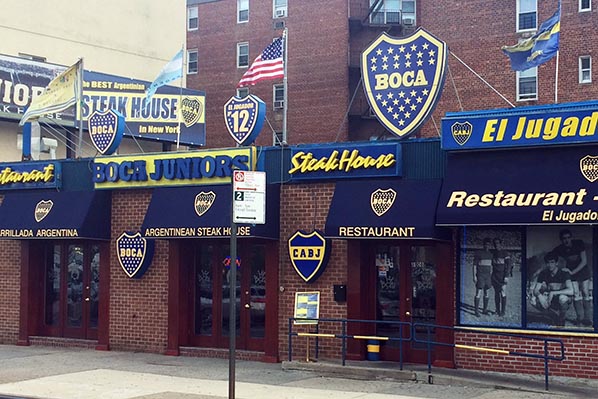 Ahead of Argentine Elections, Political Apathy Runs High in 'Little Buenos Aires'
NEW YORK — Walking down Junction Boulevard toward Corona Avenue in Queens is akin to exploring a microcosm of Latin America: Mexican and Guatemalan eateries are clustered close to Roosevelt Avenue, then come Dominican phone shops, followed by Colombian and Peruvian bakeries further south until the scenery turns Argentine.
Tree trunks are painted sky blue, white, and blue again: the colors of Argentina's flag. The shops bear names like "La Esquina Criolla" (a reference to the people of Argentina's northern provinces) or "El Gauchito" (a nod to its southeastern plains), and the words "¡Bienvenido Papa
Francisco!" (Welcome, Pope Francis!) are painted on the side of a restaurant in the traditional Porteño style of Buenos Aires.
In this corner of Queens, Little Buenos Aires is the location of choice for Argentines in New York looking for a convivial spot to drink a café con leche, indulge in some dulce de leche-stuffed alfajores, buy expertly cut skirt steaks or simply catch up on the latest football news.
With presidential elections approaching on Oct. 25, it's also a place where Argentines reevaluate their stance toward their home country, facing a political climate they describe as full of ennui, disillusionment and entrenched political disagreements.
Pedro Iucciolino, a 72-year-old owner of a construction company, comes from Buenos Aires but has lived in New York for almost 40 years. Although he lives on Long Island, he comes to this part of Jackson Heights almost every day for business and socializing, he explains while sipping a cortado and snacking on a beef empanada in the Panaderia Rio de la Plata pastry shop. Although he's glad to live in the United States, he said he feels "very Argentine" and is following the electoral process back home closely through national newspapers like Clarín and La Nación, as well as through the polemic journalist Jorge Lanata.
Iucciolino is very critical of the current government, headed by President Cristina Fernández. "No Argentine living abroad can have good opinions about this current government," he said.
He extended that criticism to Daniel Scioli, the candidate from Fernández's Justicialist Party who is currently leading the polls by a wide margin. Despite the popularity of Scioli and Fernández at home, Iucciolino says Little Buenos Aires takes a more conservative bent. "I really hope that [Scioli] won't win, and that is the opinion of 90 percent of the Argentines here in the United States," he said.
Roberto Martínez, a 70-year-old retired mechanical technician from Buenos Aires, is also a fixture around the neighborhood. He owns the building next to El Gauchito, an Argentine grill serving an assortment of seared meats. He said he follows the news back home semi-regularly, and expressed his hopes for Mauricio Macri, the candidate for the Cambiemos Party and Scioli's main rival.
However, he does see the political apathy of Argentines living in Queens as a problem. "The majority are Argentines of the heart, but I don't think they're following the electoral process or anything like that." There are just under 1,100 Argentines living in the Jackson Heights and Elmhurst area, according to the 2010 New York City census.
Maria Canet is the 65-year-old vice president of Provincia 25 USA, an organization set up by Argentina's Ministry of the Interior to organize Argentines abroad. She said that while the majority of expats are interested in meeting up for picnics or tango socials, political engagement is lagging.
"Not many Argentines are interested in what's going on back home," Canet said, who herself supports the current administration. "They just criticize the government, but there's plenty of misinformation going around abroad."
Patricio Navia, a New York University political scientist specializing in electoral systems, said that it's not so much about misinformation abroad as it is about a lack of interest. "The U.S. is not paying much attention to Latin America in general," the 45-year-old Chilean said, adding that it's natural that expats exposed to more U.S. news don't hear as much information about their own country if they don't actively search for it.
The deadline to register to vote in the Argentine consulate in New York was at the end of April, but many expats have neglected to do so. While voting is obligatory in Argentina, citizens registered abroad are exempt. Pablo Sosa, a representative from Argentina's consulate in New York, explained that the current electoral register has the names of about 2,000 Argentines in eight states, including New York, New Jersey, Connecticut and Massachusetts.
However, Sosa said that voter turnout on Oct. 25th will likely be half of that. Many Argentines like Walter Coni have no interest in voting in the elections. The 55-year-old owner of the Boca Juniors Parrilla, an overloaded shrine to Argentina's most famous football club, said that "nothing's going to change," and that he has no desire to cast a ballot.
Luisa Rollenhagen is a German-Argentine journalist from Berlin and Buenos Aires. She is currently completing a graduate degree in Cultural Reporting and Criticism at New York University's Journalism Institute, and has worked as a reporter in London, Berlin, and now New York.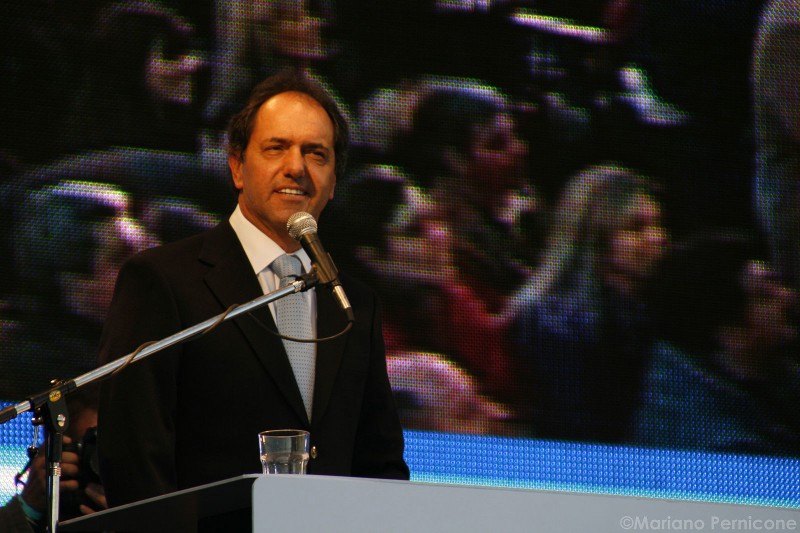 October 23, 2015 > Staff
October 26, 2015 > Staff