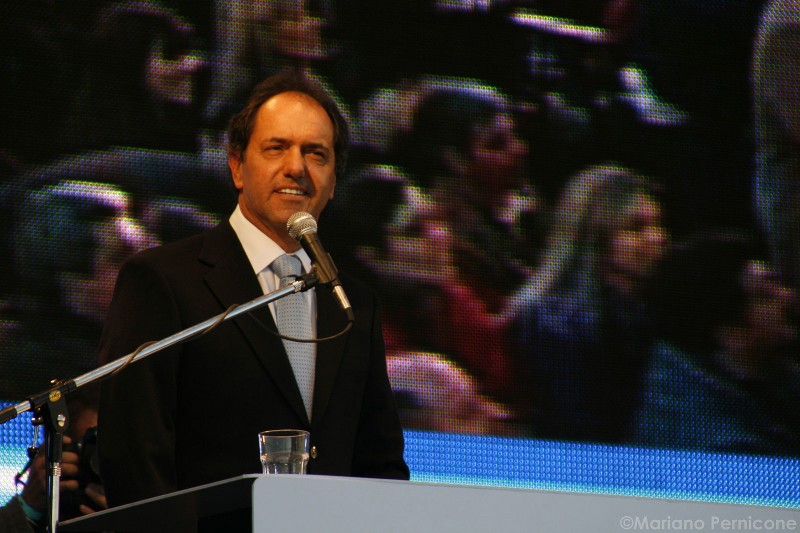 Three Presidential Elections Planned on Sunday in the Americas
October 23, 2015
By Staff
Top Story — Argentina, Guatemala and Haiti will hold presidential elections this weekend.
In Argentina, Daniel Scioli is favored, but he is not guaranteed to avoid a runoff at the polls on Sunday. The governor of Buenos Aires province, Scioli is also the anointed successor of President Cristina Fernández de Kirchner, described by Reuters as "a leftist… popular with the poor and working classes for her generous social welfare programs."
The more conservative Mauricio Macri may force a second round of voting, the BBC reported, by capitalizing on concerns over inflation, devaluation and a tax on exports.
On Thursday, as candidates held their final rallies, Scioli announced that if elected he will push through a law to raise the minimum threshold at which Argentines pay income tax, a measure he said would affect half a million people, Reuters reported.
Guatemala's election also has a clear favorite: the comedian Jimmy Morales, who won the election's first round days after the resignation and arrest of President Otto Peréz Molina on corruption charges following months of protests over a massive graft scheme revealed by prosecutors and a U.N.-backed anti-corruption body.
The winner of Sunday's second-round election will face strong demands for reform, The Associated Press reported; interim president Alejandro Maldonado told the AP that street protests will resume if major changes have not been made within a year.
Several Guatemalans told the AP they suspect that despite Morales' perception as an outsider and his vow to root out corruption they are skeptical of the prospect for lasting change.
Morales, a political newcomer, enjoys a margin of more than 30 percentage points over Sandra Torres, who previously divorced ex-President Álvaro Colom in a failed attempt to skirt a constitutional restriction on spouses' presidential bids.
An election in Haiti, also on Sunday, lacks a front-runner. Legislative elections will also be held on the day, for the first time since being postponed in 2011 and 2013, leaving the country with just ten sitting senators along with current President Michel Martelly, The Economist notes. Three candidates stand a solid chance of winning, but if none earns a majority a runoff will be held in December.
The eventual winner, if polling irregularities and violence do not force the appointment of a transitional government, will face myriad challenges, including low state revenues and a weak education system, according to The Economist.
Headlines from the Western Hemisphere
North America
Caribbean
Central America
Andes
Southern Cone