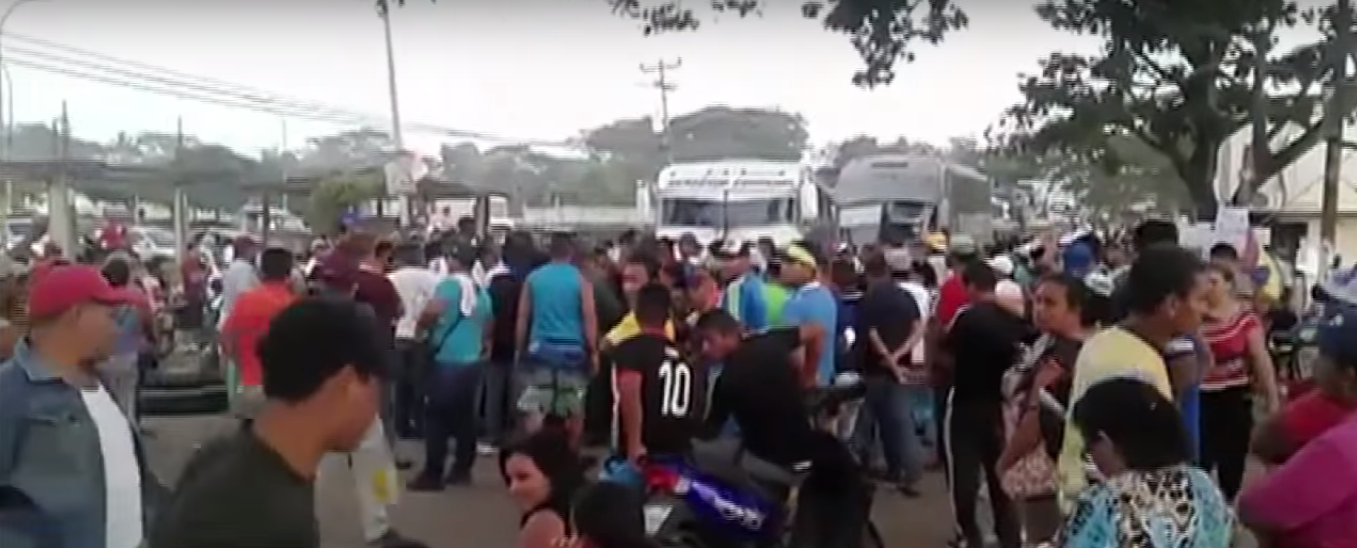 Family members block a key road in protest of the disappearance of 28 miners from Venezuela's Bolivar state. (Image:
YouTube
)
Venezuela Investigates Disappearance of 28 Gold Miners
March 8, 2016
By Staff
Top Story — Venezuela's government said Monday it is investigating the disappearance of 28 gold miners in the state of Bolívar, highlighting the importance of illicit mining as a source of income in the country's flailing economy.
The miners' disappearance was first noted on Saturday, the BBC reported, and quickly led to protests by family members demanding action from the authorities.
Eyewitness accounts cited in local media reports suggest the miners were killed by a criminal gang seeking to take over the mine near the town of Tumeremo. Gangs in Venezuela and neighboring Colombia are known to be heavily involved in the lucrative business of wildcat wines.
Bolívar state Gov. Francisco Rangel Gómez, a member of the ruling United Socialist Party (PSUV), said Monday that the reports were merely rumors and that security forces had been sent to investigate the incident.
Several opposition leaders, however, alleged that the government was trying to cover up the incident. The president of the National Assembly, Henry Ramos Allup, went so far as to write on Twitter, "Unbelievable: 28 miners are assassinated by the government's armed forces in Tumeremo and Governor Rangel Gómez denies it."
Illegal mining has taken hold in Venezuela, where workers are seeking opportunities to mitigate the effects of a struggling economy. As InSight Crime noted in June, a report by the Venezuelan environmental non-profit Center for Ecological Investigations estimated that from 2013 to 2014 alone, the destruction of land linked to illegal mining rose 40 percent in the Guayana region of eastern Venezuela, which includes Bolívar state.
President Nicolás Maduro has recently attempted to gain more control over the country's mining sector by requiring gold miners to go into partnership with the government, and Rangel said that government officials were taking a census of the more than 6,000 wildcat miners near Tumeremo.
In Venezuela, as in neighboring countries like Peru and Colombia, military forces are sometimes deployed to curb illegal mining, and have been accused of using excessive force.
Headlines from the Western Hemisphere
North America
Caribbean
Central America
Andes
Southern Cone