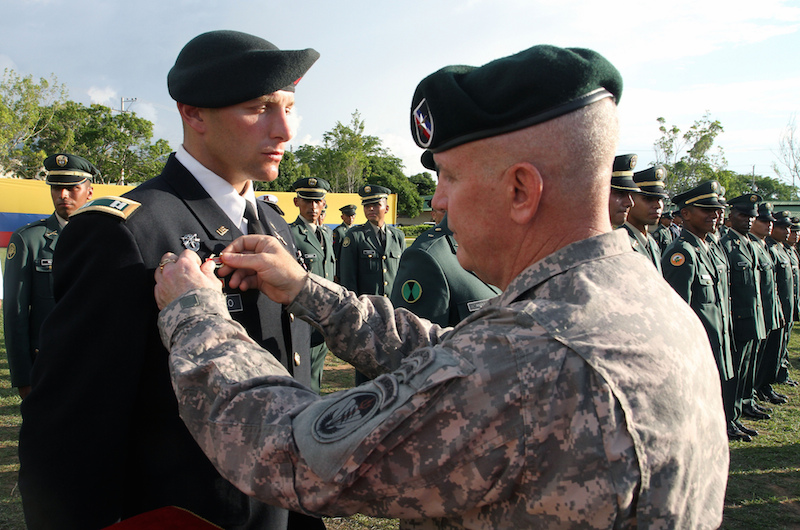 U.S. troops at Colombia's Tolemaida military base.
U.S. Army May Investigate Colombia Child Rape Claims
April 6, 2015
By Staff
Top Story — The U.S. Army may investigate accusations of sexual assault against its soldiers and contractors in Colombia, a spokesman said Friday, the military's first response to claims published by a joint project of Colombia's government and the guerrillas of the FARC.
Army investigators are working with Colombia's government to decide whether to launch a formal investigation into any of the claims that at least 54 Colombian girls and women were assaulted by U.S. troops and contractors between 2004 and 2007. A probe into a previous assault claim was inconclusive, although the alleged victim declined to cooperate with investigators, the spokesman told USA Today.
The claims originated from a joint project of the ongoing peace talks between Colombia's government and the leftist guerrillas of the Revolutionary Armed Forces of Colombia. Historical researchers said in a report that they found evidence that 53 girls were raped by U.S. contractors operating out of Colombia's Tolemaida military base near the village of Melgar in the central state of Tolima. Their independent report was aimed at addressing the rights of more than 7 million victims of Colombia's 50-year internal conflict.
In an earlier case, a U.S. soldier and a contractor accused in 2007 of raping a 12-year-old girl were returned to the U.S., where they were not prosecuted, and while the U.S. Embassy in Bogotá said in 2009 that the case could be reopened, charges have not been filed.
The alleged perpetrators may be immune to prosecution in Colombia due to its bilateral agreements with the United States, under which the latter's military personnel and contractors are permitted to operate.
Headlines from the Western Hemisphere
North America
Caribbean
Central America
Andes
Southern Cone
Image: U.S. Army, CC BY 2.0.