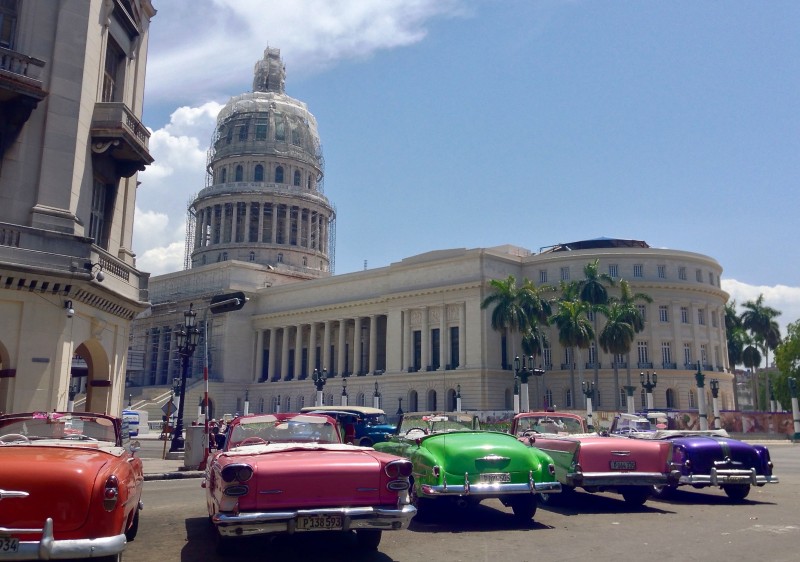 The former Cuban capitol building in Havana. (Image: Katie Schlechter)
Obama Relaxes Rules on Cuba Trade as Tourism Surges
January 27, 2016
By Staff
Top Story — As of today, Cuba will be able import U.S. goods on credit for the first time since the start of an economic embargo in 1962.
The Obama administration announced the change on Tuesday, enabling U.S. financing of non-agricultural goods to the island on a case-by-case basis. Prior to today's shift, most U.S. imports were paid for in Cuba in cash or through a third party, a process The New York Times described as "costly and burdensome."
An economic embargo remains in place, subject to the control of the U.S. Congress. The shift comes two weeks after Obama called on Congress to "recognize that the Cold War is over," and end the embargo. Despite the intransigence of Congress, the Obama administration has made several recent, additional steps toward normalizing relations with Cuba, including a statement by Obama expressing his desire to visit the island nation before his term ends.
The administration nonetheless continues to highlight concerns over human rights, political expression and entrepreneurial freedom in Cuba. They urge the Cuban government to implement reforms that would increase economic independence, freedom of expression and access to the Internet.
Meanwhile, other major changes are coming to the island as tourism has increased overall by 17.4 percent since the Dec. 2014 restoration of diplomatic ties between the United States and Cuba. Visits from the United States by non-Cuban-Americans have also jumped by 77 percent. The overwhelmed tourist infrastructure may have an easier time keeping up with booming demand as U.S. goods face fewer restrictions on their way to the island.
Headlines from the Western Hemisphere
North America
Caribbean
Haiti's former President Jean-Bertrand Aristide has enjoyed growing influence in his country since he returned from exile in 2011, according to Reuters, and may serve as a kingmaker in an ongoing electoral dispute.
Puerto Rico is scheduled to hold debt-restructuring talks with representatives from several bondholder groups on Jan. 29, in an attempt to decide what to do with the island's $70 billion of bonds, a process further complicated since the U.S. territory has over a dozen types of bonds it must negotiate simultaneously.
Central America
Costa Rica has detected its first case of the Zika virus in a 25-year-old man who had visited Colombia.
The United Nations and Panama's Foreign Ministry hosted a workshop Tuesday for representatives to take part in a truth commission that will investigate the 1989 U.S. invasion of Panama, in which a disputed number of civilians were killed.
Andes
On Tuesday, Alberto Fujimori, the former president of Peru, was transferred back to prison, where he is serving a 25-year sentence for corruption and human rights abuses, after a medical scare necessitated his transfer to a hospital.
Henry Ramos, the head of the opposition-led Venezuelan National Assembly, said in an interview with Reuters on Tuesday that he doesn't expect current President Nicolás Maduro to complete his current term, adding he believes Maduro might be replaced this year.
In response to decreased global oil prices, Venezuela's state-owned hydrocarbon company PDVSA is seeking to attract more investment from international oil companies.
Southern Cone
In order to combat the spread of the Zika virus, the Brazilian government will be deploying 220,000 troops trained to raise awareness about the virus throughout the country.
Brazilian police on Wednesday executed several search warrants in the states of São Paulo and Santa Catarina, including in the hometown and headquarters of former President Luiz Inácio Lula da Silva, the latest phase in an ongoing nationwide investigation into corruption.
On Tuesday, Argentine officials ordered LATAM Airlines workers, who belong to the country's commercial airline worker's union, to cease striking and return to work as pay negotiations resume.