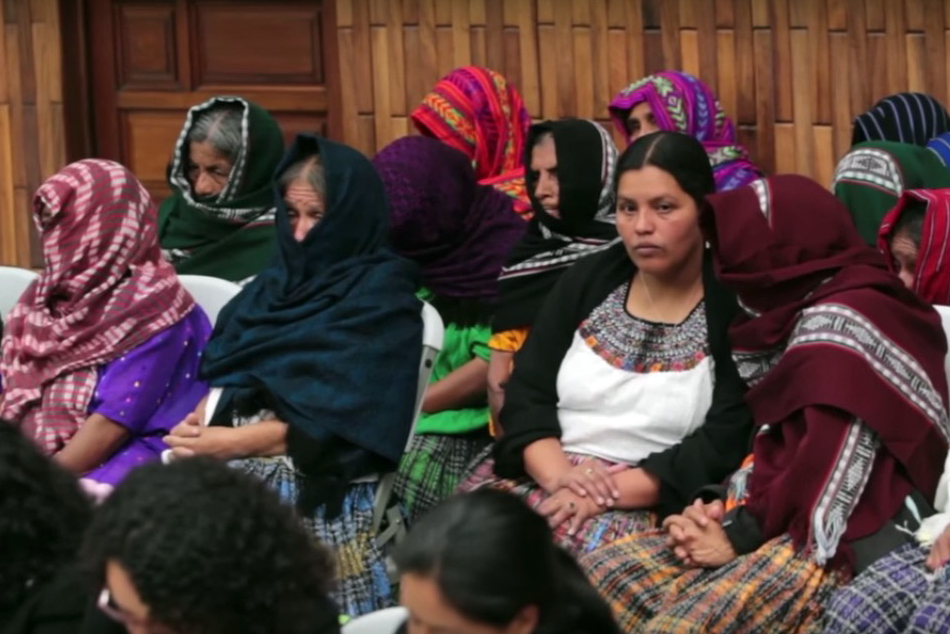 Maya-Q'eqchi victims at the opening of Monday's trial (Image:
Prensa Libre TV
)
Landmark Sexual Slavery Trial Begins in Guatemala
February 2, 2016
By Staff
Top Story — Two former soldiers in Guatemala went on trial Monday for the alleged rape, sexual enslavement, forced disappearance and murder of indigenous men and women in a 10-month period during the country's 36-year civil war.
The trial marks the first time in history that sexual slavery will be prosecuted as a war crime in the country where it is alleged to have taken place.
Retired Colonel Esteelmer Francisco Reyes Girón, 59, and regional commander Heriberto Valdez Asij, 74, stand accused of killing or forcibly disappearing Maya-Q'eqchi men from the northeastern village of Sepur Zarco, then authorizing the systematic rape and enslavement of their wives.
The surviving women, now in their seventies and eighties, testified that the soldiers raped them and burned their houses down after their husbands were killed. The women said they were then forced to report to the military base in Sepur Zarco in rotating shifts every three days, to cook and clean for the soldiers.
The shifts lasted 10 months between 1982 and 1983, a period during which the women say they continued to be raped. Some women were reportedly held on bondage for six years, until the military base closed in 1988.
The women, along with five indigenous men allegedly tortured at the Sepur Zarco base, first sought legal recourse in 2011 for the crimes committed against them. The trial is expected to last 40 days. The defendants, who were jailed in June 2014, deny any wrongdoing.
Guatemala's civil war lasted 36 years. According to the United Nations, 83.3 percent of the victims of human rights violations were Mayan.
Headlines from the Western Hemisphere
North America
Caribbean
Central America
Andes
Southern Cone