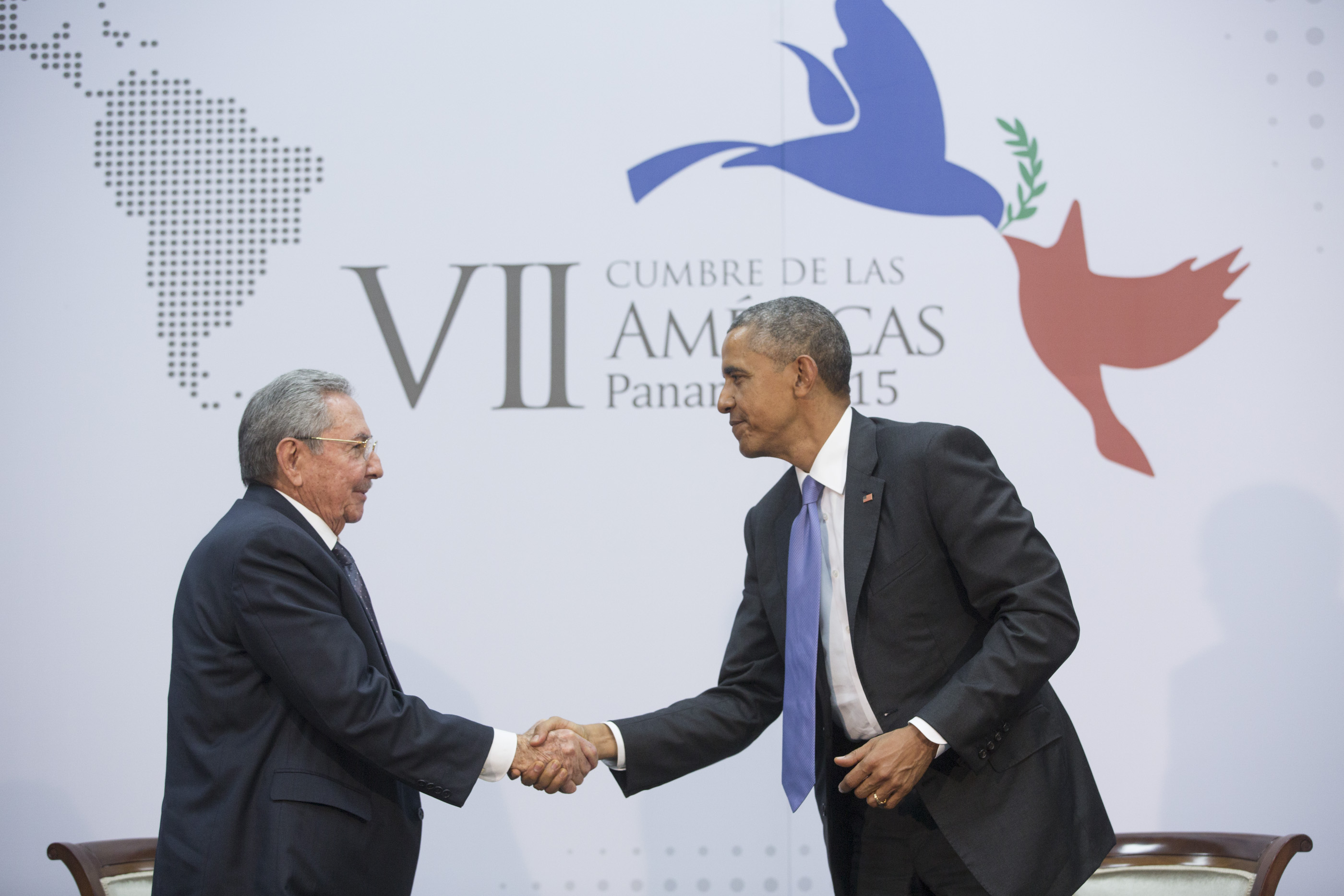 U.S. President Barack Obama shakes hands with Cuban President Raúl Castro at the Summit of the Americas last year. (Image: Official White House Photo by
Amanda Lucidon
)
Ahead of Obama Visit, Cuba Eases Travel Restrictions for Dissidents
February 25, 2016
By Staff
Top Story — Cuba on Wednesday granted seven of the country's most well-known dissidents, out on parole while serving prison sentences ranging from 18 to 25 years, permission for a one-time trip abroad as a reward for good behavior. Several of the dissidents expressed skepticism over the decision and interpreted the move as a diplomatic gesture ahead of U.S. President Barack Obama's visit to the island in March.
"It appears to be some kind of gift they want to present to Obama, but in reality it is nothing concrete because when we come back we will return to legal limbo," Martha Beatriz Roque, one of the seven dissidents, told Reuters.
Obama has pushed the Cuban government to improve its treatment of political opponents. Critics note, however, that arbitrary arrests increased in 2015, despite the thaw in diplomatic relations between the Caribbean nation and the United States.
The seven dissidents were among 75 people arrested in 2003 during a crackdown on anti-government activity that became known as the Black Spring. All 75 protesters remained incarcerated until 2010 to 2011, when the Roman Catholic Church and Spain brokered an agreement for their release on the condition that they permanently leave Cuba. Eleven of the dissidents refused the terms of the agreement, and continue to serve their sentences while out on parole. The reason why only seven of the 11 dissidents still in Cuba were granted the trip abroad was not immediately clear.
The United States supported the decision made by the Cuban government, while expressing hope that the travel opportunity was also extended to the four remaining dissidents.
"We welcome the news," Peter Boogaard, a White House National Security Council spokesman, said in a statement, "and we continue to encourage the Cuban government to allow the remaining four former prisoners to travel as well."
Headlines from the Western Hemisphere
North America
Caribbean
Central America
Andes
Southern Cone