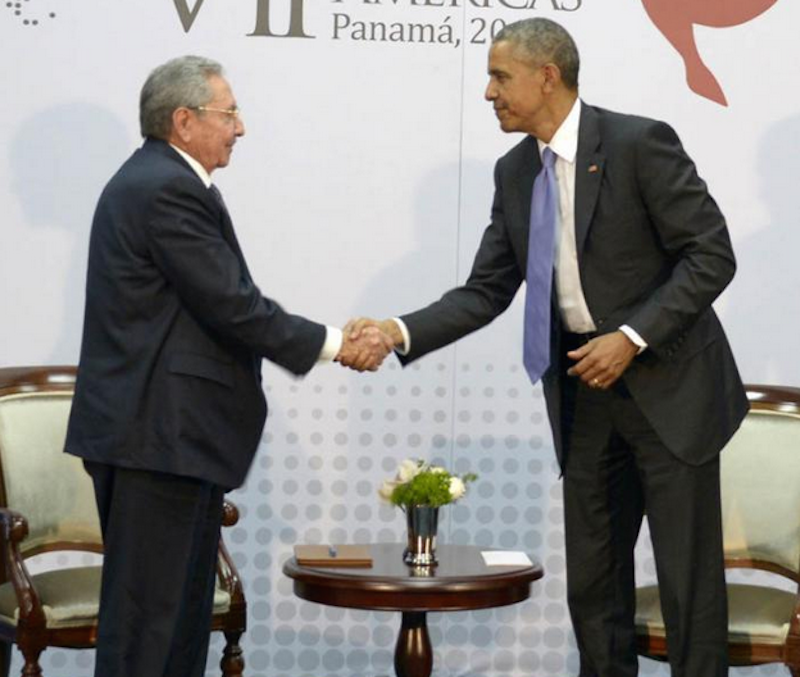 Cuban leader Raúl Castro meets with U.S. President Barack Obama in 2015. (Cuban Ministry of Foreign Affairs, public domain)
Cubans Welcome News of Obama Visit in March
February 19, 2016
By Staff
Top Story — U.S. President Barack Obama will travel to Cuba on March 21 in order to proceed with the normalization of relations between the United States and the island nation, according to a Thursday statement from the White House press secretary.
Obama, who will be traveling with First Lady Michelle Obama, will be the first sitting U.S. president to visit Cuba in nearly 90 years, and plans to meet with President Raúl Castro as well as dissident and civil society groups, but not Fidel Castro.
The trip will be a major phase in the process of normalization that has followed Obama and Raúl Castro's Dec. 2014 announcement that they would resume diplomatic relations.
The White House's announcement also comes two days after U.S. and Cuban officials signed an agreement restoring commercial flights between the two countries. Taking to Twitter, Obama said, "Next month, I'll travel to Cuba to advance our progress and efforts that can improve the lives of the Cuban people."
In Havana, many Cubans welcomed the news of the planned visit, reported The Associated Press, with some expressing hope that it would accelerate economic and social change there. Since the initial thawing of relations in 2014, tourism has grown rapidly and new WiFi hotspots throughout the island have brought internet access to tens of thousands.
Nevertheless, many ordinary Cubans feel that the pace of transformation is too slow. For those who have not been able to take advantage of the private sector boom in tourism and who are living on a state salary, little has changed in everyday life.
Cuban officials are still calling for an end to the U.S. embargo that has crippled their economy for more than 50 years, and which remains under the control of the Republican-led U.S. Congress. Yosvany Martinez, who works as a parking attendant in Havana, told the AP, "The trip will open the door to what we need, that they get rid of the blockade that's hurting us." Cuba also demands the return of the Guantanamo Bay naval base, although it remains unclear whether this issue will be included in March discussions.
Headlines from the Western Hemisphere
North America
Caribbean
Central America
Andes
Southern Cone
Subscribe to Today in Latin America by Email