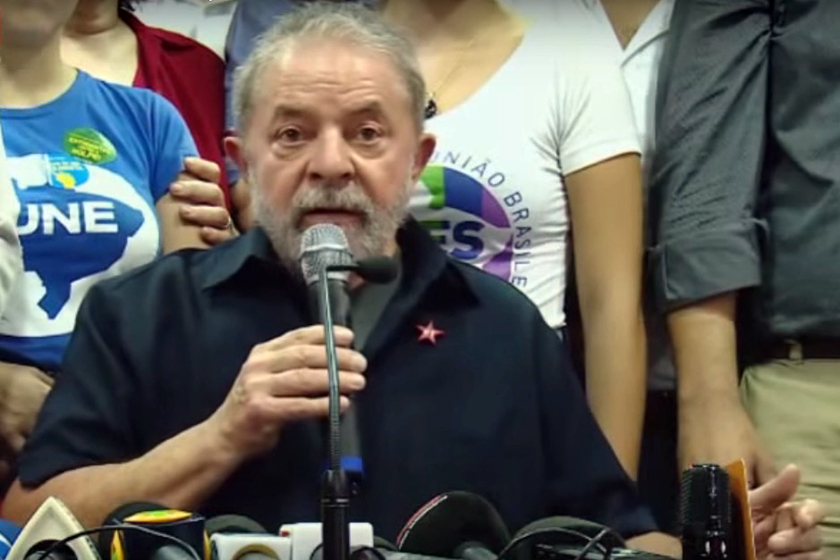 Former Brazilian President Luiz Inácio Lula da Silva during a press conference on Friday, following his release from police custody. (Image:
Rede TVT
, screenshot)
Brazil Divided Over Questioning of Ex-President Silva
March 7, 2016
By Staff
Top Story — The questioning by Federal Police of former Brazilian President Luiz Inácio Lula da Silva on Friday morning has split the country along party lines, and become an issue of contention among Brazil's highest-ranking justice officials.
In an interview with daily newspaper Folha de S. Paulo, Supreme Court Minister Marco Aurélio Mello decried the decision, made by Federal Judge Sergio Moro, to effectively detain Silva for questioning. Mello said that coerced questioning is an appropriate move only when "a citizen shows resistance and doesn't show up to testify. And Lula was never subpoenaed."
Moro, the judge overseeing the multi-billion-dollar graft case at partially state-run oil company Petrobrás, said that he chose to employ coercive questioning to avoid any chaos, as occurred in February at a forum where the former president was expected to testify. According to a police report handed over to Moro on Sunday, Silva told officers at the scene that he would only leave his residence in handcuffs.
Silva was taken in for questioning by Federal Police officers from his residence in São Paulo state on Friday morning, as part of a massive graft investigation known colloquially as Operation Car Wash, which has taken down key members of the ruling Workers' Party. The development immediately mobilized party faithfuls and opponents, who clashed in front of Silva's residence and at Congonhas Airport, where the former president was being questioned.
On Thursday, weekly magazine ISTOÉ revealed the contents of a plea deal being negotiated by Workers' Party Senator Delcídio do Amaral, in which he asserts that Silva knew about the scheme at Petrobrás, and that current President Dilma Rousseff attempted to interfere in the investigation. Rousseff repudiated the accusations, saying that, if they were in fact made as part of a plea deal, they were spurred "by the immoral and petty desire for revenge." Rousseff expressed "total unconformity" with Silva's coerced questioning.
Silva, who addressed Workers' Party members during a rally late on Friday, did not back down from his previously expressed desire to run for president in 2018. "If they are a cent more honest than I," he said about his accusers, "then I will leave politics."
Headlines from the Western Hemisphere
North America
Caribbean
Central America
Andes
Southern Cone