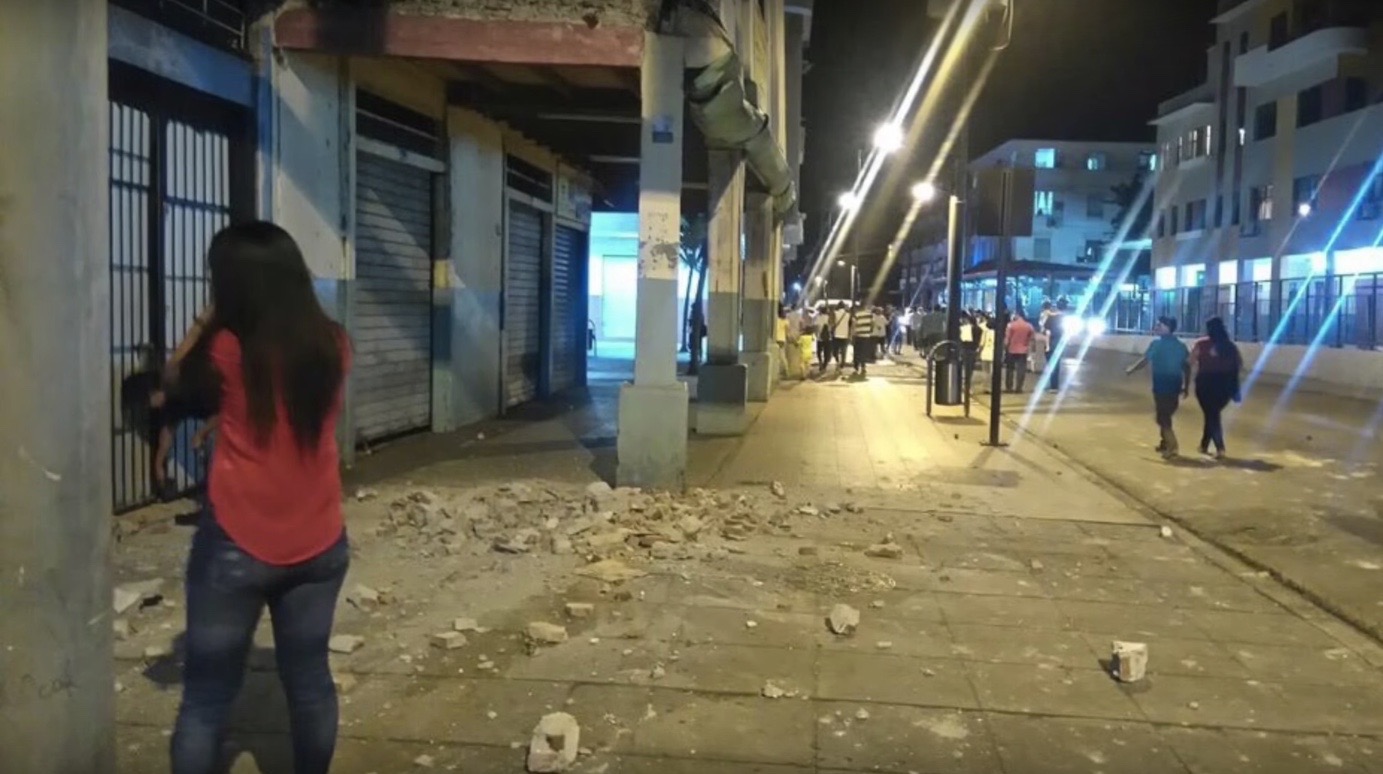 Damage from a 7.8-magnitude earthquake that rocked Ecuador over the weekend. (Image:
YouTube
)
Ecuador Begins Relief Efforts Following Deadly 7.8-Magnitude Earthquake
April 18, 2016
By Staff
Top Story — Residents of rural Ecuadorian towns west of Quito are reeling following the country's most devastating earthquake in 40 years. The 7.8-magnitude quake struck Saturday night near the town of Muisne, although the greatest damage to life and infrastructure was felt in the coastal region of Manabí.
Residents of Manabí's regional capital Portoviejo, located 300km south of the Muisne epicenter, recall forces strong enough to lift people off the floor during the minute long quake and numerous aftershocks. In total, 272 people were killed and some 2,527 people were injured with numbers expected to rise. After assessing the situation, the Spanish Red Cross said on Monday that as many as 100,000 individuals made be in need of assistance following the quake.
Along with the loss of life, nearly 370 buildings were destroyed in Portoviejo, leveling much of the city. Buildings and bridges were destroyed as far away as Guayaquil, Ecuador's largest city located nearly 500 km south of the epicenter.
Ten thousand troops and 3,500 police officers have been sent to Manabí to establish order and aid in rescue operations. Additional relief workers attempting to reach affected areas have struggled with roads and riverways blocked by landslides.
Ecuador's President Rafeal Correa cut short a trip to the Vatican to return to the pacific coast and, in an address from Portoviejo, encouraged Ecuadorians to continue rescue efforts and offered words of comfort.
"If our pain is immense, still larger is the spirt of our people," he said.
Countries throughout Latin America have offered assistance and supplies. Venezuela and Colombia have organized airlifts while Chile and Mexico have sent teams of relief workers.
Just Published in Latin America News Dispatch
Brazil's lower house of Congress on Sunday voted to impeach President Dilma Rousseff, a decision that now takes the impeachment vote up to the Senate, where a simple majority in favor of impeachment will definitively remove Rousseff from office. LAND's Cleuci de Oliveira reports on the historic decision from the South American nation's capital, Brasília.
Headlines from the Western Hemisphere
North America
Caribbean
Central America
Andes
Southern Cone