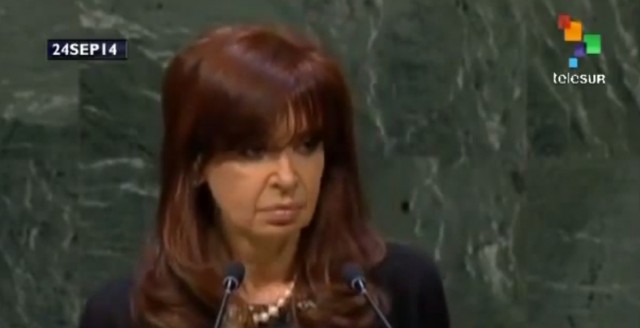 Argentine President Courts Controversy With Tweet From China
February 5, 2015
By Staff
Top Story —
Argentine President Cristina Fernández on Wednesday attracted renewed controversy with a social media post mocking the speech of Chinese people, her hosts on a trip taken in an effort to build bilateral trade ties as she faces sharp questions about the death of a crusading prosecutor at home in Argentina.
Fernández's Twitter post, sent on Wednesday, suggested the Chinese trade in "lice" and "petloleum," a reference to stereotypes about the pronunciation of Chinese speakers. Following an immediate outcry, she tweeted that "when ridiculousness and absurdity are so severe, they can only be digested with humor."
The controversy followed a major revelation on Tuesday concerning the death of Argentine prosecutor Alberto Nisman: that he had issued an arrest warrant for Fernández and others for their alleged role in covering up a 1994 terror bombing. Nisman was found dead by members of his security detail on Jan. 19 of a single gunshot wound to the head. He had been set to testify on the following day regarding his 300-page accusation that Fernández had worked to conceal Iran's role in the deadly 1994 bombing of a Jewish center in Buenos Aires in exchange for access to oil, a commodity Argentina pays to import. Fernández has been asked to testify in Nisman's case, and a judge must now determine whether to formally compel the president to testify.
Fernández's social media scandal follows a similar public relations challenge for Mexico's president. Enrique Peña Nieto was widely ridiculed on social media after making an off-the-cuff remark at the end of a news conference on Tuesday, following his announcement about a government probe into allegations against him and a member of his administration.
After Peña Nieto said a probe will be set up to investigate possible conflicts of interest concerning real-estate purchases made by his family and the finance minister, he walked away from the podium, saying, "Ya sé que no aplauden," or "I know they don't applaud," when his announcement was met with silence by the journalists in attendance. The hashtag #YaSeQueNoAplauden became the highest-trending topic on Twitter in Mexico over the next several hours.
Tuesday's announcement of a government probe relate to a series of potential conflict-of-interest scandals uncovered by Aristegui Noticias and the Wall Street Journal that show contractors who sold private residences to the president and finance minister went on to receive lucrative government contracts. The charges of favoritism, along with the ongoing crisis surrounding the alleged massacre of 43 teacher-trainee students in Iguala, have caused Peña Nieto's approval ratings to plummet.
Headlines from the Western Hemisphere
North America
Caribbean
Central America
Andes
Southern Cone
Image: YouTube