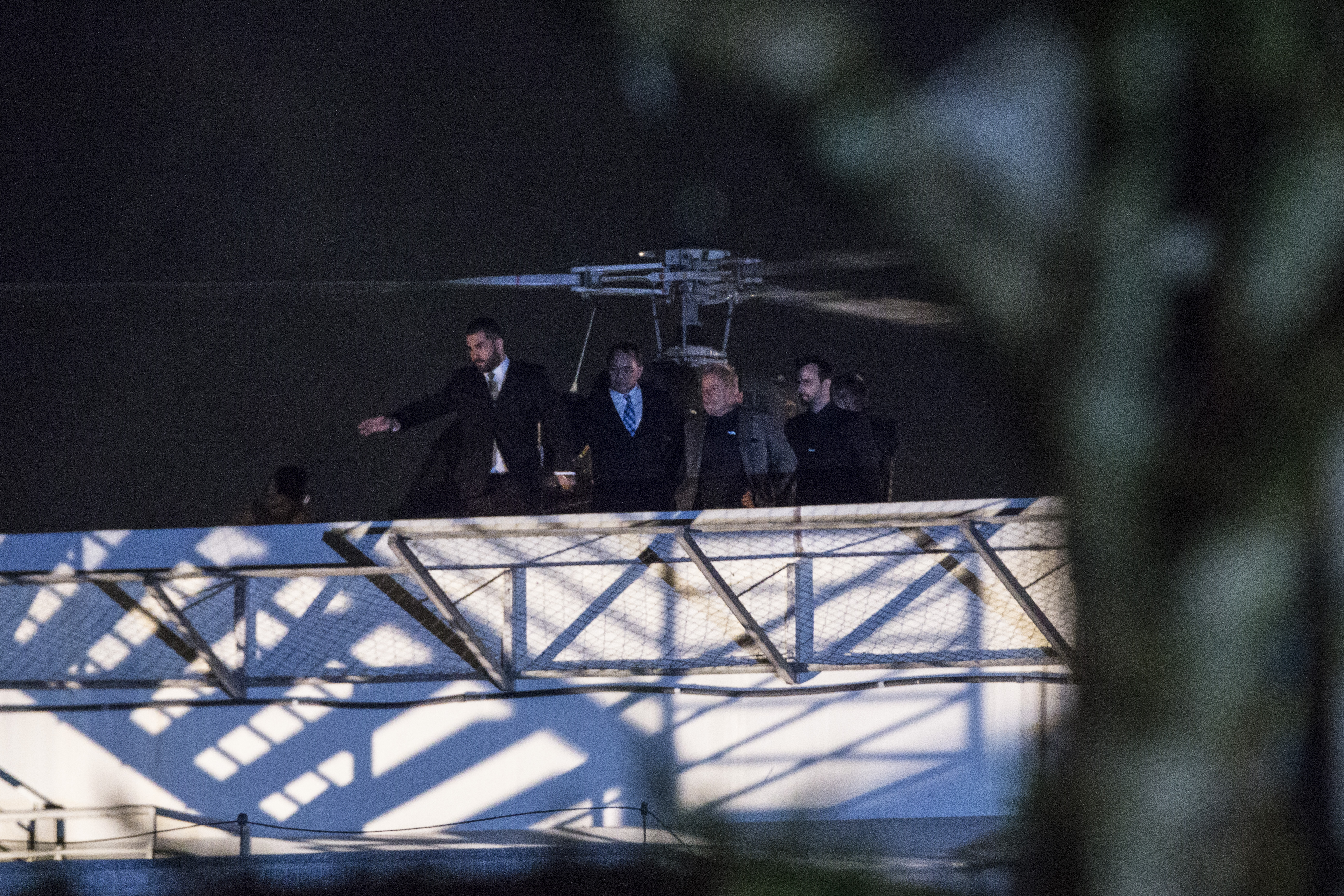 Brazilian Former president Lula da Silva arriving to Curitiba in a police helicopter. Photo by Marcello Casa Jr for Agência Brasil, CC BY-NC 2.0
Lula da Silva turned himself in to Brazilian authorities
April 9, 2018
By Staff
TODAY IN LATIN AMERICA
BRAZIL—Former president Luiz Inácio Lula da Silva turned himself in to the police in São Paulo on Saturday evening and was flown by helicopter to the southern city of Curitiba to begin a 12-year sentence for corruption charges. Da Silva had missed a Friday deadline taking refuge in the steelworkers' union building where he began his career in his hometown in the São Paulo suburb of São Bernardo do Campo. A second attempt to avoid jail time while he appeals his conviction was turned down on Saturday by Supreme Court Justice Edson Fachin. Thousands of supporters gathered outside the union building since Friday and the police did not try to take him by force fearing clashes. When he first tried to leave earlier on Saturday after announcing he would turn himself in, his own supporters blocked his car from moving.
The corruption conviction against Da Silva rests on the testimony of an executive of the construction firm OAS convicted for corruption who received a reduced prison sentence for changing his testimony and saying Lula had received a luxury apartment. There is no documentary evidence that the former president or his deceased wife ever owned or used the apartment or of what the by then already former president gave in return for it.
HEADLINES FROM THE WESTERN HEMISPHERE
NORTH AMERICA
UNITED STATES AND VENEZUELA—Over the weekend, Senator Dick Durbin, a Democrat from illinois, met with Venezuelan president Nicolás Maduro  as part of a four-day trip made at Venezuela's invitation. The trip included a visit with Joshua Holt, a Utah man who has been jailed in Caracas for nearly two years on weapon charges the U.S. considers "trumped-up." Earlier in the week, Representative Pete Sessions, a Republican from Texas, had also met with Maduro in a privately-funded trip. The visits come as the Trump administration debates on imposing an embargo on Venezuela's oil shipments.
UNITED STATES—U.S.-Mexico border crossings have increased 200 percent, White House adviser Tom Bossert said. Over 50,000 illegal immigrants have been apprehended during the month of March, belying other figures from the Department of Homeland Security that show illegal crossings at their lowest levels since 1971. Bossert defended the deployment of 4,000 National Guard troops to the border, although the restrictions set on them might make their role less significant than what the President had announced.
MEXICO—On Friday, Mexican marines accepted responsibility for killing three civilians in the northern border city of Nuevo Laredo. During a gun battle between cartel men and military operatives, gunshots fired from a helicopter killed a female passerby and her two children. After the Navy denied that the victims were hit by bullets from the helicopter in late March, this recognition resulted with the Navy offering reparations to the victims' families.
CARIBBEAN
TRINIDAD AND TOBAGO—Trinidad and Tobago has seen an influx of Venezuelan immigrants in the past year; on Friday the Acting Chief Immigration Officer Charmaine Gandhi-Andrews said that 150 to 200 Venezuelans are entering the country every week and that the number of Venezuelans applying for asylum has increased from five people in 2016 to over 2,000 people today. Opposition Member of Parliament Fuad Khan called for the government to review its refugee and asylum process.
CENTRAL AMERICA
EL SALVADOR—This past weekend hundreds of artists filled the streets of San Salvador during the "Sombrilla Fest", a cultural event in which artist collectives presented their art as a way to escape the "darkness of violence" in El Salvador, one of the most dangerous countries in the world due in large part to the activity of deadly gangs such as MS13 and Barrio 18.
ANDES
PERU—Former President Alberto Fujimori ruled out any possibility of him returning to politics, as his constant Twitter comments had led to speculate, and said doctors had detected a tumor in his lungs. Fujimori was pardoned for corruption and human rights abuses in December by now also former President Pedro Pablo Kuczynski, who had to resign in March after a scandal created by a political dispute between Fujimori's children Keiko and Kenji, both of whom are Congress representatives. The eldest Fujimori said the fighting between his children "is temporary."
SOUTHERN CONE
BRAZIL—Four were killed and 149 were arrested in a shootout during a police operation targeting a militia group in Rio de Janeiro's Santa Cruz neighborhood. The suspects were attending a party in a ranch that the police said was the group's headquarters and where they found different types of firearms, stolen vehicles, grenades, and replicas of police and military uniforms. The operation is part of a campaign aimed at eradicating militia groups in Rio de Janeiro.