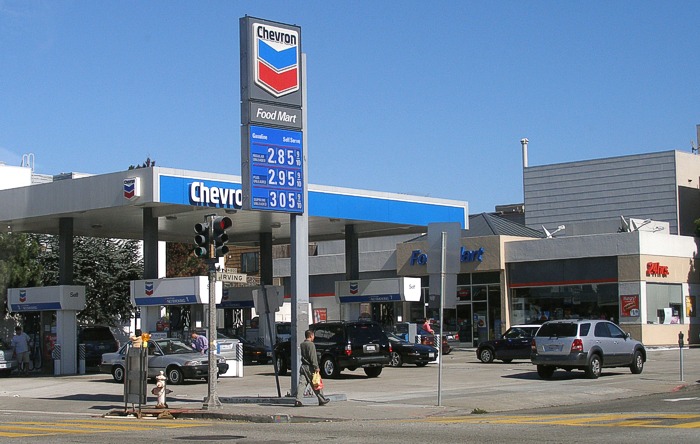 Chevron gas station. Photo by Coolcaesar on Wiki Commons
Venezuela releases Chevron executives, Spain arrests son of Venezuelan oil magnate
June 7, 2018
By Staff
TODAY IN LATIN AMERICA
VENEZUELA: Two local executives of U.S. oil company Chevron were freed yesterday after almost two months in jail on corruption charges. Carlos Algarra and René Vásquez are Venezuelan citizens and were arrested in mid-April during a widespread corruption probe of the oil sector that led to the detention of more than 80 executives at PDVSA, the Venezuelan oil company, and other local partners. Algarra and Vásquez were the only executives of foreign companies arrested. The Venezuelan government has been making goodwill overtures since the weekend, when it released dozens of opposition activists on political charges.
Meanwhile, the wife and son of one of Venezuela's wealthiest businessmen were arrested yesterday by Spanish authorities on money laundering charges. José Roberto Rincón, one of the sons of United States-based oil magnate Roberto Enrique Rincón, and Maria Lila Bravo were detained as part of a corruption investigation that is expected to lead to more arrests. Rincón father had pleaded guilty on accusations of bribing PDVSA officials with over 27 million dollars to retain contracts for his U.S. based companies in front of a Texas court in August 2017.
HEADLINES FROM THE WESTERN HEMISPHERE
NORTH AMERICA
MEXICO: Presidential frontrunner candidate Andrés Manuel López Obrador has widened his lead according to two different voter surveys published on Tuesday. A survey by firm GEA-ISA says López Obrador would have 37 percent of the vote while polling firm BGC calculates he will  take 47 percent of the total.
MEXICO: Seven people died and eight were injured when fireworks that were being stored in a home in Tultepec, outside Mexico City, exploded yesterday. A dozen cars and 23 nearby homes were also damaged or destroyed. Handcrafted fireworks are a major part of Tultepec's economy, and a Pyrotechnic Festival is celebrated annually there.
CARIBBEAN
BERMUDA: The Chief Justice of the British Overseas Territory ruled prohibiting same-sex marriage is unconstitutional. The decision overturned legislation passed in December last year revoking the right of gay couples to marry and offering instead a legally-recognized civil union. This law had been passed by Parliament to oppose a previous decision by the High Court to allow same-sex marriage. The tables could turn again as the government has the right to appeal yesterday's decision.
CENTRAL AMERICA
EL SALVADOR: During the night of Tuesday to Wednesday, Salvadoran authorities captured 25 persons connected to former President Mauricio Funes, accusing them of corruption during his government. Funes, who is currently exiled in Nicaragua, said that the investigations against members of his government are arbitrary and a political persecution by the current General Attorney Douglas Meléndez.
PANAMA-UNITED STATES: The government of Panama and the embassy of the United States there announced today the creation of a Migratory Joint Task Force to tackle irregular migration, contraband, drug and arms traffick and money laundering in the southernmost Central American nation.
ANDES
PERU: Sen. Kenji Fujimori, son of former president Alberto Fujimori, was suspended yesterday while a criminal investigation for allegedly buying votes to prevent now former president Pedro Pablo Kuczynski from being impeached runs its course. The vote against Kenji Fujimori was led by the political party of his older sister Keiko Fujimori who was trying to fully oust him from Congress but lacked the necessary number of votes. Kenji Fujimori was the most voted senator in the last two legislative elections and is likely to run for president against his sister, who has already run twice before.
COLOMBIA: The Inter-American Court of Human Rights ruled yesterday that the Colombian state is responsible for the murder in 1998 of journalist Nelson Carvajal because it happened in a "context of impunity" of crimes against journalists.
SOUTHERN CONE
ARGENTINA: A pre-World Cup friendly soccer match between Argentina and Israel has been cancelled only days before it was set to take place in Jerusalem because of alleged terrorist threats against the Argentine players. The government of Israel, it's opposition and the Palestinian authorities are all blaming each other for politicizing the game in the first place, which was supposed to take place in Haifa and was later moved to contested Jerusalem. A Palestinian boycott grassroots movement which promotes boycotts, divestment and sanctions against Israel has claimed the cancellation as an achievement.
CHILE: A demonstration demanding women's rights and an end to sexist education summoned tens of thousands to the streets of Chilean cities yesterday. Organizers said 80,000 people marched through the streets of Santiago, the capital, while the government put the number at 15,000, smaller marches were also held in Valparaíso, Concepción, Chillán, Arica and Puerto Montt. This was the third feminist demonstration in the past month.
BRAZIL: The Brazilian Real dropped this week to $0.26 per dollar, its lowest price since 2016. Even though in recent days the dollar has risen against many currencies, the drop of the Real has been more notorious and can be attributed to other factors such as the recen truckers strike and uncertainty for the upcoming presidential elections.