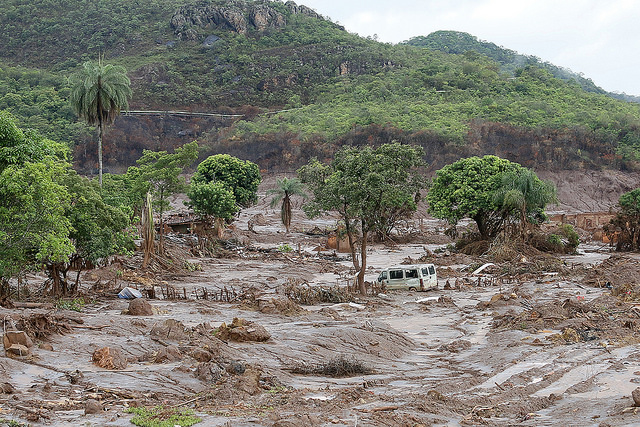 Bento Rodrigues, Mariana, Minas Gerais, post dam collapse, Photo: Rogério Alves/TV Senado
Brazilian Victims of Dam Collapse Sue Multinational in British Court
November 7, 2018
By Staff
TODAY IN LATIN AMERICA
BRAZIL: Victims of the worst environmental disaster in Brazilian history sued the Anglo-Australian mining giant BHP Billiton for $9 billion in British court Monday. Twenty-four municipalities of Minas Gerais state joined the class action, along with 11,000 businesses, a Catholic archdiocese, the indigenous Krenak people, and some 240,000 residents affected by the Samarco dam collapse. If allowed to proceed, it would be one of the largest such suits to ever be decided in the British court system.
A joint project between the Brazilian state-owned Vale mining firm and BHP, the Samarco dam collapsed on November 5, 2015, killing 19 people, destroying villages, and contaminating an entire river basin with toxic mining waste. Investigators later determined that company executives were aware that the dam could fail and failed to take preventative measures. Prosecutors have pursued civil charges in Brazil, where the company has reached settlements committing it to recovery efforts. But victims say the Brazilian court system is too slow to ensure a just resolution and that prosecutors have asked for too little in damages.
HEADLINES FROM THE WESTERN HEMISPHERE
NORTH AMERICA
MEXICO: Thousands of members of the Central American migrant caravan awoke yesterday morning to humanitarian aid sent to Mexico City's Jesús Martínez stadium, where they have been camping since Sunday. Mayor José Ramón Amieva said authorities are prepared to attend to some 5,500 migrants as of today. Mexican humanitarian officials said yesterday that at least 100 Central Americans were kidnapped from the caravan in the state of Puebla, allegedly by the Zetas cartel this past week.
MEXICO: Acting on an anonymous tip-off, mothers began digging up a possible mass grave site in the Gulf state of Veracruz in search of their missing children. The mothers say they were told that as many as 400 bodies may be buried in the area. There are more than 3,600 pending cases of disappearances in Veracruz, and the total number of disappeared people is expected to be even higher.
CENTRAL AMERICA
EL SALVADOR: Authorities captured the alleged head of the 18th Street gang early yesterday morning, along with 52 other alleged gang members. Marlon Salvador stands accused of leading a million-dollar extortion ring in San Salvador. The arrests were part of a broader multilateral effort that has seen hundreds of warrants issued throughout the Northern Triangle countries, including more than 500 in El Salvador alone.
HONDURAS: Repeating debunked conspiracy claims, President Juan Orlando Hernández called for the "organizers" of the Central American migrant caravan to be investigated and severely punished by regional governments. Following a meeting with his Guatemalan counterpart, President Jimmy Morales, Hernández said certain unspecified people with "political or criminal interests" have incited the migrants to violate immigration laws. No such people have yet been identified, and many of the migrants intend to seek asylum, which is permitted under both international and national law.
CARIBBEAN
BARBADOS: The state-owned Caribbean Broadcasting Corporation (CBC) announced yesterday that it will be laying off more than half of its 230 workers, as part of a broader national austerity agenda promoted by the International Monetary Fund. The company is in negotiation with its union over severance packages for employees who accept voluntary buyouts. Over 1,000 public officers will be laid off from the Barbadian government due to the retrenchment strategy of Prime Minister Mia Mottley.
ANDES
PERU: Police arrested three people, including a former head of the national police force, for their alleged roles in a child trafficking ring. A total of 15 people conspired to sell children stolen from poor women, prosecutors said. In early morning raids yesterday, police arrested Gen. Raul Becerra along with a gynecologist and a pediatrician. They also rescued a 5-month-old baby. Cintia Tello, Becerra's former partner, is the suspected ring leader, police said.
SOUTHERN CONE
BRAZIL: Far-right President-elect Jair Bolsonaro says Venezuela should be kicked out of Mercosur for violating the economic alliance's democratic clause. Venezuela's membership in the alliance has been precarious since 2016 when it was suspended amid complaints from the other members about its human rights record and its failure to meet economic expectations. Argentina, Paraguay and Uruguay are also part of the five-country alliance.
ARGENTINA: For the first time in its 100-year history, the storied University Club of Buenos Aires will admit women. The club assembly, composed entirely of men, voted to change admittance rules Monday night, with 1,648 in favor and 601 against. Women can now join the club on their own, vote and register members of their families, but still will not be able to play any sports in one of the club's eight venues.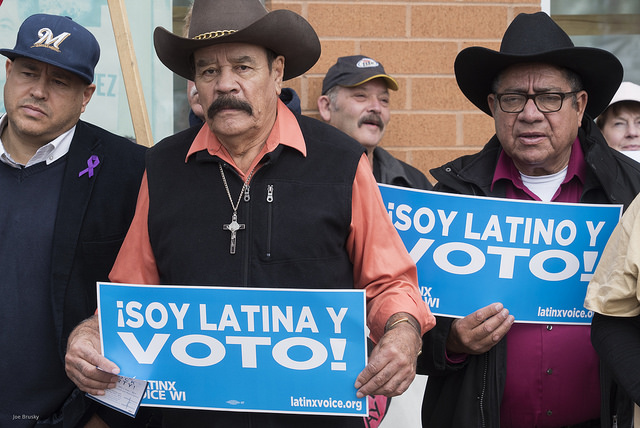 November 6, 2018
> Staff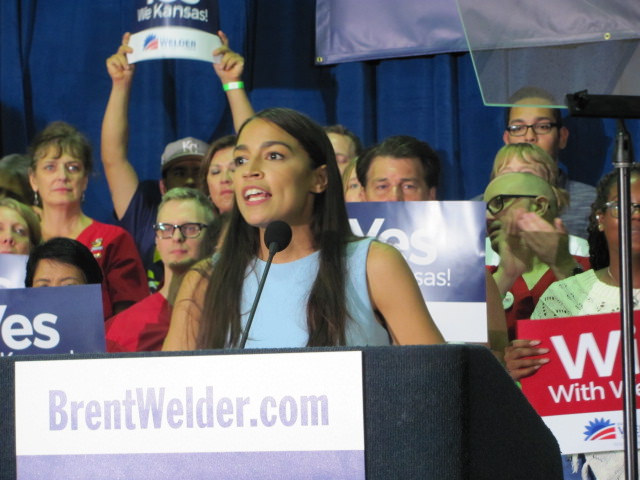 November 8, 2018
> Staff