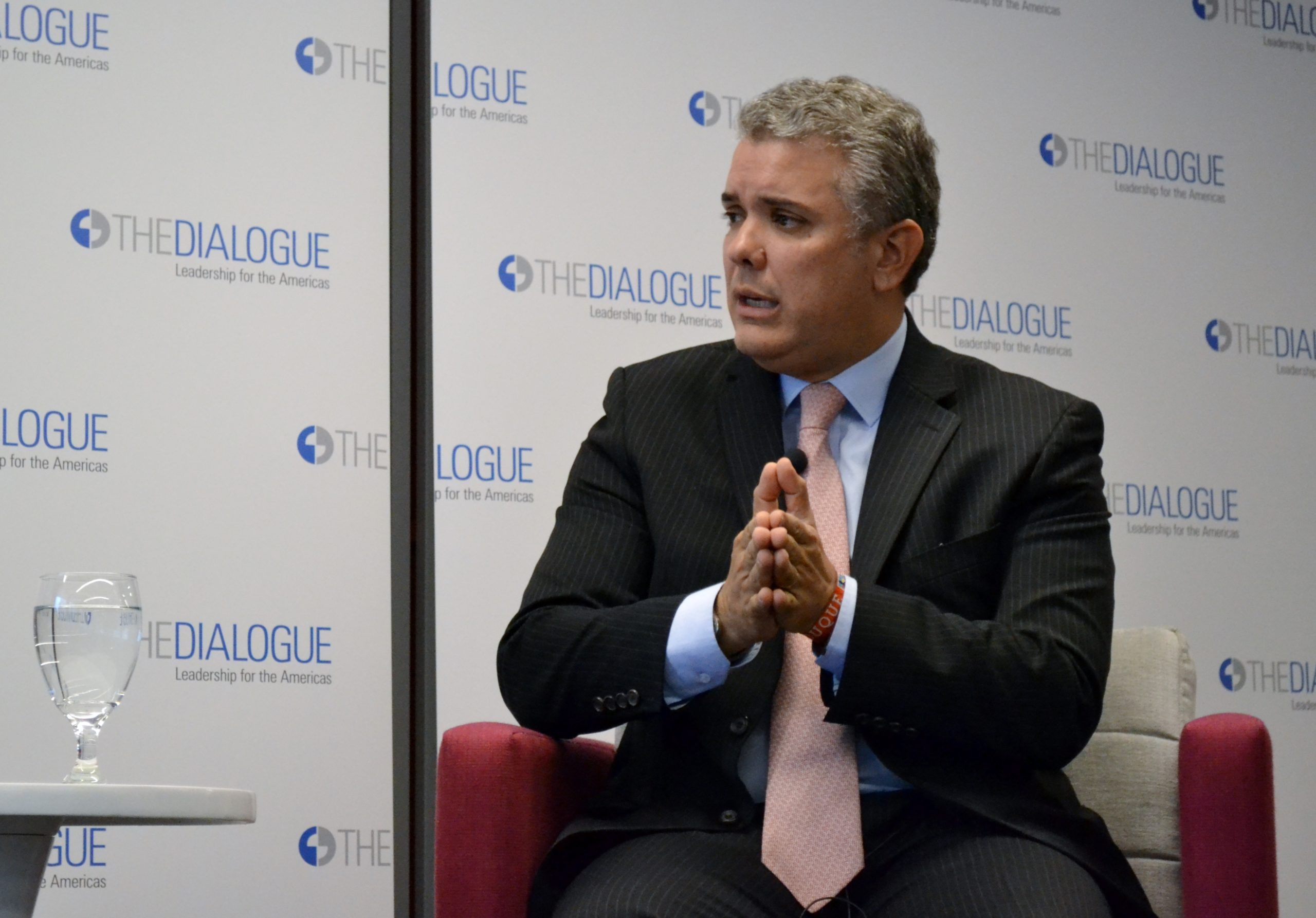 Colombian President Iván Duque. (Photo courtesy of Inter-American Dialogue via Flickr)
Duque Holds First Meetings with Colombian Protest Organizers
November 27, 2019
By Staff
TODAY IN LATIN AMERICA
COLOMBIA: President Iván Duque had his first meeting with protest organizers yesterday morning after a third protester died on Monday. Dilan Cruz, an 18-year-old high school student, succumbed to his injuries after riot police shot at him in the head point black with a tear gas canister. Cruz's death comes as protests enter their sixth day.  
Cruz had been demonstrating for better access to higher education, along with other students around Colombia. In addition to education, protesters have marched for Indigenous rights, following an increase in murders of Indigenous leaders. Workers have also marched against possible pension cuts. The protests began last Thursday and are expected to continue in the coming days.
Headlines from the western hemisphere
SOUTHERN CONE
ARGENTINA: Two priests were found guilty of sexually abusing students at a school for the deaf in Argentina Monday. A three-judge panel found the men guilty on 20 counts, including rape, and sentenced Rev. Nicola Corradi to 42 years in prison and Rev. Horacio Corbacho to 45 years. The men were accused of abusing children at a Catholic-run school in northwest Argentina. Corradi is 83 years old and is expected to remain under house arrest. Corbacho is 59 and is expected to report to a Mendoza prison. 
CHILE: President Sebastián Piñera asked Chile's congress yesterday to allow the army to defend public infrastructure. The bill asks for permission to use the army to guard facilities and infrastructures that guarantee "basic services." Piñera's request comes while the armed forces are under close scrutiny for abuses that have claimed the lives of at least 26 protesters.
ANDES
BOLIVIA: Experts from the Inter-American Commission on Human Rights arrived in Sacaba, Bolivia, on Monday to investigate the deaths of nine protesters, who were killed in clashes with security forces. The central Bolivian city has been a focal point of violence between supporters of ousted President Evo Morales and security forces. Unrest caused by the contested election and the expulsion of Morales has resulted in the deaths of at least 32 protesters.
CARIBBEAN
CUBA: Cuba's foreign minister Bruno Rodríguez accused the United States of violating international conduct agreements in a series of tweets yesterday. Rodríguez said that "illegal actions" of the U.S. Embassy constituted a violation of the Vienna Convention, as well as a 2015 deal between the two countries that re-established official relations. The United States, in turn, accused the Cuban petroleum company Corporación Panamericana S.A. of violating U.S. sanctions on Venezuelan-imported oil. Tensions between the two countries have continued to rise, as the Trump administration increases its pressure on the Cuban government. 
TRINIDAD AND TOBAGO: Attorney General and Minister of Legal Affairs Faris Al-Rawi introduced two new pieces of legislation to Parliament yesterday that would legalize marijuana for medicinal, religious and recreational use. The two bills — the Dangerous Drugs (Amendment) Bill and the Cannabis Control Bill — would amend the current Dangerous Drugs Bill, which Al-Rawi called a part of "a colonial archaic past." The legislation would allow for the possession of small amounts of marijuana and the growing of marijuana plants without a licence and provides a way for those with past offenses to have their charges dismissed. The bills require a simple majority to pass and will be debated on a later date.
CENTRAL AMERICA
HONDURAS: Television Journalist José Arita was shot to death Monday evening upon leaving the Channel 12 news station in Puerto Cortes. Arita is believed to be the fourth journalist killed in Honduras this year. Security spokesman Jair Meza Barahona said at least four men were waiting for Arita to leave the building before opening fire and killing him, possibly in response to his work. The Honduras College of Journalists reports that more than 84 journalists have been killed since 2001, but only seven of those crimes have been solved.
NORTH AMERICA
MEXICO: Mexico's federal government announced yesterday that a $43 billion infrastructure plan is underway to confront a recession. President Andrés Manuel López Obrador has asked companies to join the initiative, as 80% of the National Infrastructure Plan (PNI) will rely on funding from the private sector. AMLO's plan includes 147 building and expansion projects, half of which are set to break ground in 2020. Following four quarters of negative growth, AMLO hopes to push Mexico out of its recession.
REGION: United States House Speaker Nancy Pelosi said Monday that the U.S.-Mexico-Canada Agreement is in need of another round of negotiations before a "final review." Democratic lawmakers are nearing a substantially improved agreement, but Pelosi wants to guarantee that labor and environmental standards will be enforced. U.S. President Donald Trump has criticized Pelosi for prioritizing the House impeachment inquiry over the trade deal. Unions are calling on Pelosi to make changes before allowing a vote on an implementation bill. In a statement last week, Pelosi said the House may not follow through with the rewrite of NAFTA until next year.
MEXICO: A Mexican actor and a French tourist who were kidnapped in Mexico on Sunday were released following a 30,000-peso ($7,690 USD) ransom. The kidnappers originally requested 150,000 pesos but eventually released the hostages after receiving the 30,000 pesos. The National Anti-Kidnapping Coordinator and the Attorney General's Office coordinated the payment and located the hostages. Investigations are still underway.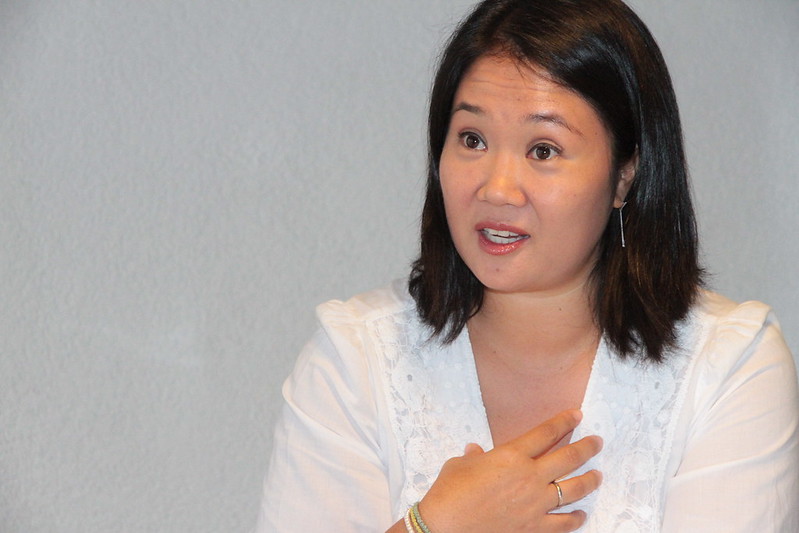 November 26, 2019
> Staff