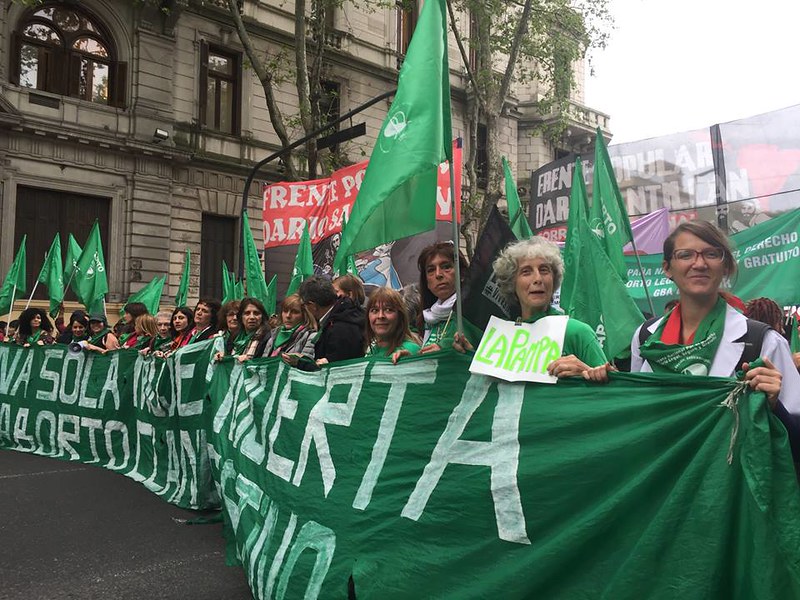 Argentine activists participating in a March for Safe Abortion in September 2019. Photo courtesy of International Women's Health Coalition via Flickr
Thousands of Women Rally for Legal Abortion in Argentina
February 20, 2020
By Staff
TODAY IN LATIN AMERICA
ARGENTINA: Thousands congregated outside the National Congress on Wednesday to once again demand for the government to legalize abortion in Argentina. Marches in support of legalization were scheduled across more than 80 locations in Argentina on what is known as Green Action Day. For the past three years, members of the National Campaign for Legal, Safe and Free Abortion have  presented legislation to Congress on Feb. 19 to allow abortion across the country. This year's presentation was the first that had the government's support. 
President Alberto Fernández supports legal access to abortion, describing it as a public health issue. Fernández is currently drafting a bill to present to Congress. In 2018, the Senate rejected a bill presented by women's rights activists to allow abortion in the first 14 weeks of pregnancy.
Abortion is currently illegal in Argentina and can be punishable by up to fifteen years in prison, except in instances of rape or life-threatening risk to the mother's health. But abortion access remains difficult even in legal cases. Last year, an 11-year-old girl was denied an abortion by Argentine health officials after being raped by her grandmother's partner. The girl was forced to have an emergency cesarean section 23 weeks into her pregnancy due to health concerns. Human rights groups estimate that as many as 450,000 illegal and unsafe abortions occur in the country every year.
Headlines from the western hemisphere
SOUTHERN CONE
ARGENTINA: Meetings ended yesterday between three Argentinian survivors of sexual abuse by priests and a United Nations human rights committee, who met in Geneva to discuss pressuring the Vatican to recognize the clergymen's crimes. The survivors, former students at the Antonio Provolo Institute for Deaf and Hearing-Impaired Children, will travel to Rome in an attempt to meet with Pope Francis. The group said they chose to take their stories public to alert the international community and push for the Vatican's maximum punishment. Pope Francis was made aware of the abuse allegations in 2014 and has been implicated in covering up the crimes.
ANDES
BOLIVIA: Public Ministry expanded electoral-fraud charges against Evo Morales at the request of presidential candidate Carlos Mesa. Morales and four ex-authorities will be investigated for alleged electoral fraud in the 2019 presidential elections. Prosecutor Marco Antonio Rodríguez said on Feb. 17 that the State Attorney General's Office had submitted the request to extend the investigation and was treating it under a new process.
VENEZUELA: President Nicolás Maduro has been accused of "disappearing" six oil executives awaiting trial on corruption charges. The families of the executives took to social media after the men failed to show for a second hearing on Wednesday. They were being transported by federal intelligence police. Two weeks ago, the men were taken into custody after being on house arrest since 2017, prompting accusations that the government was using the men, some of whom are U.S. citizens, as "political bargaining chips" against the U.S. government.
CARIBBEAN
HAITI: The United Nations issued a report on Tuesday accusing Haitian police of failing to protect the pro-opposition Bel Air neighborhood during a gang-led November attack against its residents. The investigation revealed that government representatives offered local organizations about $50,000 in exchange for lifting anti-government barricades across Bel Air. A former police officer and gang leader reiterated the government's request days later, and when the community refused to comply, a three-day armed attack started on Nov. 4. As gangs burned homes and amid unwavering gunfire, victims tried to get help from the police and got no reaction. The report came a day after officers took to the streets in protest of inadequate working conditions, which culminated in chaos after policemen began firing their weapons into the air and setting property on fire. 
PUERTO RICO: The island's government went to court to try to stop a recent deal reached between the federal control board overseeing Puerto Rico's finances and bondholders that would reduce the island's debt by $24 billion. The attorneys argued before the court that the deal is not in the best interest of the island's residents and questioned how the deal can move forward without the government's support after Governor Wanda Vázquez publicly opposed the agreement. Vázquez rejected the deal, arguing that it favors bondholders over the island's retirees by subjecting them to pension cuts of up to 8.5% while bondholders get new bonds. Puerto Rico's legislature would also need to approve the deal.
CENTRAL AMERICA
EL SALVADOR: An investigation by the country's Attorney General revealed that the Sánchez Cerén administration paid gang members a monthly sum of $400 in exchange for electoral support between leading up to the 2014 election. Drawing on testimony from an anonymous witness as well as video footage, El Salvador's top prosecutor pieced together that the Farabundo Martí National Liberation Front 2014-2019 government had close ties to the country's three dominant gangs dating back to 2014, including monthly payments made to 16 gang members over the course of 24 months. The investigation alleges that the government paid a total of $6,400 monthly, bringing the total to $153,000 in the two years. The Attorney General has accused eight politicians, including former Minister of Government Aristides Valencia, with procedural fraud and illicit pacts. 
NORTH AMERICA
MEXICO: A murdered 7-year-old Mexico City girl, known only as Fátima, was buried Tuesday amid national outrage. Fátima was last seen Feb. 11 after an unidentified woman picked her up from school. On Saturday, her body was discovered in Mexico City's southern municipality of Tláhuac. Although the cause of Fátima's death has not yet been released, the girl was reportedly abused and beaten prior to her passing, according to Mexico City's Attorney General Ernestina Godoy Ramos. Mexico City Mayor Claudia Sheinbaum said via Twitter that two suspects, a man and a woman, were detained in a community in Mexico State. Fátima's case fueled public outcry as it came a few days after Ingrid Escamilla was skinned and mutilated by her boyfriend. Demonstrations have since flooded Mexico City's streets in protest of violence against women.
BORDER: U.S. border authorities forced a Venezuelan teen back to Mexico after denying her political repression claims. Branyerly, who is known only by her first name, is currently living alone in Matamoros, Mexico. Agents reportedly denied her request to flee violence under the Trump administration's "Remain in Mexico" program. Branyerly and her father were unable to request asylum under another Trump policy, but in January, an immigration judge allowed her father, Branly, into the U.S. The same judge withheld the right for Branyerly, who was 17 at the time.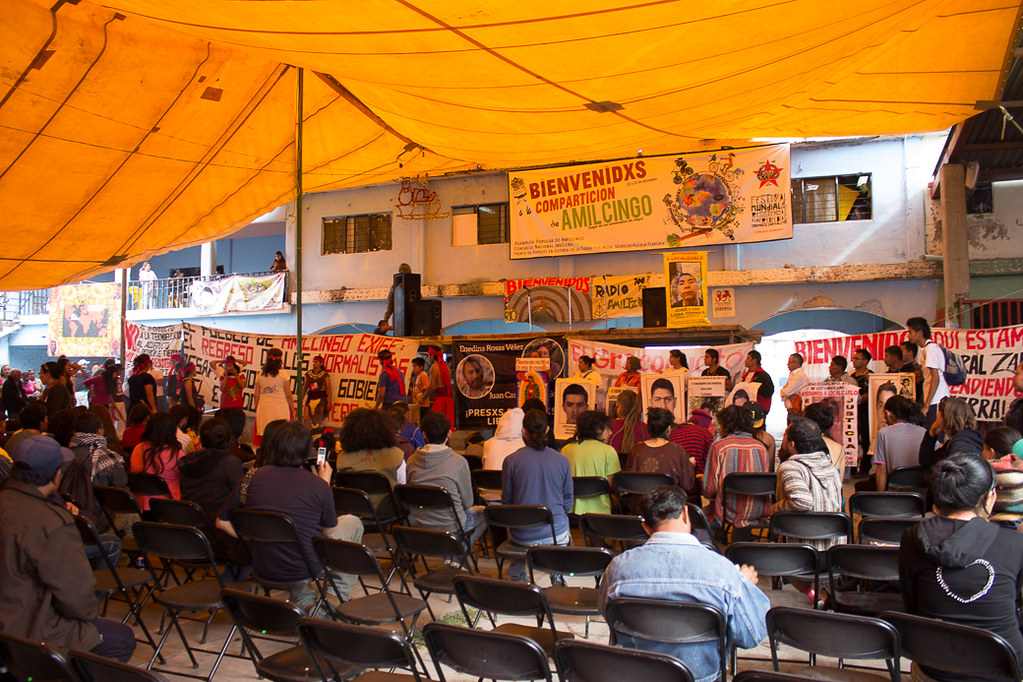 February 20, 2020
> jbm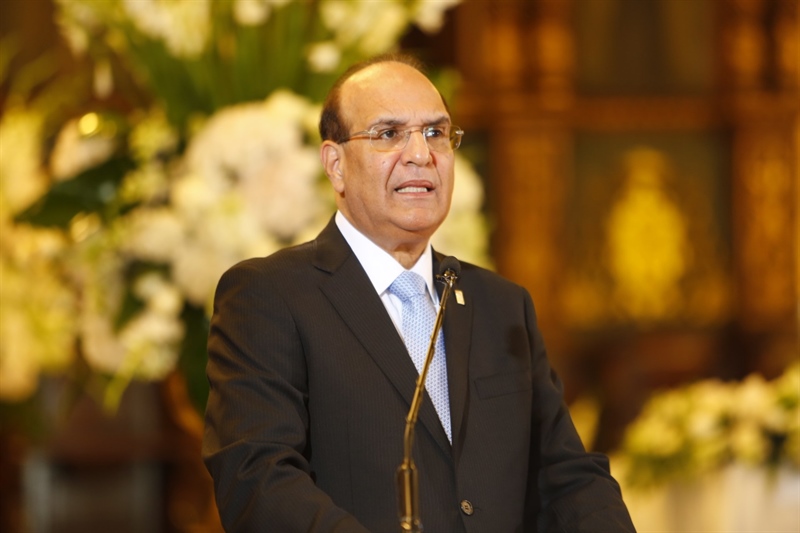 February 21, 2020
> Staff