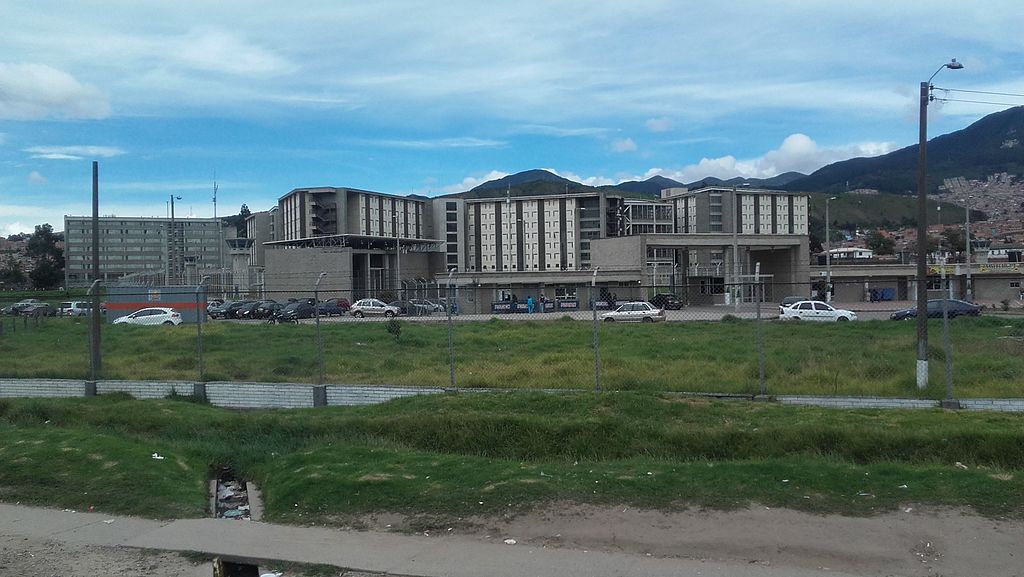 La Picota prison in Bogotá, Colombia.
Colombia Prison Protests Over Sanitary Conditions Leave 23 Dead
March 23, 2020
By Staff
TODAY IN LATIN AMERICA
COLOMBIA: More than 23 prisoners died over the weekend at La Modelo, a prison in Bogotá, during protests over poor sanitary conditions in the context of the global coronavirus pandemic. Justice Minister Margarita Cabello Blanco said that another 83 were injured, with 32 requiring hospitalization. Seven prison guards were injured.
According to the New York Times, protests began at 13 prisons across Colombia on Saturday night. Colombian prisons are over-capacity, with 180,00 inmates in a system designed for 70,000. Jhon Leon, director of an organization called Judicial Solidarity, said prisoners had been calling for safer conditions for two weeks and were ignored. He said the country-wide protests were peaceful.
However, Justice Minister Cabello called the riot at La Modelo "a criminal attempt to escape that was thwarted." The conflict echoes anxieties in prisons all over the world, where people living in close quarters with uncertain access to health care worry about how the accelerating spread of the virus will affect them.
Colombia is scheduled to begin a nationwide lockdown to stem the spread of COVID-19 tomorrow. As of Sunday, the country had 231 positive cases and two deaths attributed to the virus.
Headlines from the western hemisphere
SOUTHERN CONE
ARGENTINA: Argentina began a nationwide lockdown on Friday, to curb the spread of the coronavirus as it reaches Latin America. President Alberto Fernández announced that Argentines should only leave their homes for essential activities and said the lockdown would be enforced by security forces. (On Twitter, however, he reassured a 7-year-old that the Tooth Fairy would still be allowed to make visits). Argentina has already closed its borders, shut schools and canceled most flights.
BRAZIL: The Assembly of God Victory in Christ church, an evangelical megachurch, won a court battle last week which will allow it to remain open during the COVID-19 pandemic. The World Health Organization has discouraged mass gatherings that can accelerate the spread of the virus. The church's leader, Pastor Silas Malafia, has maintained that his church would stay open through the pandemic and voiced his support for President Jair Bolsonaro's handling of the crisis. As of Sunday, Brazil had registered over 1,500 confirmed cases of the virus.
CHILE: Lawmakers decided to postpone municipal and regional elections and a historic referendum to redraft the country's constitution for the first time since the dictatorship of Augusto Pinochet. The April 24 referendum will now take place in October. President Sebastián Piñera declared a "state of catastrophe," granting the government extra powers to limit activities and supply goods in response to the COVID-19 pandemic. That same day, officials angered some Chileans when they removed protest art from Santiago's unusually-quiet main square. Chile has over 600 confirmed cases of coronavirus.
ANDES
BOLIVIA: The Supreme Electoral Tribunal recommended Saturday that the country postpone its May 3 elections due to the COVID-19 pandemic. The tribunal will halt preparations for the election for 14 days, as Bolivia begins a lockdown to prevent the transmission of the coronavirus. To date, Bolivia has registered 24 cases of the virus. May 3 was the planned date for new elections following the disputed October 20 elections. Former President Evo Morales fled the country in a right-wing coup after the October vote.
CARIBBEAN
GUYANA: The Supreme Court heard arguments over an effort to block the recount of the country's March 2 election. The initial count would have given President David Granger another five-year term. The election drew skepticism in Guyana and in the international community. After a court upheld a motion by supporters of Granger's political coalition to stop the recount, CARICOM, a regional organization made up of 15 Caribbean countries, withdrew the representatives who were there to supervise. The stakes of this election are high, as Guyana is poised to receive billions of dollars of revenue when Exxon Mobil begins utilizing oil reserves along its coast.
REGION: Grenada's Ministry of Health announced the country's first coronavirus case yesterday. The patient, who has mild symptoms, arrived in the country on March 16th from the United States. Haiti also confirmed its first Coronavirus cases this past Saturday and imposed a nine-hour curfew as well as a halt on all commercial flights. The Bahamas, which has four confirmed cases, implemented an eight-hour curfew using emergency powers.
CENTRAL AMERICA
EL SALVADOR-GUATEMALA: President Nayib Bukele ordered Salvadorans to stay in their homes for 30 days beginning on March 21 to slow the spread of the coronavirus. With some exceptions, anyone who violates the quarantine could face imprisonment. One person per family will be allowed to leave to buy essentials, and employees in some sectors will continue to work. To make up for lost income, the government also announced plans to give $300 dollars to 1.5 million families, though the allocation will have to clear the legislative assembly first. El Salvador had three confirmed cases of the virus at the end of last week. Guatemalan President Alejandro Giammattei, announced a similar, eight-day curfew that began yesterday. Guatemala has 17 confirmed cases and one death. 
NICARAGUA: Nicaragua confirmed its first two cases of COVID-19 on Friday. The virus has caused alarm in a country with fewer than 6,000 available hospital beds and 160 total breathing machines, 80% of which are being used for other health problems. The government said 19 hospitals are ready to treat the virus but has not provided their names. The Ministry of Health estimates that in six months, there could be 32,500 confirmed cases of coronavirus in Nicaragua, 8,125 of which could be serious cases, with 1,000 requiring a ventilator.
NORTH AMERICA
MEXICO: President Andrés Manuel López Obrador is facing criticism over his administration's reluctance to take measures to stop the spread of coronavirus in Mexico. In a speech Friday, he urged officials "not to exaggerate," warning against the psychological and economic ramifications of more extensive action, and insisted the country was prepared. Currently, Mexico has 316 confirmed cases of the virus with two deaths. Former Health Secretary José Narro, an outspoken critic of the government's slow response to the pandemic, said the government should step up its testing to stop the disease. To teach children the importance of social distancing, the government rolled out a new cartoon character named Susana Distancia. Starting today, social distancing measures are being introduced nation-wide, including the suspension of classes at all education levels.
U.S.-MEXICO BORDER: "Non-essential" border traffic has been suspended in an attempt to slow the spread of COVID-19. The announcement took effect over the weekend and paralleled changes along the U.S.'s northern border. Canada and the U.S. are also turning away asylum seekers. Under the new rule, U.S. officials will turn back people who crossed the border illegally, instead of taking them to a detention center where they can request asylum. The Department of Homeland Security's acting secretary said the Centers for Disease Control and Prevention recommended this change in policy, which comes alongside a number of sudden changes to immigration policy and supports the Trump Administration's goal of slowing migration.
Banner photo credit: EEIM Wikimedia.