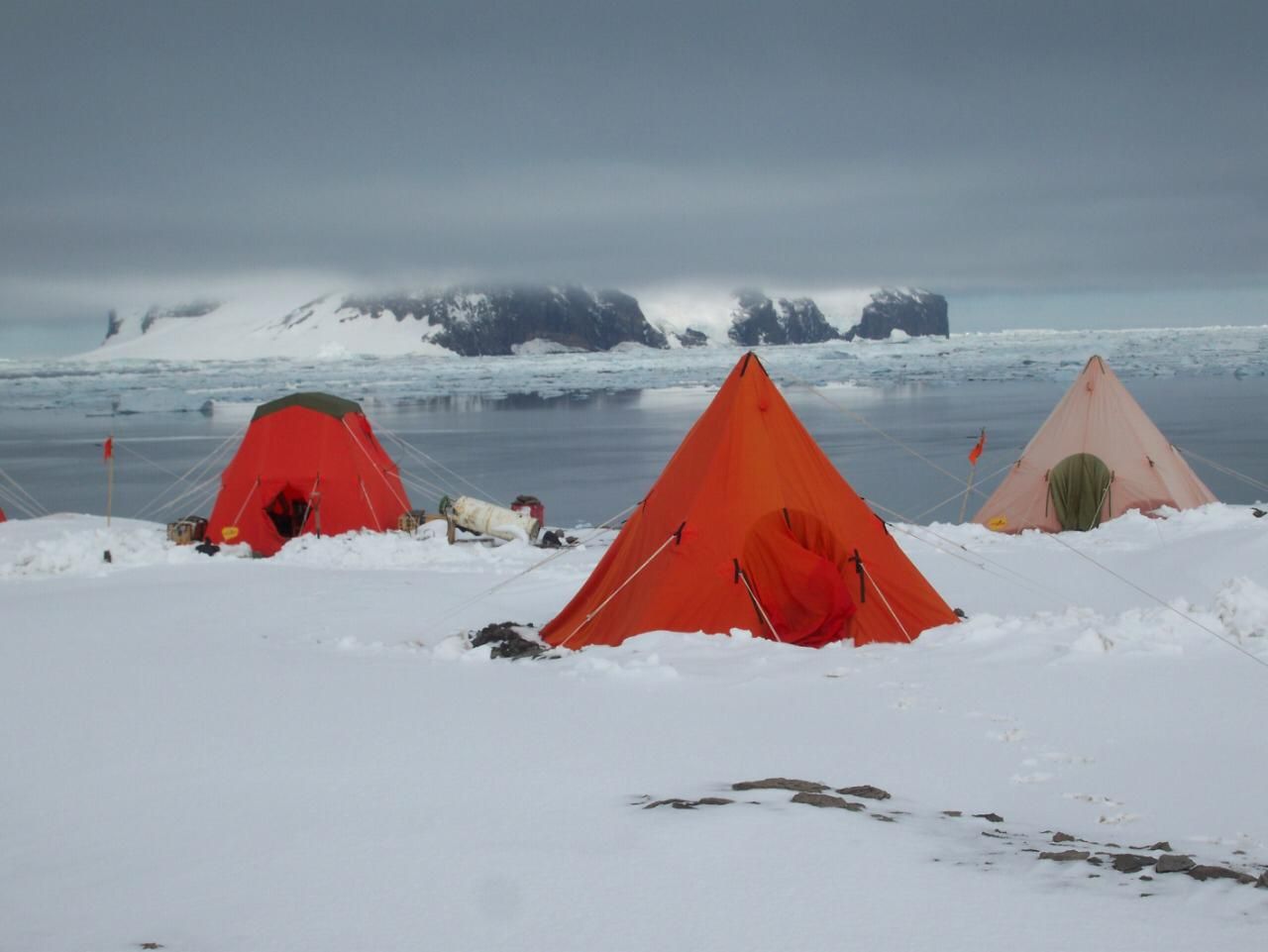 Scientists camp for months at a time during research trips to Antarctica.
Photo: María Eugenia Raffi
Argentinian Scientists Promote Cooperation and Conservation in Antarctica
BUENOS AIRES— Every morning in Antarctica, Argentinian paleontologist María Eugenia Raffi and her team ate breakfast by the Weddell Sea, while the temperature was far below zero. The small team of scientists camped for three months on James Ross island, more than 30 miles west of Argentina's Marambio Base. It was the opportunity of a lifetime: studying fossils in one of the best places for their conservation.
For these scientists, Antarctica combines passion, vocation and commitment. From paleontology to international relations, studying the continent holds crucial information for today's most pressing issues.
According to the Managers Council of National Antarctic Programs, 4,000 people live and work in scientific research on the continent. Only 1,000 of them live in Antarctica year-round, and the rest stay in Antarctica only for the summer. Brazil, Chile and Argentina have bases or stations on the continent. Argentina is the Latin American country with the main and oldest presence, dating back to 1904. The country maintains six permanent bases and seven temporary bases.
Raffi is one of the 3,000 people who spend their summers trying to unveil the secrets of the world's most unknown lands. She was still in school when she felt called to study Antarctica. She defeated her fear of flying to get there, she told LAND from her home in Tierra del Fuego province, the southern-most province of Argentinian Patagonia.
"I had always been very frightened [of flying] so I had to make my mind: either I fulfill my dream of doing my thesis in Antarctica, or I let fear overcome me," she said. "After we landed at the base, we had to take a helicopter to reach our camping site. It was a double challenge."
On the ground, Raffi learned how any human action in Antarctica relies on the conscious and connected work of many others. "As soon as we got there, our first duty was to properly set up our tents— our home for the next thirty days," she recalled.
Raffi's routine in Antarctica is highly regimented. The team starts the day with a big breakfast and preparing supplies and then sets out to find fossils and document them. Back at camp they share cooking responsibilities. Daily check-ins with the base are essential to know the weather forecast.
"The base's personnel are the crew behind the scenes," Raffi said. "They provide food, heating, lights, and are always caring for our safety. It's only with their forecast that we can plan the activities for the following day."
Public institutions in Argentina have a long tradition of Antarctic exploration. They are preparing a new generation of scientists to follow Raffi's footsteps and explore those lands. In Ushuaia, the southern-most city in the world, attending university with 12-degree Fahrenheit weather is par for the course for hundreds of students at National University of Tierra del Fuego (UNDTF).
Antarctic exploration is one of the main research areas at UNDTF, one of the Argentina's 57 public and tuition-free universities. That's why this year, the ten-year-old institution will launch its Master in Antarctic Studies.
Marisol Vereda, director of the program, said the institution has advantages when studying Antarctica. "Our greater proximity compared to other ports, and the development of infrastructure and services… …have made it possible to position Ushuaia port as the most active 'maritime tourism gateway' towards Antarctica," she said.
"Antarctica is a synonym for remote space. It is a landscape that represents what practically no longer exists in the rest of the world," she said. "Those who spend time there explain what they feel as a rush of humbleness towards nature, discovering solitude and encountering oneself."
Another institution specialized in in Antarctic studies is the Austral Center for Scientific Research, CADIC.  The National Council of Science and Technology (CONICET), Argentina's main science institution, established CADIC. From satellites to fossil exploration, CONICET has financed scientific endeavors since it was created in 1958.
CADIC finances scientists to study Antarctica every year and coordinates many activities focused on Antarctic resources and International Relations. Cristian Lorenzo, a CADIC-CONICET researcher and doctor in International Relations, studies the way the world can manage Antarctica.
"When I'm in Antarctica I like to contemplate nature, just being there, without taking photos," he told LAND. "Antarctica always reminds me of the importance of taking care of the planet as much as possible."
"Peace between countries in a turbulent world only is possible in Antarctica," Lorenzo told LAND. "What happens in that part of the world is exceptional: the same States that joined the Antarctic Treaty are the same that decide to go to war in other parts of the world. Peace rules in Antarctica."
Lorenzo studies international policies to protect and responsibly use Antarctica's resources. The Antarctic Treaty, signed in 1959, dictates international relations regarding the continent.
"The question is how to strengthen the current system," Lorenzo said. "Policy-makers now have to face multiple challenges: demands for the exploitation of natural resources, bioprospecting, the increasing numbers of tourists in Antarctica, the growing members of the System, and the effects of climate change."
Amid constant and sometimes dramatic changes, the treaty turned 50 years old last December. Lorenzo argues that to look forward, more scientific research in the continent is needed.
"We need to be conscious that the future of Antarctica, not only depends on diplomacy —which is quite important— but also, it requires awareness that Antarctica matters," said Lorenzo. "We need more science and Antarctic education at school."
With a similar spirit, the paleontologist María Eugenia Raffi emphasizes the importance of including more curriculum about the importance of Antarctica. "When living in Buenos Aires as a child, I remember we were told very little about it," she said. "But when I moved to Tierra del Fuego, I saw how Antarctica is experienced from another perspective."
She said that in Tierra del Fuego, "Youngsters know Antarctica is a place which belongs to us all… …Our best bet, in my opinion, is educating the future generations."
Raffi recalls one day when she heard a strange sound while working in Antarctica. She said she turned toward the glaciers and icebergs and saw a pilot whale coming out of the water.
"It was the first time I saw a whale in its habitat, and I will always remember it," she said. "It was like the typical images of National Geographic, but we were seeing it right there."
Raffi has past eight summers in Antarctica, a long run for a young paleontologist. She said she has a deep connection to her research site.
"It's my place. It's our place. We all should have the chance of discovering it in some moment of our lives," she said. "Antarctica changes you. And for better."