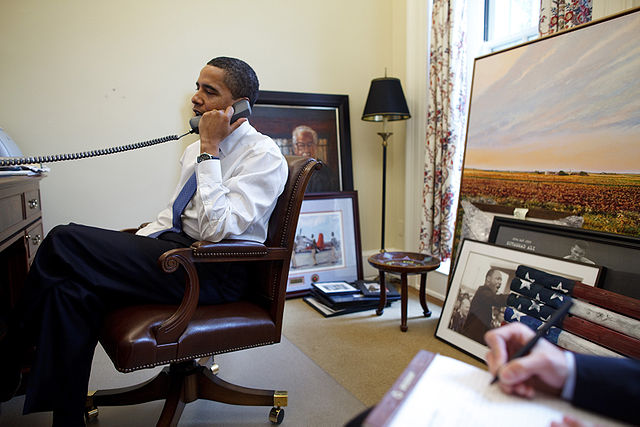 Obama Pushes For Jobs Act At Latino Heritage Summit
WASHINGTON D.C. — Speaking less then 24 hours after his American Jobs Act died at the hands of Senate Republicans, U.S. President Barack Obama addressed the White House Forum on American Latino Heritage with a speech intended the rally the community to keep pushing for act's passage.
In what can be viewed as both an angry retort to the failure to pass the jobs act and an early campaign appeal to Latino voters, Obama lashed out against Republicans and said that his proposed legislation would help 25 million Latinos.
"This is a debate about fairness and who we are in this country," Obama said. "This jobs bill will help the Latino community right now."
Along with immigration, job creation is one of the most important issues to Latino voters with the unemployment rate among the community being one the highest in the country at 11.3 percent, according to the Bureau of Labor Statistics.
The national unemployment rate in September was 9.1 percent.
"None of this matters to the Republicans in the Senate," Obama said of the Republican filibuster that that shot down his $447 billion plan in a 50-49 vote that was well short of 60 needed to pass the legislation. "They said no to more jobs for teachers, no to more jobs for cops and firefighters."
Republicans oppose the bill's stimulus-style spending and tax surcharge for the very wealthy. Senate Minority Leader Mitch McConnell (R-Ky) on Tuesday blamed the Obama administration for "political posturing" and said both parties need to work together as they did with the free trade agreements with Colombia, Panama and South Korea.
"What we will not do, though, is vote in favor of any more misguided stimulus bills because some bill writer slapped the word 'Jobs' on the cover page," McConnell added, according to CBS News.
Obama also cited the need for a bipartisan effort to pass the jobs act and said during his speech Wednesday that "the time for games and politics is over."
His speech to the Forum on American Latino Heritage seemed to be intended to reiterate points he made in a statement Tuesday after the jobs act failed to pass through the Senate.
"With each vote, Members of Congress can either explain to their constituents why they're against common-sense, bipartisan proposals to create jobs, or they can listen to the overwhelming majority of American people who are crying out for action," Obama said in a statement. "Because with so many Americans out of work and so many families struggling, we can't take "no" for an answer."
The Latino community is a key voting demographic for both Obama and his Republican challengers in next year's presidential election. While Obama handily won the Latino vote back in 2008, the community has become disheartened by his failure to pass any comprehensive immigration reform.
This sentiment has only been strengthened after the recent release of  report that Obama has sent home over 1 million undocumented immigrants while in office – on pace to deport more in one term than former President George W. Bush did in two.
Republicans, however, have done little capitalize on the Latino discontent with the Obama administration and instead have tried to appeal to their more conservative voter base by touting their own tough stances on immigration and border security.
Latinos are the fastest growing minority in the U.S., making up 16.3 percent of the national population, according to 2010 Census statistics. Their vote is seen as key to winning the 2012 presidential election.
Photo:Pete Souza @ Wikicommons.