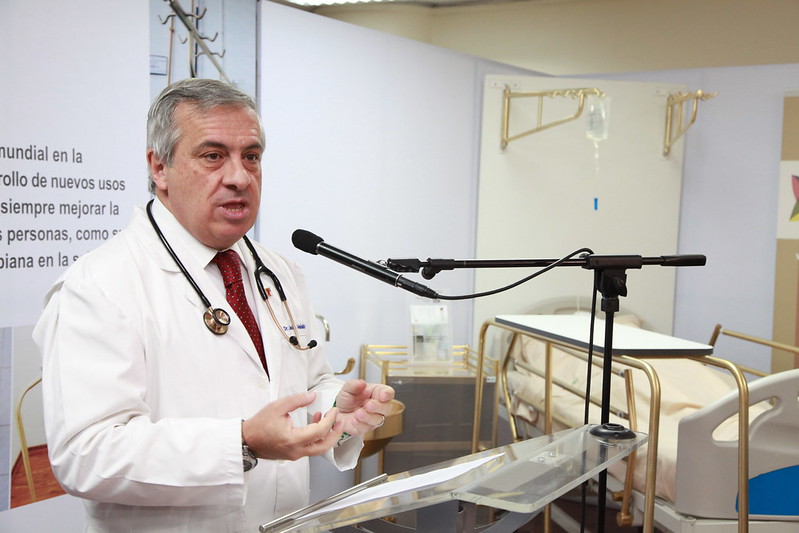 Jaime Mañalich resigned as Chile's health minister on Saturday. (Photo by Codelco via Flickr)
Chile Health Minister Resigns as Coronavirus Case Count Rises
June 15, 2020
By Staff
TODAY IN LATIN AMERICA
CHILE: Health Minister Jaime Mañalich resigned on Saturday as coronavirus cases surge in Chile. Before his resignation, the government reported a recent daily death toll of 234, the highest yet in the country. Mañalich faced criticism for his methods of counting cases and deaths. Enrique Paris, a surgeon and the former president of Chile's medical union, replaced Mañalich as health minister. 
The official death toll from the virus in Chile is 3,101 as of Friday, according to the government, but a report from CIPER Chile published over the weekend claims that more than 5,000 people have died.
Lockdowns began in Chile in mid-March. A month later, Mañalich began encouraging children to return to school and people to meet with friends in person, though cases had not yet reached their peak. The government ordered Santiago to lock down again May 22 as cases grew. Hospitals say they are almost out of beds to treat coronavirus patients.
Headlines from the western hemisphere
SOUTHERN CONE
BRAZIL: On Friday, Brazil surpassed the United Kingdom to become the country with the second highest death toll from the coronavirus. Only the United States has more deaths. A week earlier, President Jair Bolsonaro's government stopped publishing their own official tally. According to Folha de S.Paulo, 41,901 people have died in Brazil from the virus. As deaths continue to rise, the municipal funeral service of São Paulo said on Friday that they will exhume some bodies from graves in order to make space for the recently deceased.
BRAZIL: Folha de S.Paulo reported Friday that an annual human rights report released by the government last month omitted complaints of police violence. The Ministry of Women, Family and Human Rights stated that the statistics were left out for technical reasons. Last year, police killed a record 1,814 people in Rio de Janeiro as Bolsonaro encouraged officers to murder criminals whom he said should "die in the streets like cockroaches." Brazilians have also taken to the streets in recent weeks to protest police violence against Black people.
ANDES
PERU: Residents of Huancavelica detained eight technicians working for the broadband provider Gilat Satellite Networks last week because they thought the technicians were installing 5G technology. They released the workers, who say they were just repairing an antenna, on Saturday. Some in Huancavelica believe the coronavirus is being transmitted through 5G networks. Huancavelica has had few cases of the coronavirus, but anxiety is high in the country as it deals with one of the highest numbers of cases in Latin America.
VENEZUELA: A Colombian man accused by the U.S. government of money laundering and corruption on behalf of the Venezuelan government was arrested in Cape Verde Friday. Alex Naím Saab Morán was traveling to Iran when his plane stopped in Cape Verde to refuel. The United States indicted Saab for money laundering last year. His arrest is a blow to President Nicolás Maduro's government, which has demanded his release and said Saab was on a humanitarian mission to buy food and medical supplies. 
CARIBBEAN
PUERTO RICO: Beaches, churches and almost all businesses, including gyms, will be allowed to open in Puerto Rico starting tomorrow after 88 days of lockdown. Gov. Wanda Vázquez also announced that the island will likely begin accepting tourists July 15. Vázquez did not follow the recommendations of her medical task force in deciding to reopen. Though Puerto Rico health officials claim the island reached its coronavirus peak two months ago, a report by the Washington Post showed it reached its highest seven-day average of new cases this month.  
REGION: As protests against racial violence and prejudice grow across the world, people in the Caribbean are demanding that colonial-era statues be taken down. Thousands have signed online petitions in Barbados, the Bahamas and Trinidad and Tobago for the removal of statues of Christopher Columbus, and Horatio Nelson, a British naval commander who defended slavery.
CENTRAL AMERICA
EL SALVADOR: The strictest coronavirus lockdown in the region ended over the weekend after El Salvador's Supreme Court ruled that President Nayib Bukele's restrictive measures were unconstitutional. Bukele said the country will begin a gradual reopening tomorrow. Some who violated Bukele's strict curfews and quarantine measures were detained for months. The Salvadoran government has reported 3,603 confirmed cases and 72 deaths, though the numbers are likely higher. 
On May 31 during the lockdown, Tropical Storm Amanda killed 27 people and left thousands homeless in El Salvador. You can donate here to help Salvadorans rebuild.
NORTH AMERICA
MEXICO: The family, friends and teammates of 16-year-old soccer player Alexander Martínez Gómez mourned his death over the weekend. Alexander, who was born in the United States, was shot to death by a police officer last week in Vicente Camalote in the state of Oaxaca. Alexander's family said he went to a gas station with his friends to buy soda and was on a motorcycle when he was shot in the head. Local government officials said the shooting was a mistake. A judge on Saturday ordered the officer who shot Alexander to be held while they investigate him for alleged murder. Alexander's death follows the death of Mexican construction worker Giovanni López, who was arrested for not wearing a face mask and died in police custody. 
MEXICO: As the coronavirus appears to approach its peak in Mexico, the government is allowing half of its states to reopen some businesses, including hotels and restaurants, today. Mexico City, which has been hit the hardest by the coronavirus, was not included in the federal government's list, but Mayor Claudia Sheinbaum said she will lift transportation restrictions and permit thousands of factory workers to go back to work. Some tourist areas, such as Cancún and Los Cabos, are also allowed to open.