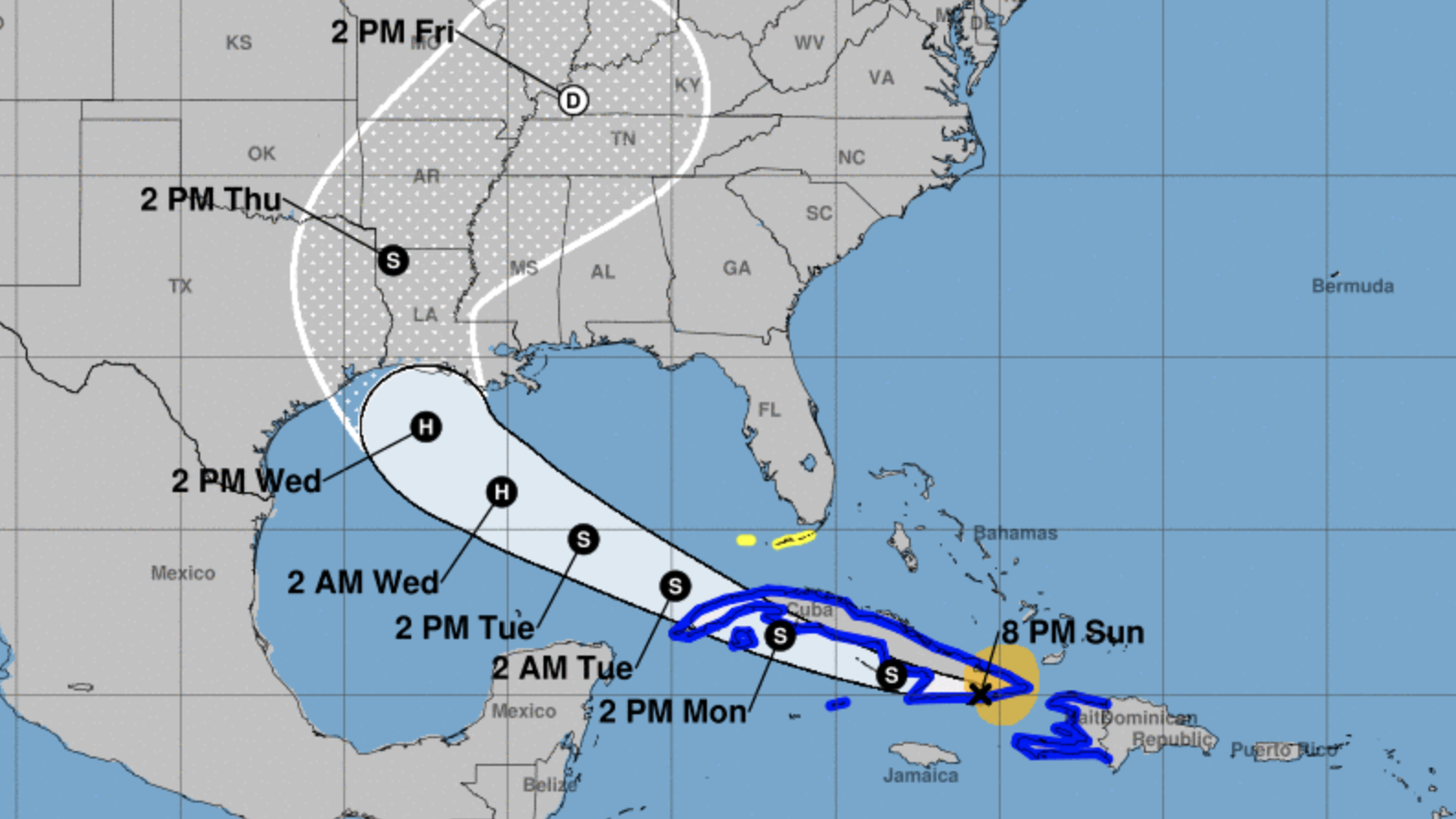 Tropical Storm Laura left a trail of destruction and flooding in the Caribbean over the weekend. (Photo courtesy of NOAA)
Back-to-Back Tropical Storms Kill 7 in Caribbean
August 24, 2020
By Staff
TODAY IN LATIN AMERICA
CARIBBEAN: Two storms rolled over the Caribbean this weekend, killing seven people and causing severe flooding on some islands. Hurricane Marco and Tropical Storm Laura are now heading to the U.S. Gulf Coast. If Laura strengthens into a hurricane, it will be the first time since 1900 that two hurricanes formed in the gulf at the same time. 
A 10-year-old girl in Haiti was the first person killed by the storms, and the capital Port-au-Prince has seen some of its worst flooding in decades. In the Dominican Republic, four people died. Newly inaugurated President Luis Abinader said he would develop a plan to permanently move people who live near the banks of rivers and ravines that are most vulnerable to flooding. Puerto Rico experienced heavy rains as well as a 3.4-magnitude earthquake in Guánica.
Meteorologists have predicted that 2020 will see one of the worst hurricane seasons on record. As Laura and Marco head toward the United States, a third storm is brewing in the Atlantic. The peak of hurricane season is usually between mid-August and mid-September. Scientists said the chance that this season would be "extremely active" is 85%.
Headlines from the western hemisphere
SOUTHERN CONE
BRAZIL: Last Thursday, Indigenous protesters in the Brazilian Amazon said they will no longer periodically lift their ongoing blockade of a major highway to allow trucks to pass. The Kayapó Mekranoti have been blocking the highway since last Monday. They are demanding that the Bolsonaro administration pay them money they are owed because of environmental damage caused by the highway as well as give them more help in fighting the coronavirus pandemic. Last week, a judge ordered them to end the blockade because they were blocking grain trucks. 
CHILE: On Friday, a judge ordered a policeman to preventive detention for shooting a 21-year-old man in the eye with a pellet gun during anti-government protests last year. Gustavo Gatica was blinded when he was shot in both eyes with rubber bullets. The officer was arrested following a nine-month investigation. He was accused of "the crime of unlawful coercion with extremely serious injuries." At least 285 people suffered eye injuries in the protests last year, mostly from rubber bullets and tear gas.
ANDES
COLOMBIA: Within a 24-hour period late last week, 17 Colombians were killed in separate attacks in the departments of Nariño, Cauca, and Arauca. The murders follow the massacres of eight people a week earlier in Nariño and five people in Cali on August 11. President Iván Duque, who blames the violence on his predecessor Juan Manuel Santos, said on Saturday that the violent incidents were not "massacres" but rather "collective homicides." Authorities do not know who is behind any of the recent attacks.  
PERU: Thirteen people died in a stampede Saturday night while fleeing a police raid at a nightclub in Lima. The club was not supposed to be open due to coronavirus restrictions. About 120 people were there when police arrived. Police arrested 23 people, and 15 of them later tested positive for COVID-19. President Martín Vizcarra called for a "rigorous investigation" into the tragedy and said gatherings like that were "unacceptable."
CENTRAL AMERICA
GUATEMALA: Dozens of Guatemalans protested in the capital for the second weekend in a row and demanded the resignation of President Alejandro Giammattei over his management of the coronavirus pandemic. They protested against the delayed rollout of millions of dollars in loans, low salaries for medical workers, and the failure of economic assistance programs in reaching the most vulnerable populations. Guatemala has reported over 68,000 cases and 2,594 deaths. Hospitals have had to bury victims of the virus so quickly that many have not been identified.
NORTH AMERICA
MEXICO: The man who ordered the killing of journalist Miroslava Breach Velducea in 2017 was sentenced to 50 years in prison on Saturday. Mexico is one of the most dangerous countries in the world for journalists, but the sentencing of Juan Carlos Moreno sets a precedent for cases of violence against the press. Breach was a correspondent for the newspaper La Jornada covering politics and crime. She was shot eight times as she was leaving her home in a car. Ten other journalists were killed in Mexico in 2017. 
MEXICO: Police arrested 22 women at a protest against sexual harassment in León, Guanajuato, on Saturday. Around 300 women gathered to march for justice for a young woman identified as Evelyn who reported being sexually harassed by guards at a public square in front of a church. The police also attacked journalists who were covering the protest. Protesters who were arrested said they were beaten and insulted. 
UNITED STATES: Federal prosecutors indicted four people, including President Donald Trump's former advisor Steve Bannon, last Thursday for pocketing hundreds of thousands of dollars they raised for a charity to build the U.S.-Mexico border wall. Acting U.S. Attorney Audrey Strauss said they told donors all the money would be used for the wall, but they spent several thousand dollars on personal items, including an SUV and a boat. The non-profit organization, called We Build the Wall, has contributed funding to stretches of the wall in Texas.