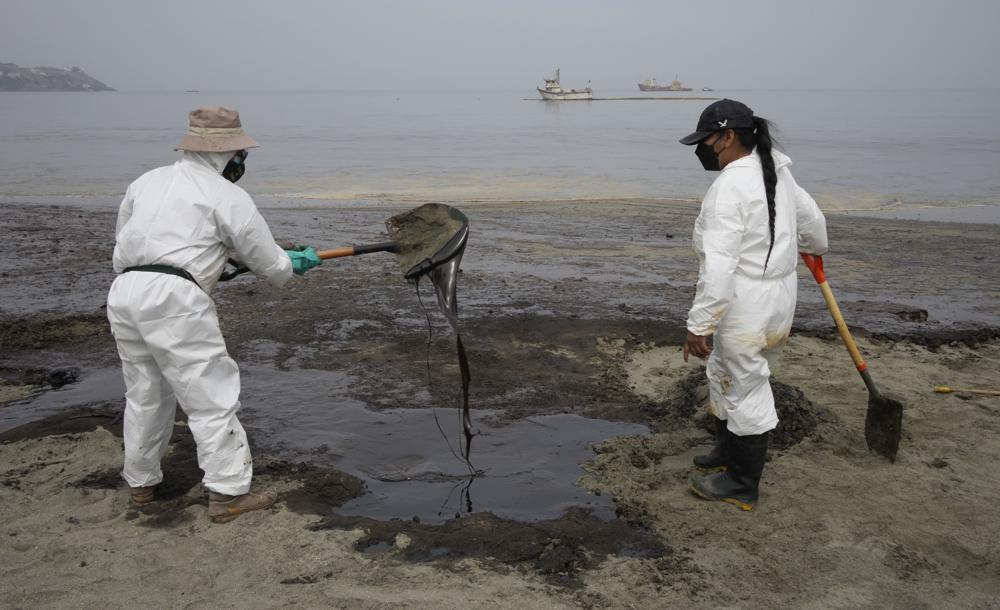 Workers dressed in protective suits clean the oil contaminated Conchitas Beach, in Ancon, Peru, Thursday, Jan. 20, 2022. (AP Photo/Martin Mejia)
Peru declares environmental emergency due to major oil spill
January 23, 2022
By Staff
THIS WEEK IN LATIN AMERICA
PERU: The Peruvian government declared an environmental emergency on Thursday, five days after waves generated by the Tonga volcano eruption caused an oil spill on Peru's Pacific coast. Authorities estimate that 6,000 barrels of crude oil were spilled while a ship was unloading into the Pampilla Refinery in the province of Callao near Lima. While the refinery, managed by the Spanish company Repsol, initially announced a spill of 7 gallons, the Peruvian government informed that 21 beaches have been contaminated with oil. 
Peru's president Pedro Castillo described the incident as "one of the largest ecocides that has occurred on our coasts and seas," and promised to bring sanctions against Repsol. The company announced Friday that it would carry out an internal investigation into the spill, and has deployed about 840 personnel to assist with a cleanup operation that will conclude around late February. 
The spill has affected the livelihood of hundreds of fishermen, many of whom protested outside the refinery last week. The waves that prompted the spill also claimed the lives of two women who drowned while swimming off the north coast of Peru. 
SOUTHERN CONE
BRAZIL: Police in Rio de Janeiro on Wednesday launched an occupation of the state's favelas. The operation began with an early morning raid of the Jacarezinho neighborhood in the north of Rio involving 1,200 military and civil police. This was followed by a smaller operation conducted by about 100 officers in the western neighborhood of Muzema.
Law enforcement authorities stated that the operation aims to "reclaim territory" controlled by paramilitary groups and drug gangs while cracking down on "environmental crimes and irregular constructions". 
Many have expressed skepticism about the plan, given the failures of similar measures in the past and the long history of police killings in favelas. 
CHILE: President-elect Gabriel Boric on Friday presented his incoming cabinet of ministers. Fourteen of his 24 appointees will be women, the most in Chilean history. The cabinet will also include Chile's first two openly gay ministers, one of which will be the first teacher to lead the education ministry.
The 35-year-old's cabinet comprises a mix of representatives from the youth-led, left-wing organizations that form his support base and the traditional center-left parties that backed him in the second round of the presidential election last December. In a nod to more conservative sectors and foreign investors, Mario Morales, the current president of Chile's central bank, will head the finance ministry. 
Boric and his cabinet are due to begin their term on March 11.
ANDES
VENEZUELA: President Nicolás Maduro said that he spoke by phone with Russian President Vladimir Putin on Thursday about increased cooperation between the two countries.
In a statement, Maduro's office said the two presidents discussed increased trade, the deployment of Russian vaccines to Venezuela, and air service between the nations' capitals. Russia has long been a key political ally of Venezuela, where U.S. sanctions have contributed to a deepening political and economic crisis. 
The conversation came after a senior Russian diplomat declined to rule out the possibility of Russia providing military support to Cuba or Venezuela if the U.S. government didn't suspend its military activities in Ukraine.
CARIBBEAN 
BARBADOS: Prime Minister Mia Mottley's Barbados Labour Party won all 30 seats in Wednesday's elections. Mottley, who became the country's first female prime minister in 2018, is now the first prime minister elected for consecutive terms.
Given that office terms are set for five years, elections were scheduled to take place in 2023. Mottley called early elections to consolidate support for her administration's COVID-19 response and its post-pandemic recovery plans.
Mottley's decision to hold a snap election during the COVID-19 pandemic provoked accusations of voting rights violations. More than 5,000 eligible voters could not cast their ballots due to quarantine restrictions.
Wednesday's election was Barbados' first since removing the Queen of England as its head of state.
PUERTO RICO: A U.S. federal judge on Tuesday approved a plan to restructure Puerto Rico's debt. The plan is said to reduce the debt by 80%, saving the island more than US$50 million in repayments. It is the largest municipal debt restructuring plan in U.S. history.
The financial oversight board for Puerto Rico – created in 2016 by the Obama administration, and widely disliked among Puerto Ricans – submitted the plan for approval in October. It is the culmination of almost five years of negotiations with the island's governments, following Puerto Rico's declaration of bankruptcy in May 2017.
Concerns remain that repayment is implausible and would require stringent austerity measures.
The plan is expected to take effect on March 15.
CENTRAL AMERICA
COSTA RICA: Costa Rica recently established a set of health protocols for its upcoming national elections scheduled for Feb. 6 to curb the spread of the coronavirus. 
Political adviser on the Supreme Electoral Tribunal (SET), Gustavo Román, stated that SET will not require voters to show proof of vaccination leaving it up to them to abide by government protocols and recommendations. 
Although infected citizens can still vote, some believe that the protocols and recommendations infringe on their constitutional rights.
President of SET, Eugenia Zamora, had previously told news outlets that people with COVID-19 symptoms should "abstain" from voting. This created conflict between public health concerns and constitutional guarantees.   
HONDURAS: President-elect Xiomara Castro on Friday accused some of her party's officials of betrayal after they broke a pact that threatens Castro's ability to advance a sweeping agenda through Congress. 
Lawmakers from Castro's leftist Liberty and Refoundation (Libre) party, and two additional parties opposed to Castro, appointed Jorge Calix, a member of the Libre party, as president of Congress. This broke the original agreement to appoint Luis Redondo, an official from Partido Salvador de Honduras, a party ally that helped Castro seal the victory.   
Friday's exchange among party allies resulted in shouting and shoving. Castro will take office Thursday, Jan.27.
NORTH AMERICA
MEXICO: Mexico's murder rate dropped 3.6% in 2021 from the previous year, while femicides rose, according to government data released on Thursday. 
However, the Secretary of Security and Civilian Protection, Rosa Icela Rodríguez, informed officials on Friday that femicides had "dropped 7% in December compared to the same month of the previous year, and it has dropped 7% so far in this administration." 
Rodriguez failed to acknowledge femicides, or murders resulting from gender-based violence that increased 2.7% in 2021 from the previous year.  
President Lopez Obrador has responded unfavorably to criticisms from Mexican feminist movements on his handling of violence against women. 
UNITED STATES: The U.S. Department of Homeland Security (DHS) announced on Thursday that effective Saturday, non-U.S. citizens and residents entering the United States via land ports of entry and ferry terminals at the U.S.-Mexico and U.S.-Canada borders are to be fully vaccinated for COVID-19 and provide proof of vaccination. The new restrictions apply to those who are entering the U.S. for both essential and non-essential reasons.
"These updated travel requirements reflect the Biden-Harris Administration's commitment to protecting public health while safely facilitating the cross-border trade and travel that is critical to our economy," said DHS Secretary Alejandro Mayorkas. 
COVID-19 test results will not be required for entry via a land port of entry or ferry terminal.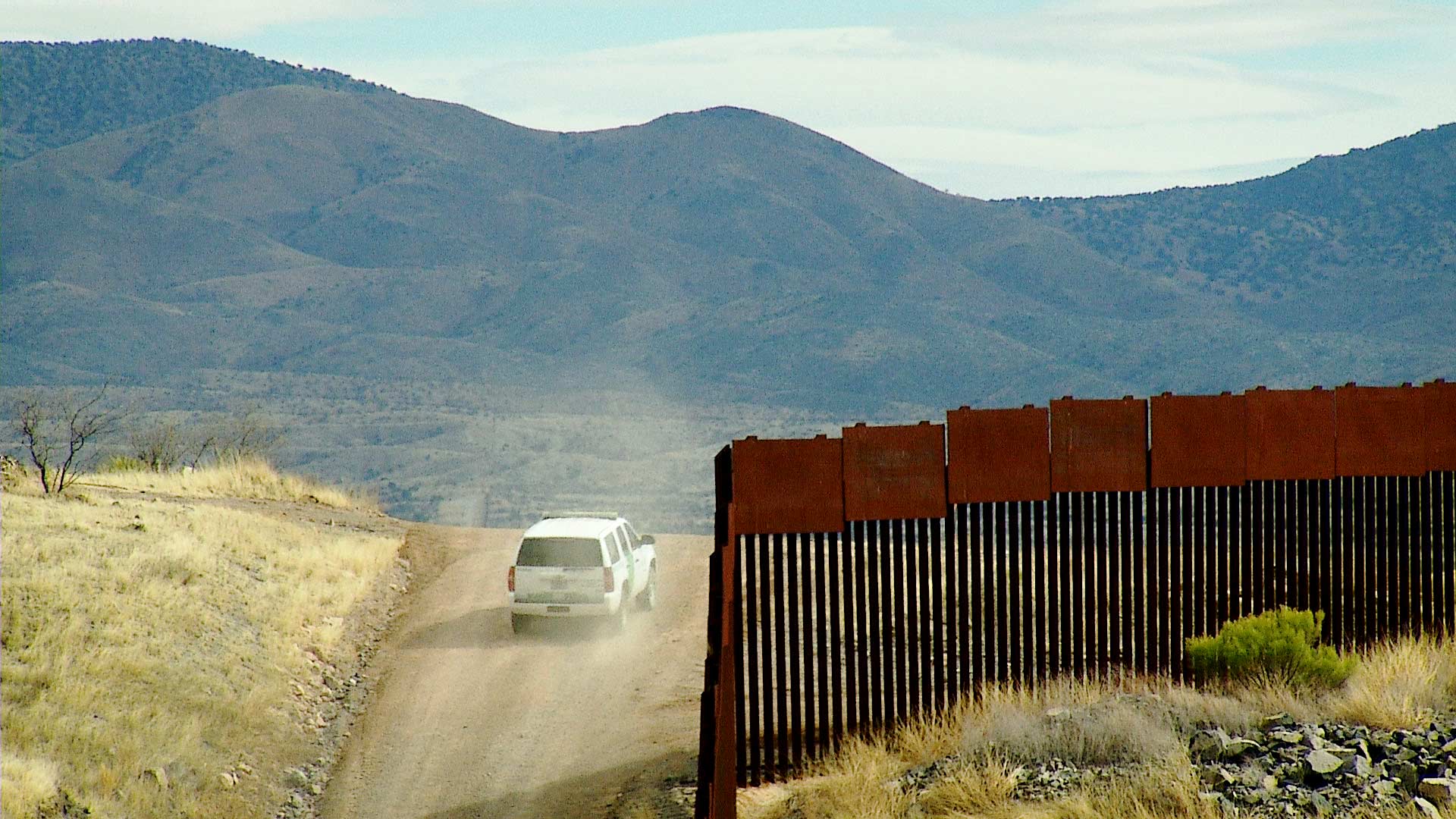 December 6, 2021
> Staff