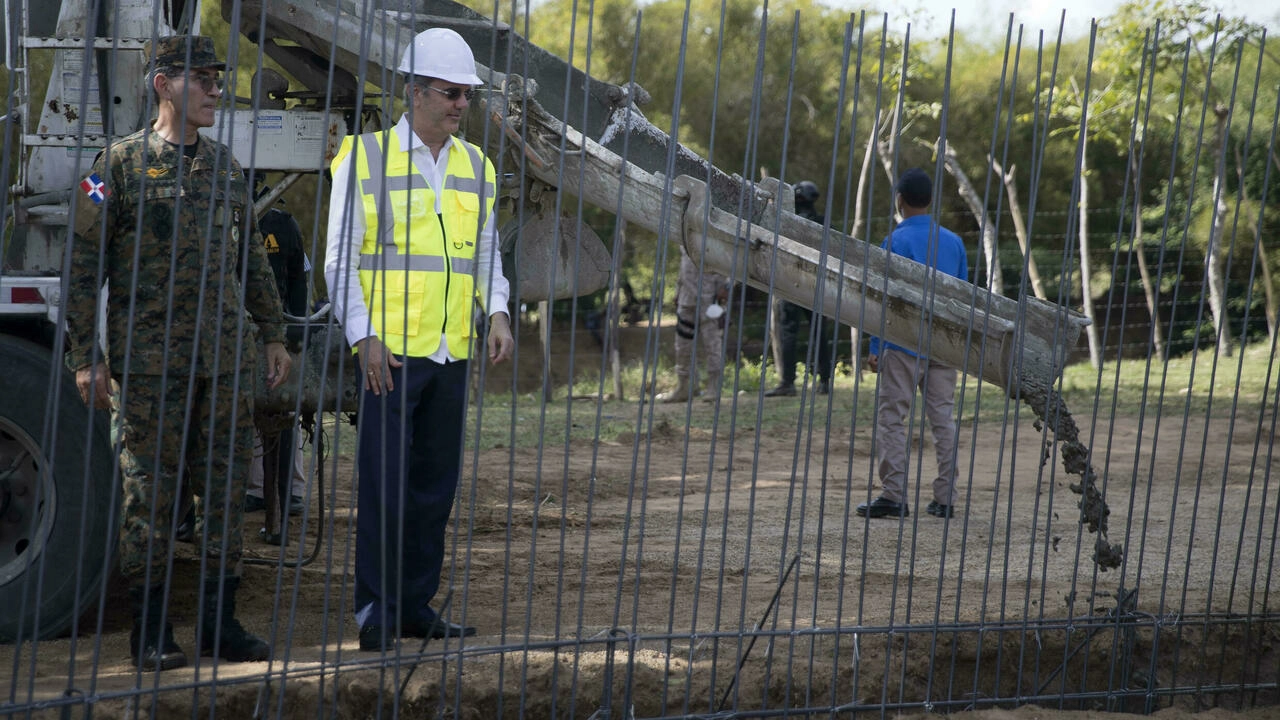 President Luis Abinader of the Dominican Republic observes the start of construction of the border wall, Feb. 20, 2022. (Photo by Erika Santelices/AFP)
Dominican Republic begins building wall on Haitian border
February 21, 2022
By Staff
THIS WEEK IN LATIN AMERICA
DOMINICAN  REPUBLIC/HAITI: The government of the Dominican Republic on Sunday began construction of a wall along its border with Haiti. President Luis Abinader said that the wall will "drastically reduce irregular migration," as well as the illegal trade of arms and narcotics.
The concrete wall, which is intended to cover nearly half of the 244-mile border that divides the two countries, will be 3.9 meters tall (approximately 12.8 feet),  and topped with spiked, metal mesh. It will also be equipped with motion sensors, cameras, radars and drones. Additionally, there are plans for 70 watchtowers and dozens of migration control points, which will be patrolled by military troops.
Abinader, while acknowledging Haiti's ongoing political and economic crisis, reiterated previous statements that his country is not responsible for providing solutions. His administration has adopted an increasingly hardline stance against Haitian migration, evidenced by a rise in deportations in recent months.
The president first announced plans for the border wall last Feb. 27, the day that the Dominican Republic celebrates its independence from Haiti.
SOUTHERN CONE
ARGENTINA: President Alberto Fernández appeared in court on Tuesday to defend Vice President Cristina Fernández de Kirchner (CFK) against accusations of corruption stemming from her time as president. CFK is accused of favoring a company owned by a family friend for public contracts to build highways in the Santa Cruz province.
In his testimony, Fernández argued that the awarding of public contracts is a political matter outside the court's jurisdiction.
The current president briefly served as chief of staff to CFK in her first term as president, and to CFK's husband and predecessor, Néstor Kirchner, throughout his presidency from 2003 to 2007. Fernández has maintained that he was not involved in the award of the highway contract.
BRAZIL: Floods and landslides caused by heavy rainfall on Tuesday killed at least 152 people in the city of Petrópolis, according to official reports released on Sunday. Authorities further reported that 154 people have been confirmed missing and 967 persons were displaced from their homes.
Emergency responders and volunteers have been searching for survivors amidst a landscape that President Jair Bolsonaro on Friday likened to a war zone. The hilly terrain of the densely populated city has complicated the use of heavy machinery in rescue efforts. Search teams have had to use hand-held tools to comb through the rubble. Continuing rains and fog have also impeded search efforts.
Authorities stated that Tuesday's rainfall was the heaviest in the city for at least 90 years.
ANDES
ECUADOR: Ecuador's National Assembly passed a measure on Thursday regulating abortion in cases of rape, after the Constitutional Court ruled in April to decriminalize abortion in rape cases. The ruling permits the termination of pregnancy for up to 12 weeks, with an extension to 18 weeks for minors, indigenous women, and women in rural areas.
The vote passed 75-41, with 14 legislators abstaining, after protracted debate about the terms of the Constitutional Ruling. An initial vote on Thursday establishing a 16-week limit did not reach the 70 votes required. 
In order to be enacted, the measure must have Ecuadorian President Guillermo Lasso's approval. Lasso does not support abortion but has indicated he will allow lawmakers to set the terms of the constitutional ruling. 
VENEZUELA: Alex Saab, a businessman with close ties to Venezuelan President Nicolás Maduro, purportedly served as a covert source for the US Drug Enforcement Agency (DEA) beginning in 2018. Saab is said to have reported to the DEA bribes he paid to top officials in the Maduro government, and handed over millions of dollars he earned from corrupt state contracts. 
The disclosure was made Wednesday during a hearing in Miami federal court in which additional court filings were made public. Saab's alleged cooperation with the DEA ended in May 2019 after he failed to meet a deadline to voluntarily surrender and face criminal charges. 
Saab's attorney disputed the claims, stating that "Alex Saab remains a loyal citizen and diplomat of the Bolivarian Republic of Venezuela." 
CARIBBEAN 
TRINIDAD AND TOBAGO: The parliament on Tuesday welcomed its first openly LGBTQ+ senator. The opposition appointed Jowelle de Souza, a trans woman, as a temporary replacement for a senator who fell ill.
Following her appearance in the senate, De Souza told local media that her appointment showed that Trinidad and Tobago is "a country that was able to accept people who are different."
De Souza had an unsuccessful run for elected office in 2015 as an independent candidate. During her campaign, she faced discrimination owing to her gender identity.
De Souza is a hair stylist and nationally-recognised animal rights activist. In 1993, she became the first person in Trinidad and Tobago to undergo sex reassignment surgery.
CENTRAL AMERICA
GUATEMALA: The southwestern region of Guatemala experienced an earthquake of magnitude 6.8 on Wednesday killing two people, and causing material damage and landslides. 
Authorities identified a woman from the city of Mixco, a western suburb of the capital, and a man in the highland city of Quetzaltenango as the fatalities.  
Footage obtained by the Guatemalan press shows the structural damages caused by the earthquake.  
HONDURAS/US: Weeks after leaving office, former President Juan Orlando Hernández was detained at his home by Honduran authorities on Tuesday, following a U.S. extradition request on drug charges. 
A U.S. Embassy document alleged that Hernández was involved in facilitating access to known drug traffickers to move large quantities of cocaine from Colombia and Venezuela via Honduras to the U.S.  The document also included claims that traffickers paid bribes to Hernández in exchange for protection.
Hernández remains detained in a police special forces base, and is awaiting a hearing scheduled for March 16 to begin the extradition process. 
NORTH AMERICA
MEXICO: Migrant protesters on Mexico's southern border sewed their mouths shut on Tuesday in an effort to force Mexican immigration authorities to expedite asylum claims and grant passage toward the U.S. border.
Thousands of migrants along Mexico's southern border with Guatemala continue to live in camps with minimal response from the Mexican authorities about their status.   
Mexico's migration agency said in a public statement that they are worried that the drastic measures carried out by the protesters have the full support from migrant activists and representatives. The agency handles hundreds of daily cases, giving priority to vulnerable groups such as pregnant women, children, victims of violence, people with disabilities, and the elderly. 
Migrant arrivals to Mexico surged in 2021, increasing asylum applications by 87%. 
MEXICO: President Andrés Manuel López Obrador strengthened his demands on the mainstream press on Wednesday asking for additional information on journalists' salaries. These demands come during a surge in violence against Mexican reporters, with five killed so far this year.  
López Obrador publicly disclosed the salary of journalist Carlos Loret De Mola on Friday Feb. 11, who published several reports about corruption and details about López Obrador's son's extravagant lifestyle in Texas. The president said that knowledge of reporters' salaries are of public interest because they "have to do with the budget, public property and politics."
The American Press Association asked López Obrador to suspend the demands because such "aggressions and insults" will encourage further violence against reporters.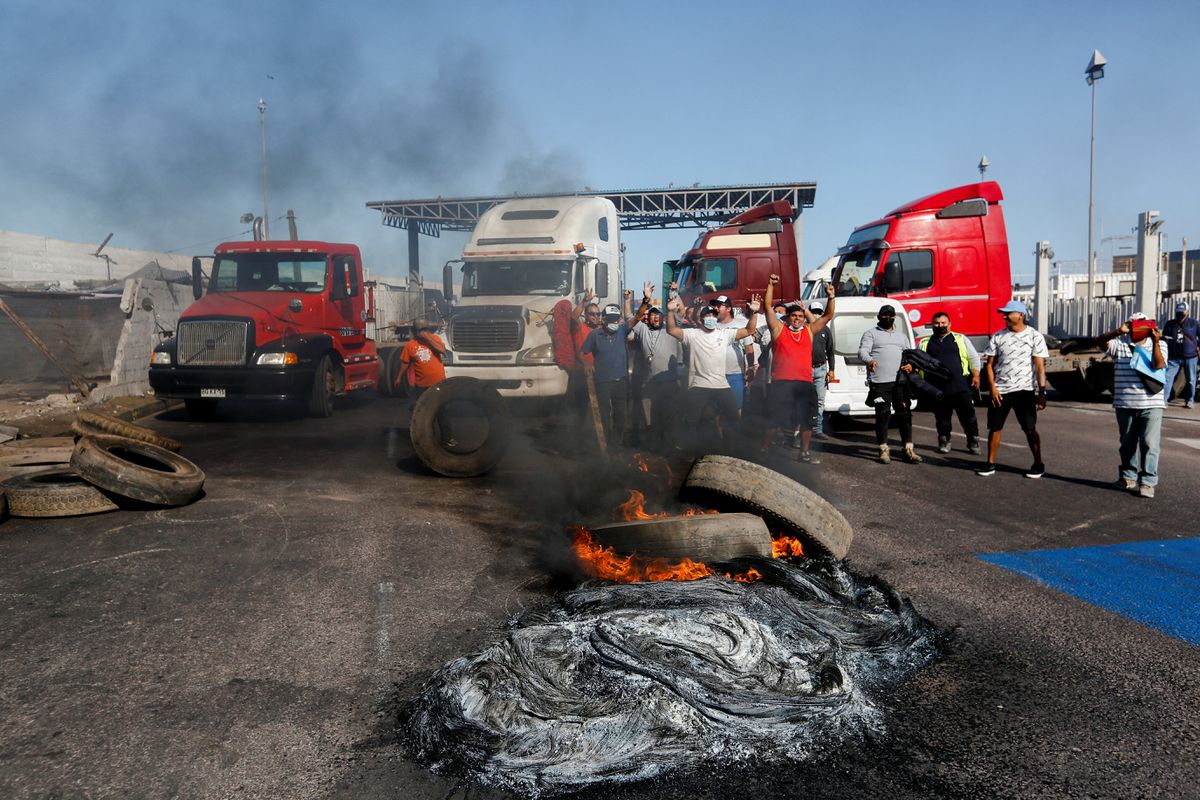 February 13, 2022
> Staff