United States and Cuba Meet to Discuss Immigration Issues and Detained American Citizen
February 22, 2010
By Staff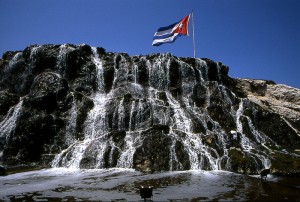 Today in Latin America
Top Story — U.S. and Cuban officials held talks in Havana over the weekend that focused on improving government regulation of immigration between the two countries.
The meeting was part of a dialogue that resumed between the two countries after a six-year hiatus, when the Bush administration froze contacts with Cuba.
Previously the two countries met twice every year to discuss immigration and citizens leaving Cuba for the U.S.
The talks were overshadowed by the tension from Cuba detaining an American citizen, Alan Gross, on charges of subversive activities.
Gross, 60, was detained in early December after Cuban officials accused him of distributing satellite communications gear to Cuban government opponents.
Development Alternatives Inc., the Maryland company that Gross works for, said he was in Cuba to set up an internet system for a religious organization and under a U.S. funded program to promote democracy in Cuba.
U.S. officials asked for Gross' release during the meetings, but Cuban officials were angered by the U.S. using the visit to meet with suspected dissidents.
"This offensive conduct . . . exposes the [U.S.] lack of real willingness to improve ties with our country," said the Cuban Foreign Relations Ministry in a statement reprinted by Cuban state media.
The conflicts notwithstanding, officials from both governments said that the talks were positive.
Headlines from the Western Hemisphere
North America
Caribbean
Central America
Andes
Southern Cone