Oil Prospects in Cuba Have Some Rethinking U.S. Trade Embargo
WASHINGTON — As speculation surfaces of oil prospects in Cuba, officials are worried that the United States' embargo will fall short with trade, as the island continues to attract global investments from countries such as China.
"If we insist on maintaining the embargo, other countries will benefit from that increased trade," said Ronald Saligo, professor of economics at Rice University, through a teleconference Aug. 17 at a luncheon of the National Foreign Trade Council (NFTC). "There is a great deal of potential here. The question is whether we are going to sacrifice those for this (embargo) policy, which has not succeeded in 50 years."
Legislation lifting the U.S. travel ban and removing sales of agricultural commodities to Cuba is still pending. Yet, recent reports from the White House indicate that the Obama administration might be willing to ease travel restrictions including granting general licenses for students, researchers and educators — a policy similar to that of the Clinton administration.
Jake Colvin, vice president Global Trade Issues of the NFTC, said they expect the House Foreign Affairs Committee either to make a decision on the travel ban by the end of this month or put it off until after midterm elections.
A group of experts from the NFTC, Center for Democracy in the Americas, Rice University and congressional staff took a four-day trip to Cuba, from July 8 to 12, to explore energy policies. At the luncheon, they summarized the urgency to invest in Cuba's oil reserves that has deadlocked because of the embargo.
Sarah Stephens, executive director of the Center for Democracy in the Americas, took the trip. She said the U.S. should act swiftly with the embargo, particularly because Cuba has begun exploratory drilling, with her findings indicating that it's ripe to become a major oil producer and refiner.
Stephens pointed to Repsol, a Spanish oil company that is paying an Italian firm to build an oil rig in China, which will explore oil off the shores of Cuba by next year. Lisa Margonelli, who directs the New America Foundation's Energy Policy Initiative and who accompanied Margonelli to Cuba, agreed that if these companies are commissioning a "whole rig" it suggests there's a fair amount of oil.
"Are we looking at lots of discrete pockets that would require one strategy or is there a big thing in there that could be producing a significant amount of oil in a ten-year time frame?" said Margonelli, while adding that although two exploratory wells have been drilled in Cuba, the amount of time to explore a whole field would be five to ten years because of mapping and production.
Although it would take time, experts at the luncheon agreed that the U.S. should keep a close watch on Cuba in its effort to improve economic engagement with the world. Saligo added that the benefits outweigh the cons.
He said Cuba would provide additional energy security, since exports in Canada and Mexico are decreasing. The island also has the potential to produce sugar cane ethanol, a renewable energy fuel that is more cost-effective and environmentally sustainable than petroleum.
Saligo said relying on trade exports from Cuba will supplement the U.S. goal to produce 36 billion gallons of ethanol by 2022 — a requirement of the Energy Dependence and Security Act signed in 2007.
Venezuela, Dubai and Brazil are investing in drilling exploratory wells in Cuba, which has also attracted attention.
The members at the luncheon are working on compiling a report of their findings in Cuba.
Raisa Camargo is a reporter with the Hispanic Link News Service.
Image: neiljs @ Flickr.
Raisa Camargo studies at the University of Central Florida in Orlando, where she is pursuing a double major in comparative international relations and minoring in French. Raisa grew up in New York City, Queens, with Colombian parents. As an intern reporter at Hispanic Link News Service in Washington, she is focusing on issues that affect the Hispanic community, with particular emphasis on immigration and the Western Hemisphere.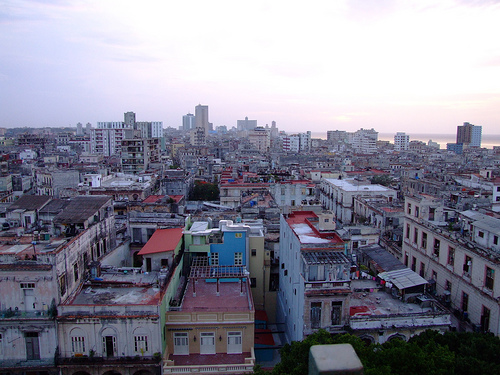 August 18, 2010 > Staff
August 19, 2010 > Staff