The wall in Nogales that divides the United States from Mexico. The city of Heroica Nogales (Sonora, Mexico) can be seen across the barrier.
Number of Undocumented Immigrants Reaches Net Decline
For the first time in two decades, the undocumented population in the U.S. is sharply decreasing, according to a recent report.
The Pew Hispanic Center reported an 8 percent decline in the number of unauthorized immigrants living here, from 12 million in 2007 to just over 11 million in 2009.
The decline comes during an economic recession and a wave of anti-immigrant sentiment.
In a contentious election year, immigration has ballooned as a controversial topic, with Republican politicians invoking border crimes to stoke anti-illegal immigration sentiment and arguing for more border security. Democrats have expressed support for comprehensive immigration reform, but any movement has been stalled by competing legislative concerns and wavering popular support.
A 2010 reform bill seems increasingly unlikely amid the upcoming midterm elections, which Politico reports could carry in Republicans who promised no amnesty for illegal immigrants.
"The prospects for victory of comprehensive immigration reform are slim," America's Voice executive director Frank Sharry told Politico.
Many of the immigrants still in the country are young adults, ages 25 to 29, and most others are in the adult range – the majority is under age 40. They are also more likely to be male.
In particular, immigrants from countries other than Mexico are deciding to stay home, the Pew Center reported. People arriving from the Caribbean, Central America and South America decreased 22 percent from 2007 to 2009, the group reported.
Still, 60 percent of immigrants arrive from Mexico, followed by the next largest group, "other Latin America," with 20 percent, and Asia, with 11 percent.
The Center also provides a map showing where immigrants mostly reside. Popular hubs are California, Texas and the Northeast.
The Los Angeles Times reported that immigration is declining in the state, with their share of the nation's immigrants dropping from 23 percent. However, the state still retains the largest concentration of undocumented immigrants in the country.
Other states, like Alabama, are experiencing flourishing immigration. The number of unauthorized immigrants residing in Alabama increased 30 percent, The Birmingham News reports.
The undocumented immigrant population peaked in 2007, with 12 million, which was at the time a large increase from 2006's 11.3 million.
In 2000, the Center recorded 8.4 million immigrants, followed by a jump in 2001 to 9.3 million, and steadily increasing until 2008.
Photo: Wonderlane @ Flickr.
Alison is a Missouri native and New York City freelance writer who has wanted to cover Latin America since studying Spanish in Central America. After moving to Brooklyn, her work has appeared in The New York Times, the Daily News, the Manhattan Times and Women's eNews. She earned a master's degree in journalism and Latin American and Caribbean studies at New York University. Her thesis focused on immigration policies after September 11, including counterterrorism measures, and their effects on the daily lives of immigrants in New York City.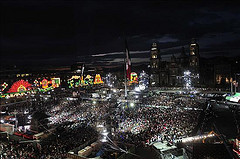 September 16, 2010 > Staff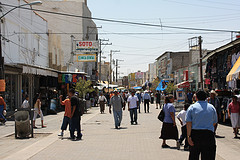 September 17, 2010 > Staff