Cuban Musician Cachao Featured On PBS "American Masters" Series
Israel López, better known as "Cachao," revolutionized Cuban music. A master of danzón, a slow style of Cuban dance music, Cachao — along with his brother Orestes on piano — introduced rhythmic innovations that are sometimes credited with leading to the creation of mambo.
Born to a family of musicians in 1918, Cachao studied classical music and played with the Havana Philharmonic Orchestra from 1930 to 1960.
Cachao became famous in Havana in the 1950s for his "descargas," jam sessions that fused the technique of improvisation common to jazz with his repertoire of Cuban music.
After the Revolution, Cachao left Cuba in 1962, traveling first to Spain and then to the United States. Cachao returned to prominence in the 1990s, when Cuban actor Andy Garcia produced two successful discs for Cachao, "Master Sessions I" and "Master Sessions II," well as the documentary "Como Su Ritmo No Hay Dos."
Cachao died in Coral Gables, Fla., in 2008, at 89 years old.
Outtakes from the program, entitled "Memories of Cachao," are available online and can be viewed in the video below.
Watch the full episode. See more American Masters.
The "American Masters" series at PBS will feature Cuban composer and bassist "Cachao," in its program airing on Sept. 20.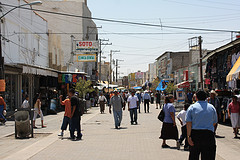 September 17, 2010
> Staff