American-Made "Rio: The Movie" A Hit In Brazil, U.S. And Abroad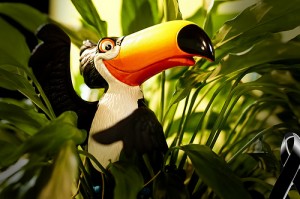 "Rio: The Movie", the hit animated feature by Brazilian filmmaker Carlos Saldanha, has topped the North American box office for the second weekend in a row after its April 15 U.S. release, taking in an estimated $26.8 million. In its first three days, the film earned $40 million.
Blue Sky Studios' "Rio", distributed by 20th Century Fox, opened in 72 overseas markets during the first week of April, earning the No. 1 slot in 32 of them. In Brazil, it enjoyed the biggest opening for an animated film in the country's history, grossing $8.3 million after its March 22 premiere, and is in the top five all-time Brazilian box office hits.
The film is the first animated feature about Brazil to come out of the United States since Disney introduced Zé Carioca, a cigar-smoking parrot that reinforced stereotypes as part of the "Three Caballeros" trio.
Some critics wonder whether "Rio" does the same. The film displays magnificent 3-D panoramas of Rio's breathtaking landscapes and features scenes from the city's world-famous Carnaval celebration, along with animated depictions of Brazil's infamously tiny bikinis, which had to be enlarged with non-Brazilian viewers in mind.
But as a movie created by a Brazilian for international audiences,"Rio" has also been praised for promoting the Brazilian city that will host both the 2014 World Cup and 2016 Olympics, and for featuring a score by Brazilian musician Sérgio Mendes. Director Saldanha, who came to the United States at age 22 to study animation at the New York School of Visual Arts, also participated in the well-known "Ice Age" franchise.
"Rio" was already in production before Brazil was chosen as the site of the World Cup and Olympics, and before Jesse Eisenberg, who voices the film's lead macaw, gained fame for his starring role in "The Social Network".
The advantageous timing of the film's release coincides with Hollywood and the international filmmaking community's growing interest in all things Brazil, and Brazilians' growing box-office spending.  According to Brazilian industry research company Filme B., Brazilians spent more than twice as much at the box office in 2009 as they did ten years ago.
Photo: Thomás @Flickr.