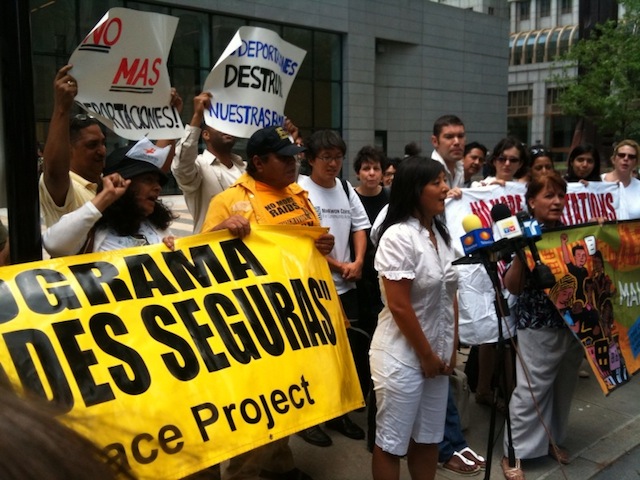 Immigration Reform Activists And ICE Reach Impasse Over Secure Communities
NEW YORK – When the governors of Illinois, New York and Massachusetts announced in quick succession that they would pull away from Secure Communities, Immigration and Customs Enforcement (ICE) Director John Morton knew he had a problem. He responded by retooling the immigration data-sharing program to address a common complaint – that Secure Communities deports run-of-the-mill undocumented immigrants just as often as it does serious criminals.
Morton outlined his proposed changes to Secure Communities in a memo dated June 17, elaborating on the concept of prosecutorial discretion that is supposed to determine which undocumented immigrants wind up getting deported. The memo does not detail a specific process for deciding who to deport, instead saying that "decisions should be based on the totality of the circumstances."
The memo directs ICE to go easy on some groups, however, including veterans or active members of the U.S. military, long-time permanent residents, minors, the elderly, pregnant or nursing women, and victims of domestic abuse. Morton writes that the agency prioritizes deporting those who present "a clear risk to national security," such as serious felons, repeat offenders, gang members and those who repeatedly enter the United States illegally.
Now, ICE officials are on an outreach campaign to convince immigrant advocates that their concerns were addressed.
So far, ICE isn't making much progress.
At a press conference on July 15 before a meeting with ICE, representatives of some 30 New York immigrant advocacy groups said no changes would satisfy them, reiterating their criticisms of the program – that it undermines trust between law enforcement and immigrant communities and that deportation of noncriminals unnecessarily breaks up families composed of both U.S.-citizens and non-citizens.
"No adjustments that they make will ever be sufficient because Secure Communities is fatally flawed," said Michelle Fei of the Immigrant Defense Project, who criticized ICE for refusing to meet with the families who had been affected by the program.
"We don't believe in this program because it does harm. It deports families," activist Vicente Maya said in Spanish at the press conference.
The meeting, attended by ICE Executive Associate Director Gary Mead and other staff members, did not dispel the air of pessimism among advocates.