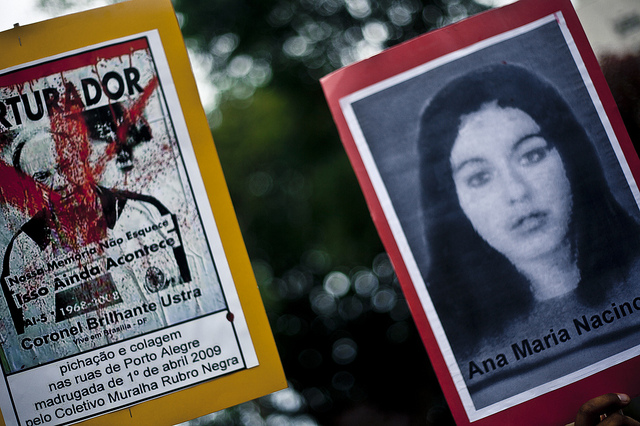 Brazil's Truth Commission Set To Begin Its Work
Brazilian President Dilma Rousseff will preside over an official ceremony Wednesday to launch Brazil's Truth Commission. The seven-member commission will convene for two years to investigate human rights abuses committed in Brazil between 1946-1988, focusing on the country's 1964-1985 military dictatorship.
Rousseff, who endured torture as a political prisoner during the dictatorship, has made it clear that she intends to present the Truth Commission as a multi-partisan effort with broad support in Congress and across social sectors. The commission was created after the Inter-American Court of Human Rights charged Brazil will the task of clarifying the fates of the disappeared in a 2010 case brought by family members of the disappeared. In November, Brazil's Congress passed a law that authorized the creation of the commission.
Former Brazilian presidents Luiz Inácio Lula da Silva, Fernando Henrique Cardoso, Fernando Collor and José Sarney  will be present alongside Rousseff on Wednesday for the ceremony in Brasilia.
While the formation of the Truth Commission has been applauded by the UN, OAS and human rights organizations around the world, conservative members of the Brazilian military have resisted the creation of any investigative body designed to examine Brazil's period of state terrorism, alleging that the findings will encourage a climate of "revenge".
Rio de Janeiro's Navy Club said it would form its own "shadow commission" to counter the findings that emerge from the Truth Commission. "Of course there were terrible things that happened in this period but there were victims on both sides and they only want to tell one side of the story," said Navy Club chairman and retired Vice Admiral Ricardo Antonio da Veiga Cabral.
However, the Truth Commission's findings will not result in prosecutions, due to a 1979 amnesty law passed while the country was still under military rule and upheld by Brazil's Supreme Court. The law remains an obstacle to prosecutions for human rights violations committed during Brazil's dictatorship.
Families and survivors' groups have expressed frustration that the commission cannot prosecute. "With the resources and powers given to the commission, I doubt very much they will be able to come up with anything groundbreaking," said the president of the group Tortura Nunca Mais (Torture Never Again), Victoria Grabois.
But the Truth Commission will have the power to subpoena government employees and members of the military for testimony. Among the responsibilities of the commission is the task of investigating the disappearances of a at least 150 people opposed to the military regime who were never seen again. At least 400 Brazilians were killed or disappeared during the dictatorship, and thousands more were tortured.
Image: Fora do Eixo @ Flickr.