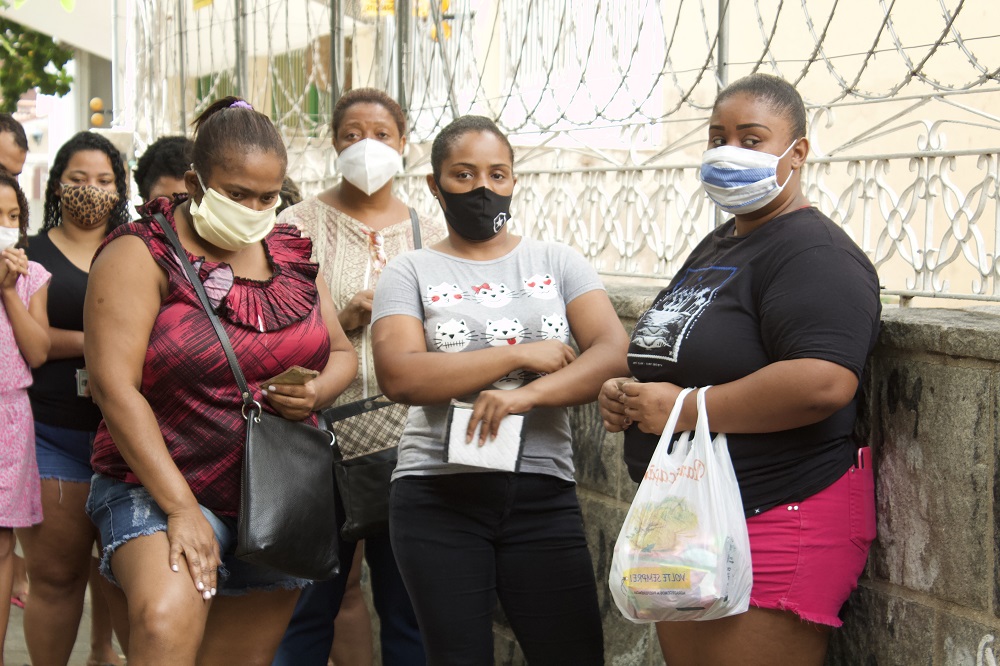 Assisted mothers from Morro dos Macacos wait to get their basic kits. Most of them have to take their children to help carrying the kits home (Photo: Marina Guimarães).
In Rio de Janeiro, Civil Society Fights COVID-19
RIO DE JANEIRO—The coronavirus pandemic has already affected the lives of millions of people around the world. Brazil is no exception. In Rio de Janeiro, the coronavirus pandemic worsened social inequity. Civil society decided to mobilize in different ways to help people in need.
Some people created NGOs, some already existing NGOs intensified activities, others mobilized to gather donations, and a minority donated huge amounts of money to improve the conditions in a state where the government does not assist everyone who needs help.
According to the Donations Monitor, 1,155,772,396 USD was donated in Brazil in response to COVID-19. The Monitor shows that the period between March and mid-May were the most profitable in terms of donations. As of May 10, 950 million donations were received, which shows an increase of 1,077% percent since March 31. From May 31 to July 19, however, this increase was only 4.7 percent. This shows that the number of donations has been stabilizing.
The organization União Rio formed spontaneously in March. According to co-founder Marcella Coelho, the organization was founded through a Whatsapp group with people who wanted to do something for the city of Rio de Janeiro during the pandemic. The first goal was to reform Hospital Universitário Clementino Fraga Filho, a federal hospital in the "marvelous city."
The organization is divided in two fronts: health and community. The first is responsible for donating funds for buying hospital beds and material for protection, while the latter is to give emergency assistance to families who are struggling financially with the pandemic. Because of its success, União Rio is now present in 20 of 26 Brazilian states.
"We knew how tragic this would be. On the health front, we knew that we wouldn't have enough beds and protection material for everyone, so that's where we decided to act," Coelho says.
União Rio has an active partnership with NGOs in the city of Rio de Janeiro and donates the funds to assist those in need. The organization has already helped 220 families, with the distribution of 3,000 basic kits per day.
"We acted where the government is not present or where it is not capable of helping. We keep in touch with municipal and state leadership to keep track of where our organization should intervene and act, which is mostly in poor neighborhoods," Coelho says.
Organizations Rise to the Occasion
The state of Rio de Janeiro has 763 favelas, according to the Brazilian Institute of Geography and Statistics (IBGE). At 22 percent of the population, the state of Rio de Janeiro has one with the biggest populations living in favelas in the country.
Favelas started to form in the 19th century, with Brazil's transition from an empire to a republic. These spaces were first occupied by the urban poor, who had nowhere else to go and started to build. Skidmore explains in his book Brazil, Five Centuries of Change that citizens started to organize themselves internally. 1985 was a year marked by urban reforms, according to Bryan McCann in his book Hard Times in the Marvelous City. McCann also explains that in the following years, not only did the threat of large-scale removal end, and life conditions improved, but also a wave of police violence affected favelas in Rio de Janeiro.
With the arrival of the pandemic the scenario changed for the worse.
Monique Rodrigues, a single mother of two, lives in Morro dos Macacos in the North Zone of Rio de Janeiro. She says that solidarity is crucial for survival during the pandemic. Assisted with the basic kit because she is now unemployed, she took part in a project called "Mãe e muito +" (in English "Mother and much more"), which works for social, economic, and emotional emancipation. Rodrigues is one of 400 women taking part.
"I was lucky enough to be selected for a project that is not only focused on the now, but an investment in our future," Rodrigues says.
Stellinha Moraes, a social entrepreneur who created the NGO "Anjos da Tia Stellinha" in 2014, also started "Mãe e muito +." The NGO is focused on single mothers in Morro dos Macacos, and taking families out of extreme poverty, which is the reality of millions of Brazilians.
According to IBGE, there are 13.5 million Brazilians living in extreme poverty. People who live with under 145 Brazilian Reais per month, or around $27, are considered to be in extreme poverty. Moraes decided to help these families, who have as a monthly income from 90 to 150 Brazilian Reais, which is equivalent from 16 to 28 US dollars.
Families assisted by the NGO depend on a government program developed by former President Lula da Silva. "Bolsa Família" (in English: "family assistance") was officially founded and named in 2003. The idea came from Fernando Henrique Cardoso's government in 2001. In 2003, da Silva expanded two policies, the Bolsa Escola (school assistance) and Bolsa Alimentação (food assistance), bolstering Latin America's most important social assistance programs.
Bolsa Família has decreased the number of people in extreme poverty and the levels of inequality. According to the World Bank, between 2003 and 2013, per capita income grew 56 percent in Brazil and poverty decreased from 12.7 percent to 4.9 percent.
With the coronavirus crisis, however, people who received this assistance and worked had their monthly income cut in half. This is Tamires Paulino's reality in a favela in the north zone of Rio. She used to take care of the elderly and clean houses but has had no income since March. This made her even more dependent on the assistance provided by the federal government.
Since the pandemic started, Paulino's life changed. A mother of five, she has been receiving the Bolsa Família since 2015. Because she qualifies as unemployed, she also qualifies for emergency aid provided by the government.
The Jair Bolsonaro government created the emergency aid for people who are unemployed or informal workers. The payments of 600 Brazilian Reais are about $113. According to Caixa Federal, a government owned bank, 63.5 million people have already received assistance.
"A lot of people are complaining about the emergency aid, saying that it is bureaucratic to get it, and that it takes a long time to get the money to pay me," Paulino says. "I was lucky enough to have received it quickly and with no problem, since I'm also a Bolsa Família member."
People like Paulino are now anxiously waiting for the time when she will be able to work again.
"People are very scared, but some are already back to work," Paulino says. "I have been receiving calls from clients again, however, when I tell them the price I have always charged, they complain that they don't have the money. I feel like employees are taking advantage of the fact that we desperately need the money to pay less for our work."
According to IBGE, 41 percent of Brazil's population works informally. When it comes to autonomous workers, there are 24 million out of a population of 209 million.
"Most of our mothers used to work in the third sector," says Moraes "They used to work cleaning houses, selling sandwiches at the beach or cakes for birthday parties. With the pandemic, a lot of them lost their jobs or are not being hired."
With the quarantine established in March in Rio de Janeiro, many single mothers stopped working and stopped earning money. The period of isolation has been a struggle for those who depended on the money earned on a weekly basis.
"Life was already hard for the mothers I work with. However, the pandemic made it all worse. In the beginning, we received a lot of donations, but in May, we started to worry about the lack of money we are receiving. People are not donating anymore," Moraes says.
Moraes started to gather donations for other people at Morro dos Macacos outside of the work of her NGO, which already assists 70 families in the favela. An organization in Morro dos Macacos asked for her help to gather donations for other families also struggling because of the pandemic.
Once a week, people line up in long lines to get donations in front of the NGO's headquarters in a two-floor beige house in the Grajaú neighborhood. Most recipients take their children with them to help carry donations or because they cannot leave them at home alone.
"What we realized is that our work is faster than the state's. We have the power of articulation with the favela. We are able to reach all houses, the information navigates fast and donations arrive faster," Moraes says.
"Ever since the pandemic started, there has been an increase in solidarity. Numbers of donations, however, are now decreasing," says Mariana Serra, a social entrepreneur and founder of voluntourism agency Volunteer Vacations.
Serra says solidarity is sometimes a matter of survival and of living in community. People engage in causes because they see people struggling and feel it on their skin due to the proximity.
"One thing is a crisis somewhere far away, which is a reality that is not seen," she says. "The other is a crisis everyone is suffering from and that can be seen right outside your door."
She also explains that human beings are also impacted by their own "matter of survival" and this is the reason why donations have decreased.
Serra adds that this matter of survival can also reach a state level. An example for that was the competition for ventilators, which is when the U.S. ended up buying more ventilators than other countries because they had more money. This matter of survival can be crucial when it comes to choosing your own people or yourself.
She says that this wave of solidarity has an expiration date, which could be in December, "The biggest challenge is to maintain that wave of solidarity awakened by the coronavirus crisis. The numbers of donations are already decreasing, as several NGOs and graphics tell us."
What Moraes and Serra have in common is that they usually do not work with emergency aid, such as the distribution of food and other basic resources. Both agree that emergency aid is needed in times of crises, like the pandemic.
"Right now, emergency aid is of extreme importance because it can save lives, and this is what people need right now: basic resources," Serra says.
Serra's company, Volunteer Vacations, which also partners with NGOs worldwide to promote volunteerism, focuses on structural aid.
"I was always interested in changing lives and comprehended that there was a marginalization of poverty, which harms the lives of thousands of mothers who get stuck in poverty," Moraes says. "I wanted to help people change their lives, not focusing just on short term changes. However, emergency aid is also important to save lives, and this is why I have been using it in times of the coronavirus pandemic."
Gaps Remain Despite Government Aid
In this context of economic desperation, hunger and poverty, Jair Bolsonaro's administration established a policy to address extreme poverty for people who are not allowed to work because of the pandemic.
Some of the beneficiaries are artists who are not allowed to perform, waiters and waitresses who used to work at parties and people who used to sell candy on the streets near traffic lights in the luxury neighborhoods of Rio de Janeiro.
"What is also helping us is the auxílio emergencial, the emergency support given by the government. This way, people can have a little bit of money. Some of them use this money not to live on the streets anymore and go to live in shelters," says Juliana Telles, founder of an NGO that assists homeless people.
Telles created the NGO "A Nova Chance," the New Chance, in 2016, when she joined a friend to distribute soup once a week in Copacabana, a neighborhood in the wealthiest zone of Rio de Janeiro, whose homeless population has been growing in recent years.
With the coronavirus pandemic, the number of people living on the streets also increased.
Telles used to distribute food once a week, however, with the arrival of the new coronavirus, activities needed to be intensified. Now, Telles produces around 100 to 120 meals to be delivered twice a week to homeless people in Copacabana. The project is secular, but they have support of a shelter financed by the evangelical church in "Del Castilho," a neighborhood in northern Rio de Janeiro.
"So many people are unemployed right now. So many assisted people are now living depending on the 'auxílio emergencial,'" Telles says. "There are fewer people transiting on the streets. What about people who worked on the streets selling candy and other items? What about the people who depended on that to live?"
As donations dry up, and government aid is debated, volunteers and organizers like Telles wonder what comes next.