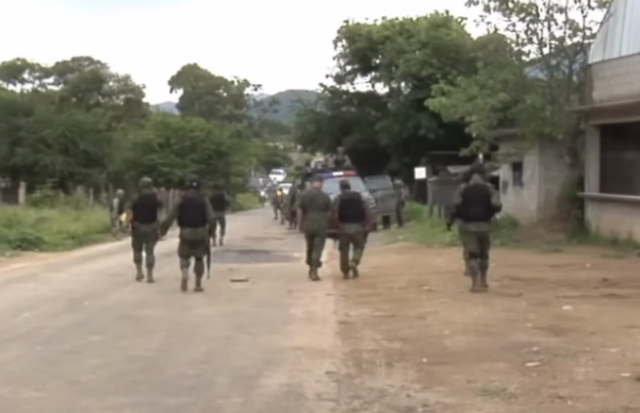 Eyewitness Accuses Mexican Troops of Executing Suspects Despite Surrender
September 19, 2014
By Staff
Top Story — New evidence and an eyewitness report suggest Mexican soldiers executed 21 suspected members of a criminal group this summer following a brief firefight initiated by the troops, the Associated Press reported.
The troops reportedly opened fire on the suspected gang members, who were holed up in a warehouse on June 30 in the town of San Pedro Limon in the south of Mexico state. One gunman was killed and two others wounded, while one soldier was injured.
When the rest of the gunmen tried to surrender, the soldiers allegedly interrogated them before executing them each with several gunshots to the chest, according to an eyewitness interviewed by the AP. The witness' 15-year-old daughter was among those first wounded and later killed. Two of the other victims claimed they were kidnapped by the gang, but the soldiers shot them nonetheless due to apparent suspicions they were disguised criminals, the witness said.
AP reporters uncovered evidence supporting the eyewitness' claims, including the spacing of blood spatters and bullet holes. Reporters found few shell casings or stray bullet marks to suggest an intense firefight. A doctor who examined the body of the eyewitness' daughter reported wounds consistent with the witness' description of her daughter's killings.
The eyewitness had arrived at the warehouse the day before the killings in an effort to bring her daughter home. She was taken into official custody along with two other women who were being held by the gang members. She was later released, but the other two are reportedly still detained.
Mexican soldiers are ordered to fire their weapons only in self-defense or to protect civilians or other troops; officials insisted from the start that the soldiers were fired upon first and the Mexico state prosecutor's office has denied the contents of the AP's report. The country's National Human Rights Commission is investigating the incident.
While several publications reported on suspicions surrounding the circumstances of the killings, many initial accounts, including that of La Jornada, a newspaper often skeptical of the military, repeated the official line.
Mexico's military often faces accusations of human rights abuses; last Friday a group of international and Mexican human rights bodies asked the International Criminal Court to investigate reports of atrocities committed by troops, according to InSight Crime.
Update: This article has been amended to clarify the circumstances of the killings. The original version did not mention that two of the people who were shot claimed to have been kidnapped by the gang. The article was also edited to clarify the military's rules of engagement.
Headlines from the Western Hemisphere
North America
Caribbean
Central America
Andes
Southern Cone
Image: Youtube
Subscribe to Today in Latin America by Email