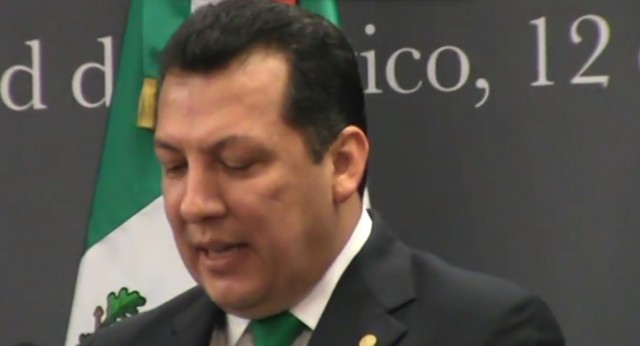 Mexican Troops Executed Victims in June Slayings, Rights Body Finds
October 22, 2014
By Staff
Top Story — Mexican troops executed up to 15 of the 22 suspected gang members killed in June in the small town of San Pedro Limón, according to an investigation by the government's human rights agency.
The account by Raúl Plascencia, president of the commission, contradicted several prior versions of a murky story offered at various stages by the military, the Attorney General's office and an eyewitness.
Plascencia called for prosecutors to investigate a potential cover-up by military officials. At least eight soldiers, including an officer, are currently facing prosecution by the military for dereliction of duty.
After 22 suspected gang members were killed on June 30 in San Pedro Limón, Mexico state, the military first said all of them died in a shootout with troops. That account raised questions, as only one soldier sustained injuries.
In September, the Associated Press interviewed an eyewitness, who said she saw military troops execute the survivors of a brief gunfight, after they had been convinced to surrender.
The shootout started when the soldiers arrived at a warehouse where the suspected gang members had holed up with several kidnap victims. Some of the men who claimed to be victims, the eyewitness said, were also executed.
The eyewitness, whose daughter was among the suspects shot and killed, was detained along with two other apparent kidnap victims.
The government's story evolved over time, along with that of the AP's eyewitness.
On Oct. 8, Attorney General Jesús Murillo Karam said most of the suspects had been killed in two shootouts and that three of the soldiers involved later executed the survivors. Those three soldiers face homicide charges in civilian courts.
The AP's eyewitness confirmed that version of events, Murillo Karam said. The eyewitness reportedly said she had first lied about the incident out of anger over her daughter's death.
Prosecutors began investigating the incident in September, more than two months after the killings. A separate investigation by the human rights commission also began in September.
While the government is not required to abide by the commission's demand for an investigation into a potential cover-up, officials must, if they decline to do so, explain why.
Headlines from the Western Hemisphere
North America
Caribbean
Central America
Andes
Southern Cone
Image: Youtube
Subscribe to Today in Latin America by Email