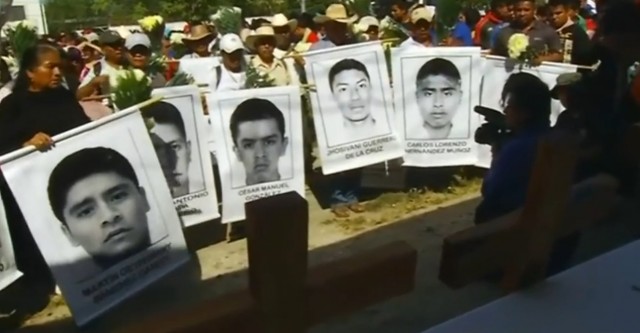 Despite New Leads, No Answers in Search For Missing Students
October 29, 2014
By Staff
Top Story — The search continues for Mexico's 43 missing students in Guerrero state as authorities have not been able to confirm that new mass graves contain the students' remains.
Sunday marked one month since the students from the rural Ayotzinapa Normal School went missing after being arrested in the town of Iguala after commandeering several busses to use them in a protest. According to Mexican Attorney General Jesús Murillo Karam, local police turned the students over to members of the Guerreros Unidos gang, which had strong ties with Iguala's mayor and his wife, both of whom are now on the run from authorities.
The mayor, José Luis Abarca, was reportedly connected with the Guerreros Unidos gang through his brother-in-law, a leader of the gang known as "El Molón." Abarca's wife, María de los Angeles Pineda, was giving a speech on the night of Sept. 26, and when he learned that the students might disrupt the event, he ordered police to attack the students, according to Murillo Karam.
Others, however, have suggested the attack could have been the senseless violence typical of drug gangs, or political repression of the students from Ayotzinapa Normal School, which is known for its confrontational leftist activism.
So far, 57 people have been arrested in connection with the case.
Four of them — suspected Guerreros Unidos members accused of involvement in the disappearances — led investigators on Monday to a mass grave site at a trash dump in the mountainous town of Cocula, but searchers have so far failed to turn up any definitive sign of the students.
Although there remains a shortage of firm details on the students' fate, there has been plenty of speculation. Most suspect that the Guerreros Unidos gang killed the students. One student's body was discovered the day after the students disappeared, his skin ripped from his skull and eyes torn out in an organized-crime style killing.
The mass grave in Cocula was the latest hope that the students' fates would become clear. Earlier this month, investigators searched several mass graves outside of Iguala, though authorities have said none of the bodies found belonged to the students.
While local police are accused of involvement in the Iguala disappearances, the security forces in Mexico are accused of atrocities at all levels. Since then-President Felipe Calderón launched an offensive against drug cartels in 2006, Mexico has endured some 27,000 disappearances, many of which are blamed on the military and police.
Headlines from the Western Hemisphere
North America
Caribbean
Central America
Andes
Southern Cone
Image: BBC