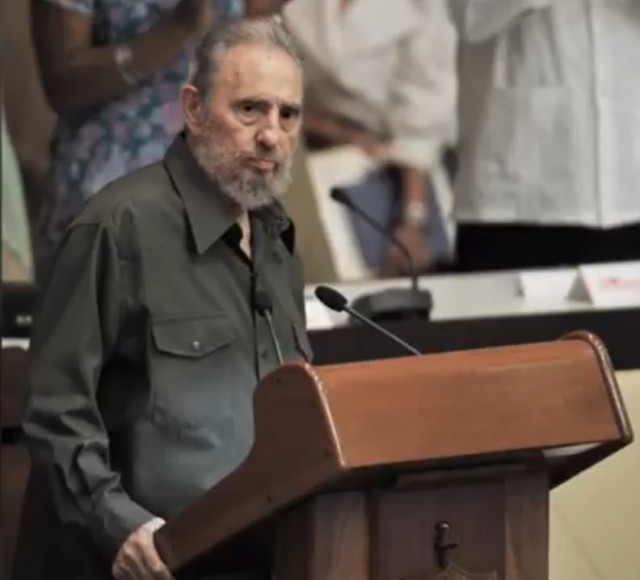 After Long Silence, Fidel Castro Cautiously Backs Negotiations With U.S.
January 27, 2015
By Staff
Top Story — Former Cuban leader Fidel Castro broke over a month of silence on Monday by writing a letter expressing cautious praise of Cuba's recent negotiations with the U.S seeking to normalize diplomatic relations.
"I don't trust the policy of the United States, nor have I exchanged a word with them, but this does not mean I reject a pacific solution to the conflicts," Castro wrote in a letter that was read at the University of Havana and published in the Communist Party newspaper Granma. "We will always defend cooperation and friendship with all the people of the world, including with our political adversaries."
Castro retired from the presidency in 2008 because of poor health, leaving power to his brother Raúl.
"The president of Cuba has taken the pertinent steps in accordance with his prerogatives and the powers given to him by the National Assembly the Communist Party of Cuba," Castro said of his brother in the letter.
Castro's letter comes after high-level talks between the U.S. and Cuba ended last week. While the two countries clashed on some human rights issues, the talks were praised by both parties, and they will continue with plans to restore diplomatic ties and to reconvene ahead of April's Summit of the Americas.
Some had speculated that Castro's long-term absence from the public eye meant his possible death. Venezuelan state media network Telesur, however, reported earlier this month that Argentine Soccer legend Diego Maradona had received a letter from Castro declaring that he was in good health.
Headlines from the Western Hemisphere
North America
Caribbean
Central America
Andes
Southern Cone
Image: YouTube