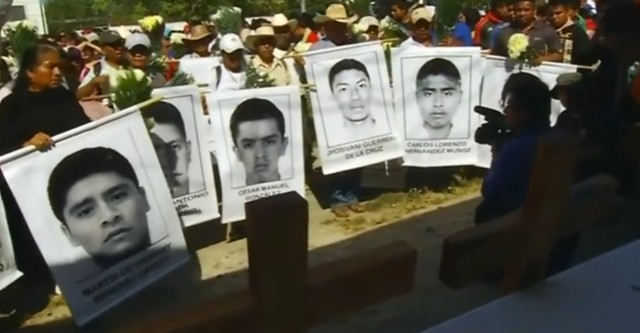 Mexican Attorney General Officially Declares 43 Missing Students Dead
January 28, 2015
By Staff
Top Story — Evidence in the case of the 43 students missing from Iguala, Mexico, since Sept. 26 conclusively proves that they are dead, Attorney General Jesús Murillo Karam announced on Tuesday. Murillo Karam's statement is unlikely to quash suspicions held by the students' relatives, many of whom suspect that the federal government is seeking a quick solution to the mystery of the students' disappearance.
"The evidence allows us to determine that the students were kidnapped, killed, burned and thrown into the river," Murillo Karam announced during a press conference on Tuesday.
The state's theory of the crime holds that the students were detained by members of local drug cartel Guerreros Unidos after being confused for members of a rival gang. The students were killed and their remains incinerated in a garbage dump in the town of Cocula, according to Murillo Karam, then disposed of in a river nearby.
The state's conclusion was based on 39 confessions, 386 statements provided to police, 16 raids and 487 forensic examinations, which included tests conducted on samples of gasoline, diesel and steel retrieved from the location where the students were reportedly incinerated. Murillo Karam said that the remains found in the river contained samples from the dumping ground where the students' remains were supposedly incinerated.
The attorney general denied that the federal army had any knowledge of the attack on the students, or that they intervened. In December, Proceso magazine reported that it had uncovered evidence of the army's involvement in the attack.
Parents of the missing students have long expressed doubt over the state's official theory. The Argentine Forensic Anthropologists, hired by the parents to conduct an independent investigation, said on Sunday that the evidence linking the charred remains to the students is inconclusive. The Austrian laboratory in Innsbruck that studied the remains was able to make only one positive identification, later announcing that identifying any other students would be impossible.
The students' relatives have expressed their hopes of still finding them alive.
To date, 99 people have been arrested in connection to the students' disappearance, including the mayor and first lady of Iguala.
The students' disappearance set off months-long protests in Mexico, the latest of which saw thousands take to the streets on Mexico City on Monday night.
Headlines from the Western Hemisphere
North America
Caribbean
Central America
Andes
Southern Cone
Image: BBC, screenshot

Subscribe to Today in Latin America by Email