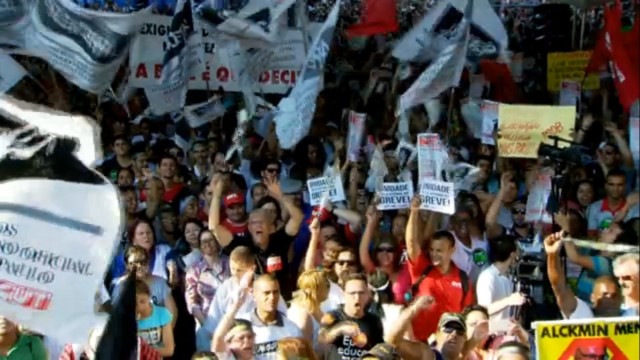 Teachers' Protests Paralyze São Paulo
March 30, 2015
By Staff
Top Story — Tens of thousands of protesters took to the streets of São Paulo, Brazil, on Friday in support of an ongoing strike by the state teachers' union, less than two weeks after nationwide anti-government protests drew international attention to growing nationwide unrest. The teachers' protest was the largest of three separate demonstrations in Brazil's most populous city that day.
The São Paulo Public School Teachers' Union (APEOESP in Portuguese) has been on strike since March 16 in demand of a 75 percent wage hike, better job security for working teachers and a rule that ensures a maximum of 25 students per class.
Friday's demonstration began with an assembly, during which the concerned parties chose to extend the strike until Thursday, April 2, when it plans to stage subsequent assembly and demonstration. The protesters blocked traffic in one direction of the city's main thoroughfare, Avenida Paulista. The Military Police estimates that approximately 10 thousand people participated in Friday's protests, while the teachers' union put the number at upwards of 60 thousand.
About 200 taxis blocked a separate road in São Paulo on the same day — an impromptu demonstration by taxi drivers over the violent death of fellow driver Vanderlei Nunes. In the evening, several cycling communities staged a third protest in the streets of São Paulo, over the government's decision to suspend the construction of bike lanes in the city.
Headlines from the Western Hemisphere
North America
Caribbean
Almost 90 percent of American claims for expropriated property in the wake of the Cuban revolution were from individuals, according to a new Creighton University study, challenging the claimthat most of the property seized by Fidel Castro's government was from large corporations.
Creditors have offered Puerto Rico's power authority a new $2 billion financing package, according to Reuters, which — if accepted — would allow the struggling Puerto Rico Electric Power Authority to restructure its $9 billion in debt, and would also include $1.2 billion to begin a new natural gas operation.
Central America
An alleged Guatemalan gang member has been arrested for suspected involvement in the murder of a journalist earlier this month, according to an announcement by President Otto Perez Molina.
An American man wrongfully accused of murder in Nicaragua in 2006– the subject of his book "Gringo Nightmare"– has become a crisis manager for Americans in legal proceedings overseas, advocating for those who have been falsely incarcerated.
Andes
In a landmark decision, Colombia's Constitutional Court ruled that thousands of victims of abuse from neo-paramilitaries will now have access to legal justice, expanding the focus of existing legislation which covered victims of guerrilla groups like the FARC.
President Evo Morales announced Bolivia will sign an agreement to start exporting liquefied petroleum gas to Brazil, in a press conference in Cochabamba on Saturday in which he expressed his optimism that Bolivia will become a major player in regional energy markets.
A team of Bolivian women have begun knitting hand-made plugs used in the latest treatment for a heart condition common in babies born at high altitudes in La Paz, which leaves a hole in the heart which mass-produced plugs have been ineffective in treating.
Southern Cone
Brazil's Finance Minister Joaquim Levy recently gently criticized President Dilma Rousseff's leadership in a private forum, the revelation of which may spook investors worried about disagreement between the left-leaning president and the pragmatic minister, whose appointment was seen as an effort to calm the business community.
Brazil's federal police are moving forward with an investigation into reports that officials at Levy's ministry, before his tenure, accepted billions of dollars in bribes from over 50 firms who were seeking to avoid paying taxes, the second major corruption scandal to hit in recent months.
Image: Globo, screenshot