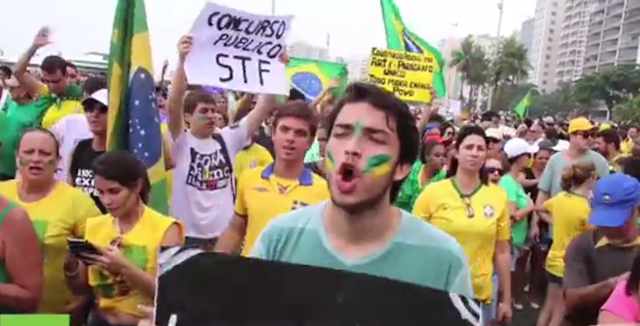 Hundreds of Thousands in Brazil Protest President Dilma Rousseff
March 16, 2015
By Staff
Top Story — Hundreds of thousands of Brazilians took to the streets on Sunday to protest the ruling Workers' Party and demand President Dilma Rousseff's impeachment. The protests were largely peaceful demonstrations, unlike the 2013 protests that erupted across the country against Rousseff, frequently leading to violence.
The protests come just three months after Rousseff was sworn in for a second term after the tightest race in Brazilian history. Protesters were largely outraged over unceasing revelations regarding a kickback scheme at state-run oil giant Petrobras, reportedly the biggest corruption case ever uncovered in the country. The widening corruption case also comes at a time when the country is struggling with a stagnant economy.
Rousseff's approval ratings, at 23 percent, are currently at their lowest since she became president in 2008.
Rousseff did not comment on the protests, and refrained from appearing in public on Sunday. During a nationally televised press conference, Justice Minister José Eduardo Cardozo said that a series of measures aimed at combating corruption will soon be proposed. Rousseff has previously said that she supports peaceful protests, even if they are demanding that she be ousted as president.
Just Published at the Latin America News Dispatch
For more coverage and in-depth context, view our round-up of the best images from the protests in Brazil on Sunday.
Headlines from the Western Hemisphere
North America
Ambitious efforts by Mexican President Enrique Peña Nieto to privatize and modernize the country's petroleum industry have been stymied, The New York Times reports, by both a collapse in oil prices and falling investment, which have cut foreign investment and the likelihood of success in high-tech deepwater drilling, respectively.
The Los Angeles Times ran a profile Friday of one of Mexico's most famous journalists, Carmen Aristegui, who has yet again run afoul of her bosses after demanding the return of two journalists who were recently fired from her investigative reporting staff after recently exposing a conflict of interest scandal involving President Enrique Peña Nieto and several mansions.
Three employees of the Canadian mining company Goldcorp Inc. have been found dead with signs of torture in Mexico's Guerrero state, where last September 43 university students went missing and were certainly massacred.
Caribbean
The United States may soon remove Cuba from its list of states that sponsor terrorism, an anonymous U.S. official announced Friday ahead of a new round of talks aimed at normalizing diplomatic relations, although the official cautioned that the issue, long contentious in Cuba and elsewhere in the region, should not be viewed as an impediment to a broader detente.
Nineteen Cuban officials have been charged with stealing eight million eggs from the state to sell on the black market, a case that is part of a broader crackdown on corruption initiated by President Raúl Castro in 2009.
Central America
In Honduras, a U.S. citizen suspected of suffering from Ebola has been released from a hospital after testing negative for the virus, which to date has not appeared in any Latin American countries, many of which have taken strict measures against the disease's spread.
Guatemalan police have arrested three suspects for the killing of a young reporter on Friday, the third journalist killed in the country's southern Suchitepequez province in less than a week.
Andes
Southern Cone
A bus accident in southern Brazil has left at least 54 people dead and 10 injured after the bus fell 1,300 feet down a mountain into the woods below, where police are still searching for more victims.
Argentine authorities have warned the U.S. bank Citibank that it could lose its license and have its employees subjected to criminal charges in Argentina if the bank blocks payments by Argentina to bondholders, even though the bank has been ordered to do so by a U.S. judge.
Image: YouTube="http://feedburner.google.com/fb/a/mailverify?uri=LatinAmericaNewsDispatchTodayInLatinAmerica&loc=en_US">Subscribe to Today in Latin America by Email