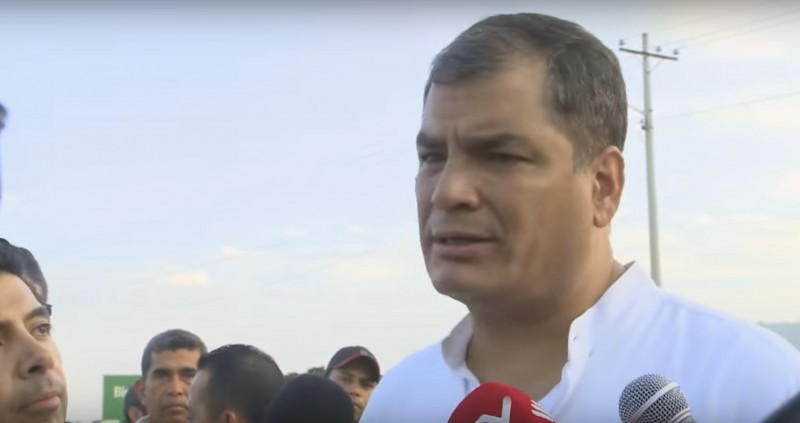 Ecuador's President Rafael Correa briefs reporters on relief efforts following a deadly earthquake on April 16. (Image:
Youtube
, screenshot)
Ecuador Earthquake Reveals Political Fractures
April 22, 2016
By Staff
Top Story — Ecuador's Attorney General's Office on Thursday announced that the death toll from a 7.8-magnitude earthquake on Saturday has reached at least 587.
Although the government has set up temporary accommodations for at least 25,000 people in soccer stadiums and airports, Reuters reported, aid has not reached many of those worst affected, especially in rural areas, due to major road damage.
Interestingly, the mobilization in response to the earthquake seems to have taken place in a decentralized manner, contrary to the highly top-down, state-centered approach of most major projects since President Rafael Correa took office nine years ago, wrote Ecuadorian journalist Martín Pallares in an op-ed for The New York Times. Pallares added that some Ecuadorians refused to donate money and supplies to the government, prompting even an opposition politician to urge donors to trust the authorities.
Pallares, a longtime critic of Correa, noted that a popular outcry erupted in the hours following the earthquake, after an official tweet warned of an impending tsunami, creating the perception of government mismanagement.
Correa on the day before the earthquake criticized Ecuadorian and international civil society groups, claiming non-governmental organizations threatened its democracy. Pallares argued that NGOs were central to relief efforts.
On Wednesday, Correa said that in order to pay for an estimated $2 to 3 billion in damages, Ecuador would temporarily raise taxes, sell some assets and potentially issue bonds, Reuters reported. Pallares, for his part, cited an estimate by Ecuador's former finance minister that the damage could be much worse— up to 5 percent of the gross domestic product.
Reuters also reported that Ecuador's economy, already due to see near-zero growth this year due to a slump in oil prices, is now likely to contract. Before the earthquake, Ecuador's government had said a new bond issue would be too expensive due to high interest rates.
While the earthquake has revealed political fissures in Ecuador, it has apparently brought unity to one town there. The New York Times reported on the survival of a Virgin Mary statue in the town of Montecristi, after the collapse of the church that held the statue; residents reportedly believe the statue has brought them good fortune.
Headlines from the Western Hemisphere
North America
Caribbean
Central America
Andes
Southern Cone