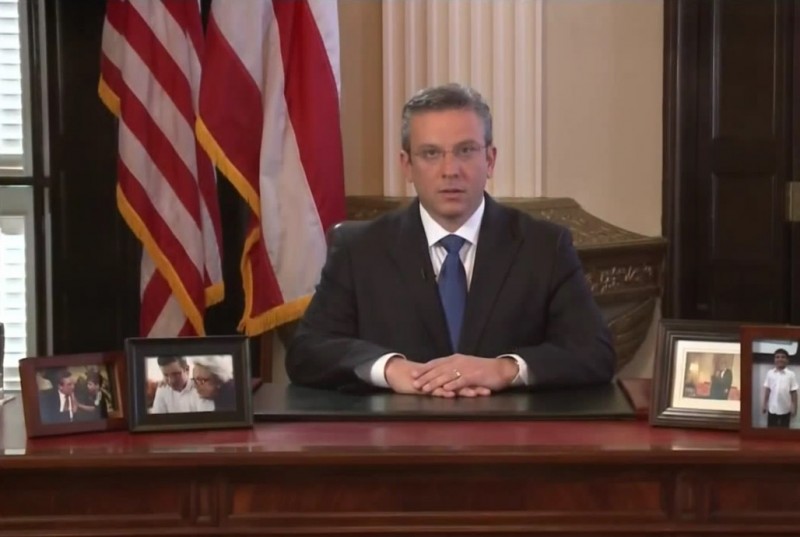 Puerto Rican Gov. Alejandro García Padilla speaks about the U.S. commonwealth's economic crisis in a televised address to the public. (Image:
La Fortaleza
, public domain)
In Televised Address, Puerto Rico's Governor Says Island's Debt Is "Unpayable"
June 30, 2015
By Staff
Top Story — In a televised speech delivered in a somber tone on Monday, Puerto Rican Gov. Alejandro García Padilla said that Puerto Rico's $73 billion public debt is "unpayable," confirming similar remarks made yesterday to The New York Times, which laid out steps for the restructuring of the U.S. commonwealth's debt obligations.
"The public debt, considering the current level of economic activity, is unpayable," García Padilla said in the prerecorded address. "In addition, the size of that debt prevents us from leaving the cycle of recession and economic contraction."
García Padilla proposed a number of economic remedies on Monday, including reforms that he said will increase private sector investment in the economy, create jobs and improve government revenue collection. The governor also called for U.S. lawmakers to pass legislation that would allow the island to file for Chapter 9 bankruptcy, which it is currently prohibited from doing.
García Padilla's speech comes as his government released a report Monday that they commissioned from several former officials at the World Bank and International Monetary Fund, which called for a restructuring of Puerto Rico's debt on terms more favorable to the debt-straddled island. The report, which played a central role in the governor's Monday speech, urges bondholders of Puerto Rican debt to discuss taking financial losses on the commonwealth's debt, as well as allowing Puerto Rico to extend payment deadlines and lowering payment rates.
The decision to seek debt restructuring is an about-face by García Padilla, who since his election in 2012 has attempted to use austerity cuts and financial borrowing to stave off financial crisis. Several months ago, his administration was reportedly in talks to borrow some $2.9 billion to be paid for by a new fuel tax, but now has proposed a debt exchange, in which creditors holding Puerto Rican debt would swap their current bonds for new ones with terms more favorable to Puerto Rico.
This massive restructuring is likely to have a significant effect on the U.S. municipal bond market, which is an important tool used by cities and states to raise funds for essential infrastructure needs.
Puerto Rico currently has the largest amount of municipal bond debt per capita in the entire United States, and restructuring on such a large scale could likely increase borrowing rates for other government entities and municipalities across the country looking to fund infrastructure projects.
For more coverage of García Padilla's speech and Puerto Rico's debt crisis, continue reading this piece from LAND editor Dusty Christensen.
Headlines from the Western Hemisphere
North America
Caribbean
Central America
Andes
Southern Cone