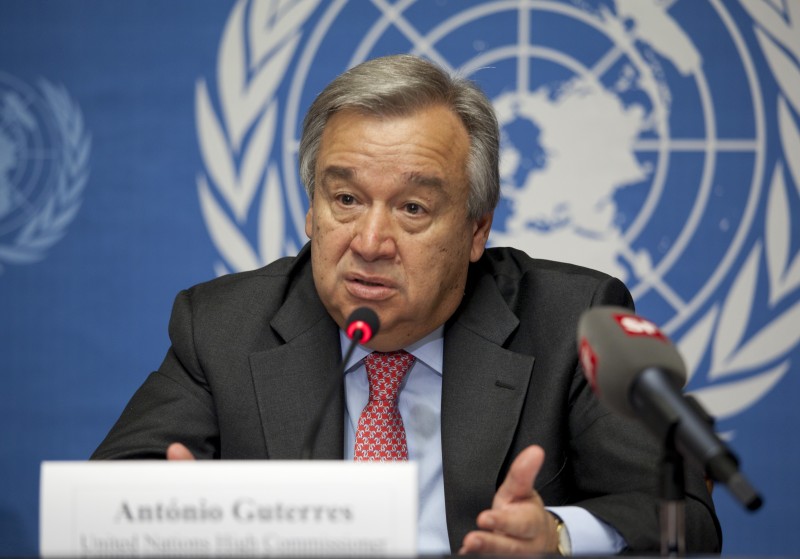 U.N High Commissioner for Human Rights António Guterres. (Image:
U.S. Government
, Public Domain)
UN Refugee Agency Sounds Alarm on Violence Against Women in Central America, Mexico
WASHINGTON — Norma witnessed routine gunfights and murders when she lived in El Salvador. She paid a biweekly cuota, or street tax, to the Barrio 18 gang members controlling her neighborhood to avoid any trouble.
Norma, the wife of a police officer, was the victim of a rape, which she told interviewers from the U.N. refugee agency she believes was punishment for her husband's job. After filing an official report and moving to another part of the country, she soon discovered that authorities would not protect her and her children from more threats.
She found no escape other than paying a coyote, or human smuggler, and departing for the United States by herself, leaving her children behind.
"I feel dirty, so very dirty… Sometimes, I wake up and think it was just a nightmare, but then I feel the pain and remember it was not," Norma recalled in a report by the office of the U.N. High Commissioner for Refugees, titled "Women on the Run," presented Oct. 28 at the Woodrow Wilson Center in Washington.
The report gathers the stories of 160 women like Norma, who fled multiple forms of violence in the so-called Northern Triangle countries of Honduras, Guatemala and El Salvador, as well as parts of Mexico.
These women interviewed for the report had either passed preliminary evaluations by U.S. authorities regarding the credibility of their fears of persecution or torture, or received asylum or another form of protection after entering the United States.
Most cited gang violence, domestic abuse, the risk of suffering violence for being transgender, and inadequate government protection as the main reasons for leaving home.
"Becoming a refugee is always an ordeal, but believe me, for most of these women, the journey to safety [is] absolute hell," said U.N. High Commissioner for Refugees António Guterres in remarks at the Wilson Center, adding that the situation amounts to "a crisis in the Americas that must no longer be ignored."
In 2014 alone, U.S. Customs and Border Protection apprehended more than 68,000 migrant families who illegally crossed its Southwest border. Since 2008, UNHCR has recorded a fivefold increase in asylum seekers to the U.S. from the Northern Triangle of Central America.
The crisis has also reached other countries in the region, such as Costa Rica, Mexico, Nicaragua, Panama and Belize, who saw a combined 13-fold increase in asylum applications in that same period of time, according to the UNHCR report.
Even though 64 percent of women described direct threats and attacks by armed criminal groups, 40 percent of them did not report these crimes to the police, since they viewed the process as futile or ineffective.
Collusion between the police and criminal groups also deters some women from reporting threats or the disappearances of family members; some interviewees said they were persecuted by the police themselves.
One woman named Natalia, from Mexico's Michoacán state, said a forensics official showed her a tortured body to send a clear message after seeking information about a relative's disappearance. He then said, "This is what we do to people who ask too many questions."
Transgender women said they suffered a wide variety of abuse, ranging from discrimination, harassment, being barred from employment and other types of targeted violence, to rape and murder.
One woman named Betty told interviewers she witnessed how a criminal group stabbed one of her transgender friends "like 12 times" in Mexico, before the aggressors "put her in a barrel… put gas [on it] and… lit it on fire."
Alma, a transgender woman from Honduras, said she stood up to a group who harassed her one time, only to be beaten. When she screamed for help, "no one would even call the police."
In the case of Mexico, which currently serves as a point of origin, transit and asylum for refugees, the country's nationals surpassed China in 2014 by submitting the highest number of U.S. asylum requests.
Mexican women, like their Central American counterparts, describe severe domestic violence and do not trust the authority's capacity to respond against transnational criminal groups.
The report also describes how a number of women seek long-term birth control injections or pills to avoid getting pregnant if raped during their journey.
Eric L. Olson, associate director at the Wilson Center's Latin America Program, said at the presentation that drug trafficking is only a small component of the current dilemma, which involves structural challenges such as poverty, corruption and gender-based violence.
"People are compelled to take these extreme risks. Governments don't want to recognize people are forced to flee because they can't provide," Olson said.
In a press release, the UNHCR called on all countries involved to recognize the growing refugee crisis, establish adequate capacities to identify those in need of international protection, and coordinate regional solutions that address the root causes of forced displacement.
María Isabel, one of the women who was interviewed for the study, told the Latin America News Dispatch she hopes her story will motivate others to realize how the dangers don't end once women reach U.S. soil.
"I am against detention centers because we are there for months. It is saddening that once we arrive here, we get treated like this and could be sent back. We go through so many ugly things. Something must change," she said.
Franco Bastida is a Mexican journalist and a recent Latin American studies graduate from SUNY Plattsburgh. He is a fellow at the Center for International Policy, a Washington-based think tank, where he covers security and human rights in Latin America. Franco previously served as a news and translation intern for the PanAm Post, and as a volunteer translator for the Carnegie Council for Ethics in International Affairs. He tweets at @iamthefes.